Wuffingas Press, Inc. (TM) is a subsidiary of Hammer Forge and File, Inc

.(TM)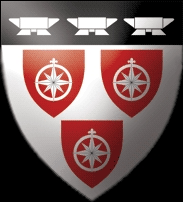 *Be advised: This series of pages looks much better off your computer or iPad, than it does off an iPhone.
Robert writes, and illustrates all his own works, including internal pen and ink drawings, paintings, and the cover art. We have also besides Heroic Fantasy, and Science Fiction, a Historical Reenactment Guide, a Blacksmithing Damascus Steel Tutorial, and Historical Christian Fiction.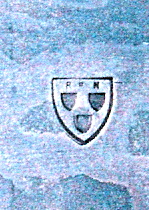 Metalwork Touch Mark of Robert P. Shyan-Norwalt. Three eschtcheons of the Clan Hay Scotland, with the initials RPN.
**
Products and services
So far we have eleven good sized books in the Maqqkracken Kings Series, and fifteen titles all together. Scroll down and click the links below. Be advised the Maqqkracken Kings series is rated 'R.'
1. The 12th Realm, book 1 Link (Paperback) Link (Kindle)
2. Lok Garr the Panther book 2 Link (Paperback) Link (Kindle)
3. Lok Garr De Martel book 3 Link (Paperback) Link (Kindle)
4. Lokite Revenge book 4 Link (Paperback) Link (Kindle)
5. Lokite Insurrection book 5 Link (Paperback) Link (Kindle)
6. The Weir King book 6 Link (Paperback) Link (Kindle)
7. Bhob Garr's War book 7 Link (Paperback) Link (Kindle)
8. The Maqqkracken's Brood book 8 Link (Paperback) Link (Kindle)
9. Maqqkracken Malice book 9 Link (Paperback) Link (Kindle)
10. The Drums of Pictdom book 10 Link (Paperback) Link (Kindle)
11. Masters of Time, The Southern Hemisphere Volume 1, book 11 Link (Paperback) Link (Kindle)
12. The Chain, The Southern Hemisphere Volume 2, book 12, and final installment in the series (Coming December 2020)
13. Modern Methods of Damascus Steel Link (Paperback) Link (Kindle)*
14. The Wuffingas Historical Reenactment Club Manual Link (Paperback) Link (Kindle)**
15. 'The Gaul.' The story of Longinus Gallus Egyptus, the man who pierced Christ's side at Calvary. On sale October 2020.
It's easy to purchase all current 11 editions so far in Kindle for a great price. Link
*See details on Hammer Forge and File, Inc. Page
** See details on Reenactment Blog Page.
Amazon provides book dimensions, pages, and pricing details.
My books range roughly from 410-850 pages, and are easy to read with the font just right.
Don't be fooled by resellers asking $35-$40 for this or any of my titles.

Click below to see the best value for Book One, The 12th Realm. by
Robert Paul Shyan-Norwalt (Author) and all the Maqqkracken Kings Series Titles in Kindle.
12th Realm: The MaqqKracken King's, book one.

To the 12th Realm.

Book 1.

Paperback $17.99
6.7" X 9.6"
405 pages.
Paperback version.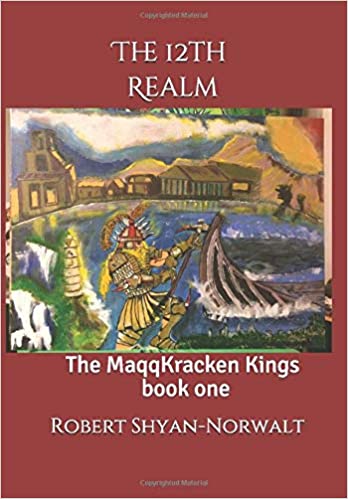 The story opens with Baron Thadeus Shaz Palic ap, the Counselor of the Fifty, in route to to Ninth Moon Feast of Ancients. We meet King Raibeart Garr the Pit Bull, and his Sons, Prince Waihane, and the Toddler Lok Garr. General Lair Harr Denas ap Saves the day at Gaeth but tragedy strikes and Civil War ensues.
The Stockade of New Yudic is raised, and Lok Garr grows up in the Jungle Realm, pampered and allowed to roam. He has some minor adventures until the Great Mangakpall General Zakxmare comes calling.
Kindle version.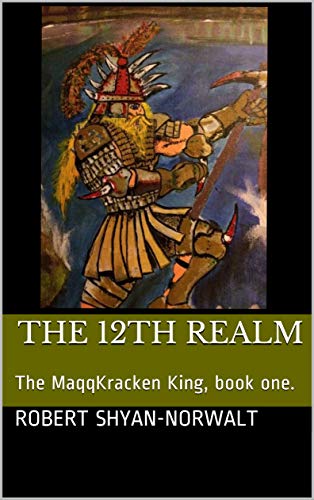 The 12th Realm: Paperback and Kindle detials.
5.0 out of 5 stars
1
Kindle
$3.99
Product details
Series: The MaqqKracken Kings (Book 1)

Paperback: 405 pages
Publisher: Independently published (March 9, 2017)
Language: English
ISBN-10: 1520196644
ISBN-13: 978-1520196640
Shipping Weight: 1.8 pounds
Customer Reviews: 5.0 out of 5 stars
To purchase in Paperback or Kindle format, on Amazon; The

Maqqkracken Kings series click on this link please.

Link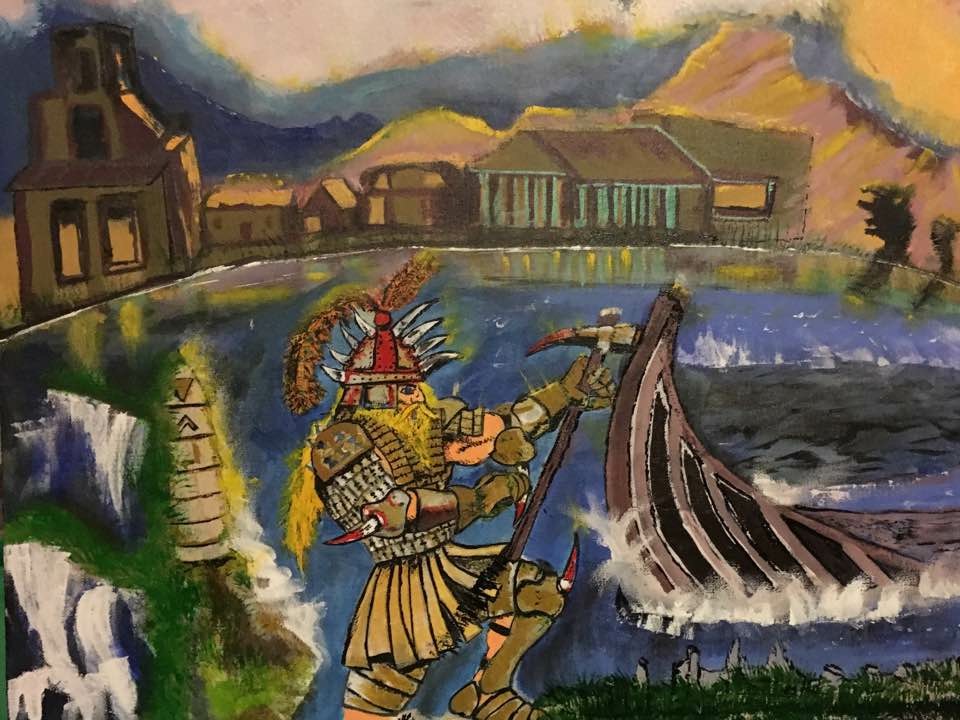 The original art work for book one (and all the paperback and kindle books) is for sale. This painting is 18" X 24" on canvas board in acrylics and oils by the Author. $450.00 (post, shipping, handling, and insurance paid) to the lower forty-eight states.
Contact the Author:
Robert P. Shyan-Norwalt
11571 West US Highway 40
Cambridge City Indiana 47327
(317) 523-2630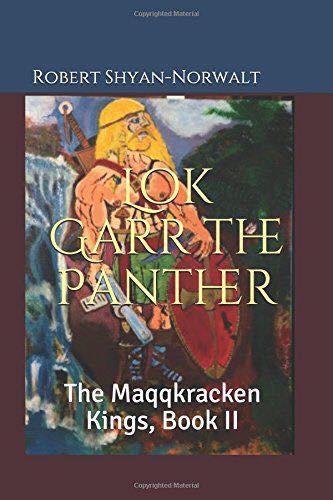 Link, to Lok Garr the Panther.

Book 2.
~ 509 pages.
~6 3/8" x 91/4"
After his ordeal in the Jungle Realm the young Prince transformed overnight from a 14 wakxmoon (384 days) old boy, Prince into the enhanced ensorcelled body of a twnety-five wakxmoon old, who goes searching for relief from his guilt. He meets Bannordderell, Rub' Harr, and Ella Mar, which set him off into the Steppes of Thrashal Ague as a Law Breaker. He meets Kair O'Line, and her double-dealing Red Leopard father and is almost caught by Baron Gocum's Lawmen. He travels as a wanted fugitive to Woauchou on the run, and is taken prisoner and enslaved by his own fault.
After saving many lives, Lok Garr is freed from slavery, and is finding use in the Forth Son's Army. He takes on foes over his station, and in doing so he fights again as a free Major in the Nzepukim's Army, and has dealings with Herrohvell Harr's daughter Lynn, and frees a slave of his own. in time becomes the countries champion Gladiator, and thus money maker for this ex-Master. He is taken to War College, which changes him forever, and his new physical and spiritual abilities manifest themselves for eternal portents. and though he excels at Military maneuvers, he is cast down by the Cadre. He had his final run in with the General who enslaved him: Po Reah. The Wizard of Maane discovers Lok Garr's true identity, and GPS coordinates, and both men's plans change. Lok Garr has his last fall out with the Forth son, and is exiled: And so he has began building his force of ex-slaves and vagabonds. The 'Lokites' become powerful raiding and plundering and pillaging Gakle strongholds. The Wizard finally finds him after a twenty year hyatus, and gives him a present, the Panther is now, The Hammer.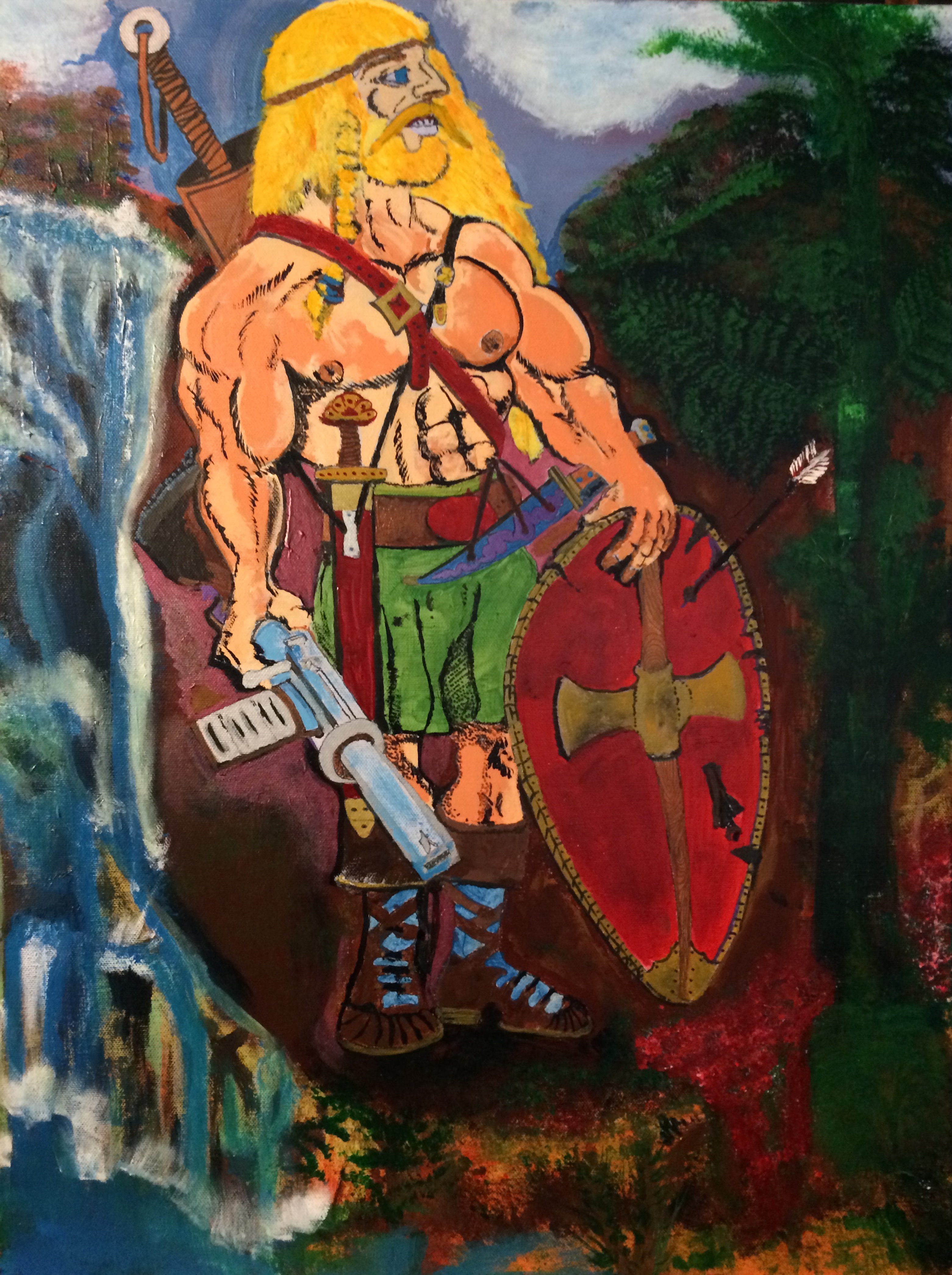 This cover painting is also 18" X 24" in acrylics and oils for $450.00.

Link, to Lok Garr De Martel.
Book 3.
~637 pages
~6" x 9"
Lok Garr De Martel, (The Hammer.)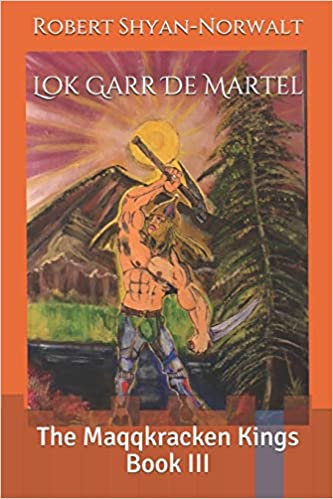 Finally after all his adventures in Nzepukim, Lok Garr is forced out by Po Reah's jealous generals, and after being saved at the War College, and still loosing in love for the first time. After a mission of revenge, and his final hitch in the service, he ventures back out into the teggah, and finds work as a Mercenary in Gog and MaGog, as well as among the Black Landers and Black Lancers. He starts capturing Galke ships and thus freeing slaves by the thousands, and thus engages in his personal vendetta against those Gakle who killed his mother the Queen, and General Lair Harr Denas ap.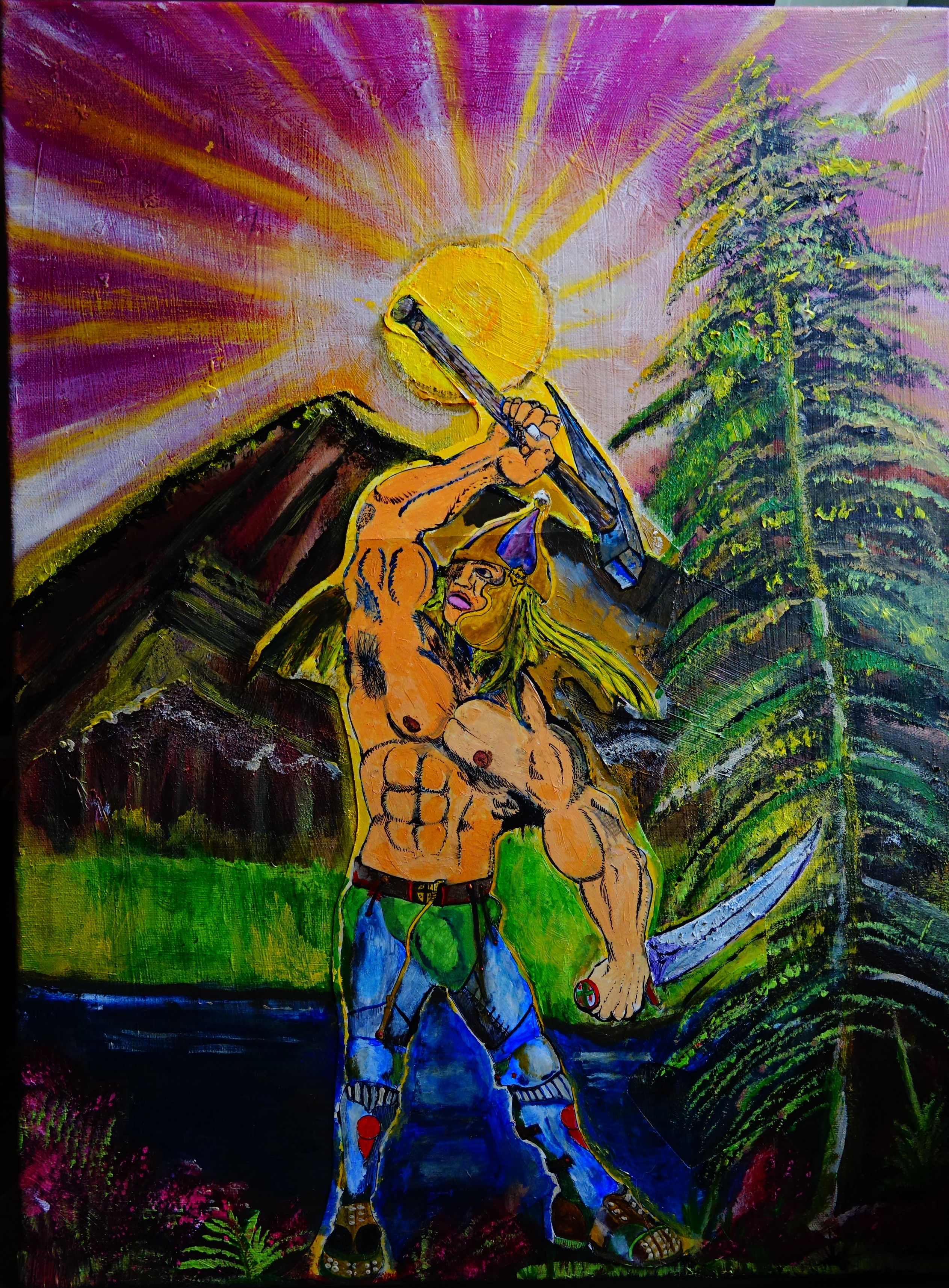 Original painting 18" x 24" in Oil and acrylics for book three, "Lok Garr de Martel" is available framed for $550.00

Link, to Lokite Revenge.
Book 4.
~656 pages.
~6 3/8" x 9 1/4"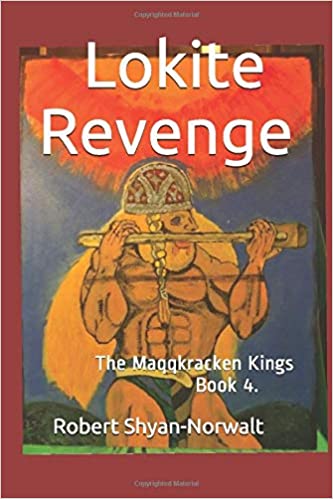 At the end of book 3, Lok Garr comes to a frightening knowledge: Zakxmare, the Gakle Kazan Kalpakian Shark who murdered him as a child still lives. He sets off alone on a course of assured mutual destruction into the heart of Mangakia even down into the renowned Nahrcraveaton, the very center of Mangakpaul, where they live in a Military Base in the midst of 'The Arid.' He has some misadventures on the way. Meets face to face with the Nahr Cult, and for the second time in his life allows a Nahr Diamond Head to live. Here is the great brawl that has been brewing in his heart all his life, and here he meets 'Rionnaggan, "Starlight" a blue skinned Cruithni (Pictish) whore-slave who he not only frees, but in time falls in love with, despite her 'fanciful,' all inclusive ways. Enter 'Zeleg the Thungarian,' and see Lok Garr grow into a wiser Ruler of the Lokite Scalli in Gordonia.
I started the Lok Garr stories when I was a small boy, and of course as time went on the characters grew and morphed in my mind in both scope and stature. Such as, when Lok Garr faces trials and tribulations he body and soul adapts, and grows with them. Slowly at first, as a young boy his powers reveal themselves: By the time of the end of the series he has grown very tall. Yet, being in proportion, and in a Rejuvenated state, he never ages, or gets sick, and his wounds though many, heal in shorter-and-shorter time periods.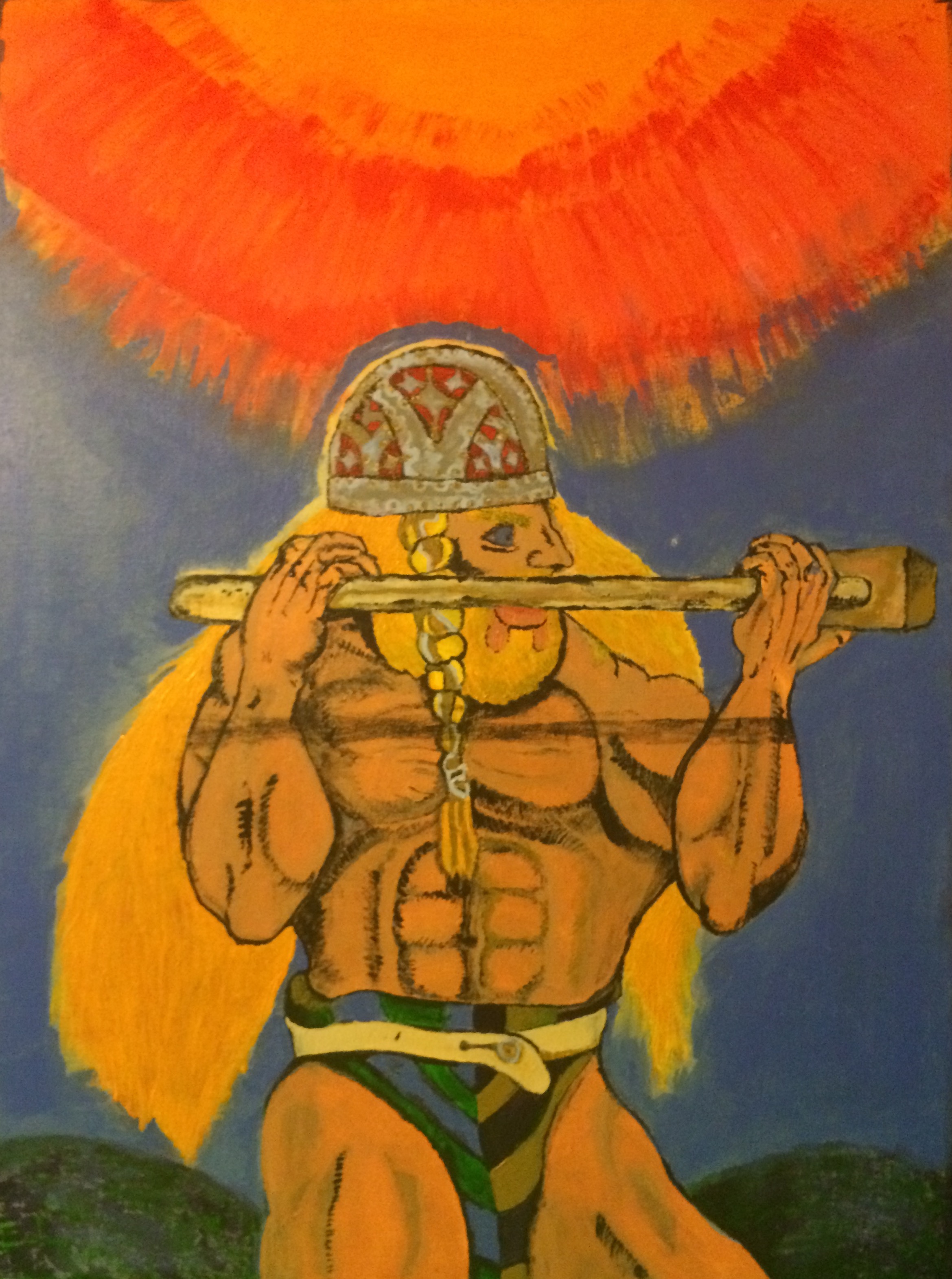 Cover painting for sale. 18" x 24" on canvas board, Acrylics and Oils for $450.00

Link, to Lokite Insurrection.
Book 5.
~677 pages.
~6 1/4" x 9 1/4"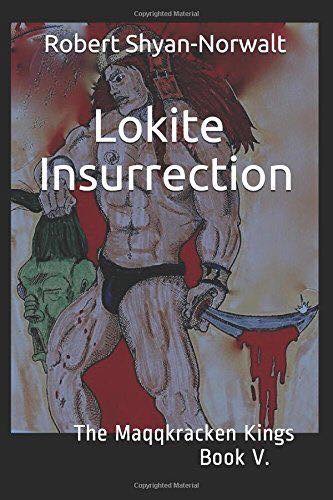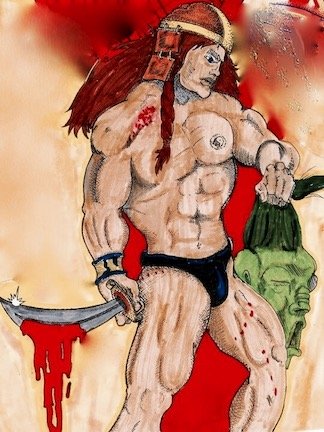 This art work is sold as prints. Plates are $45 for an 12" x 14" glossy.

The original of this plate, penciled by the Author, and inked by Mr. Doug Moody.

Book five is the culmination of forty-wakxmoons of wandering the Banswalli Rivers and Nahrcalter Oceans, and incessant warfare for the once Slave, Gladiator, Warrior of the First Tier, and Buccaneer 'Lok Garr of Rathra;' and his 'Lokite Army' of Rogues and miscreants. Book 5 sees the Prince of Raibeart Garr in league with the Rhog of Scythia, and his haughty Barons. Lok Garr has by now set up many bases and oasis on Islands and the Black Lancer Penninsula, and so the Scalli is attacked as he is in is in 'New Yudic' being reacquainted with his long time friends, and his once Maqqkracken Subjects.
Link, to the Weir King.
Book 6.
~390 pages, (183,429 words)

~8 1/4" x 11 3/4" (Very large coffee table book.)
~I tried a few books of the tabletop variety. Amazon unfortunately won't allow trim size changes so this is all that is allowed until I can get a hardcover version on the market.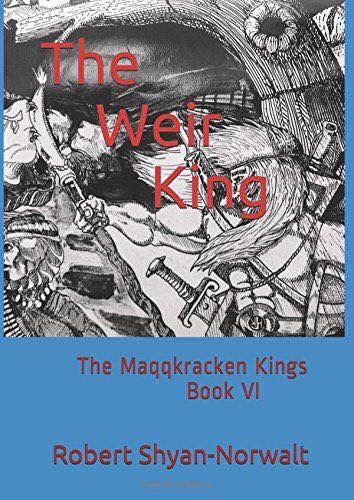 Colorized version of this cover coming soon.
King Lok Garr enlists in the Second Scythian Mangak War, and is also at War with the Eastern Realm who was responsible for the death of his father and the overthrow of the Lockeheart Dynasty. He comes to grips with Herrohvell Harr after his Army faces incredible odds. Book Justice is the means and bedrock of the Maqqkracken conscience. He uses the Gordonians, Picts, and Scythians to help him win the war as he'd helped them. We learn more of the true identity of the Rhog of the Scythians. The Seige of Yudic is well underway, and Queen Rionnaggan facing Maqqkracken prejudice, gives birth, and they set up a new war camp on the 'Devil's Backbone.'

'Lok Garr and Rionnaggan at Geath.'
Like unto the prints for 'Lokite Insurrection' this artwork cover too, is only available in glossy prints, for $45.00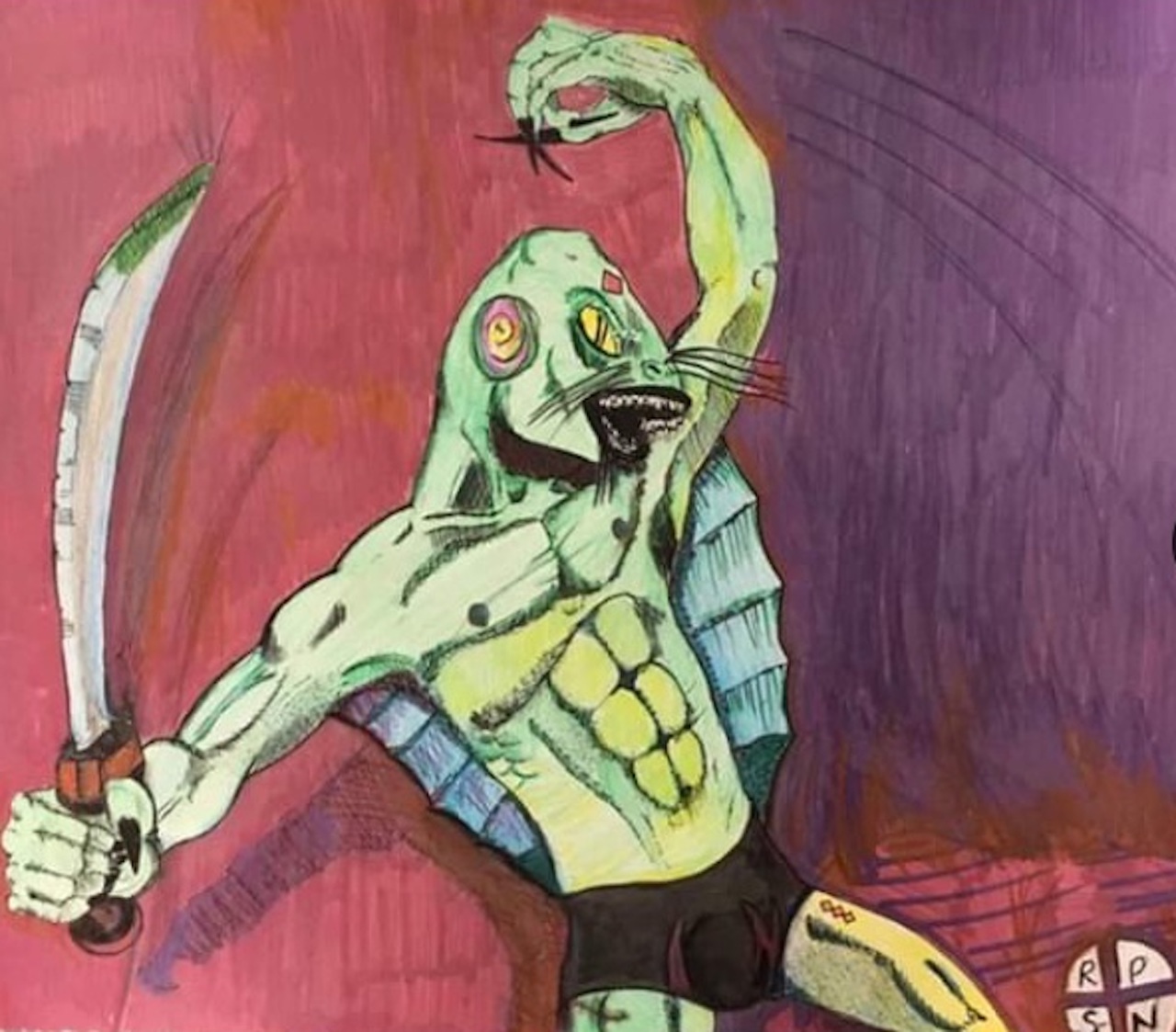 The Gakles Diamond Heads, (Mangaks, Mangakpalls, Mangakpauls) morphed over the years.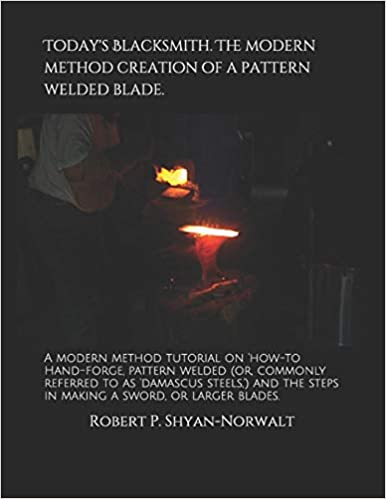 Link to Paperback version of "Today's Blacksmith. Modern Method Creation Of A Patten Welded Blade." ~A 'how to' tutorial on hand forged, pattern welded, (or, commonly referred to as 'damascus steels,') and the steps in making a sword, or larger blades.

155 Pages.
8 1/2 " x 11"
$32.00
This book is about using new or reclaimed stock, with very few tools beyond hammer, anvil, and coal, even with a beginners knowledge of iron and steel, one can successfully craft a pattern welded blade of superior functionality in the modern sense and beauty as well. This is not a tome on types of patterns, or just another how to knife book. I also talk blacksmithing pitfalls in the 21st century, and give my personal opinion on a few issues.
This is a work of actual forging technique NOT a book on the various patterns.
This is also a book from the heart. I included a few of my own philosophy's on the Smithing genre and world, and warned of a few pitfalls I wish I had been taught in my Apprenticeship. If you're looking for a technical manual style approach this isn't the book for you. If you want to make damascus steel swords and knives and need help getting that done, than this is your book.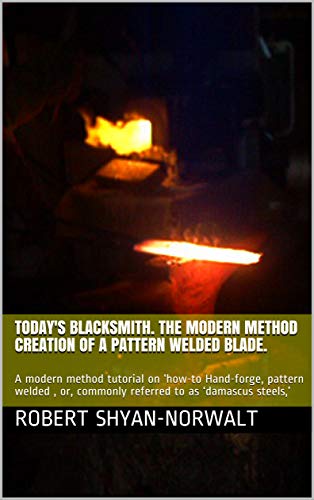 Kindle version cover.
To Wuffingas Historical Reenactment Club Marshal's Manual, (A Guide for live steel, (actual sword and other steel weapons fighting), designed for Living History grade, on down to LARP style groups.)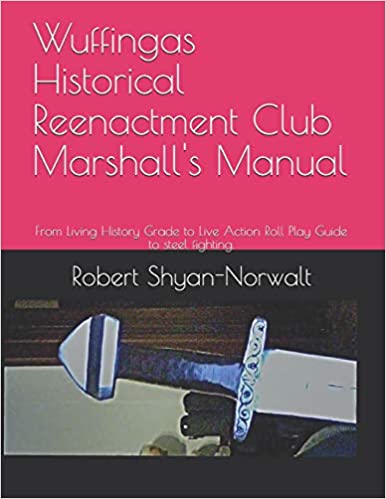 250 pages
8 1/2" X 11"
$25.00
This manual covers it all. After over 28 years of full contact fighting in the US quasi-historical groups, the Author wanted to fight with real swords, (blunted) in a safe, and fair setting not based on the whims of the man being hit: Thus getting away from the outmoded, fantasy based, or relativistic fighting conventions. This is a method for a truly honorable, and chivalrous, well balanced approach to single and melee combat in the 21st century, that doesn't require MMA style conditioning in order to play.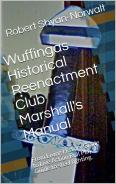 Kindle version cover.

Book Review: "This was written in great great detail, from the do's and don'ts to the safety and legalities of a professional medieval historical group. This guide also includes many historical fact about life, love, weapons, clothing, armor, and warfare from the 11th, 12th, 13th 14th, and 15th century. It guides you thru the ranking system, and how the knights lived by an honored oath of chivalry. I feel that I've gotten so much information from this guide that I could live this very life . It teaches how to hold modern tournaments, how to score them, and the art of marshalling such a tournament. This is a must have guide."
Link, to paperback or kindle versions of each title (s).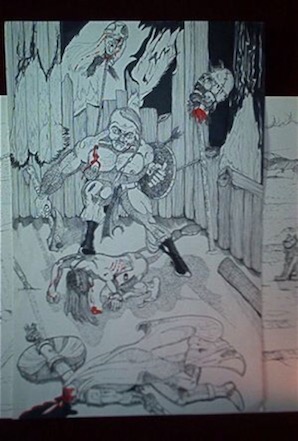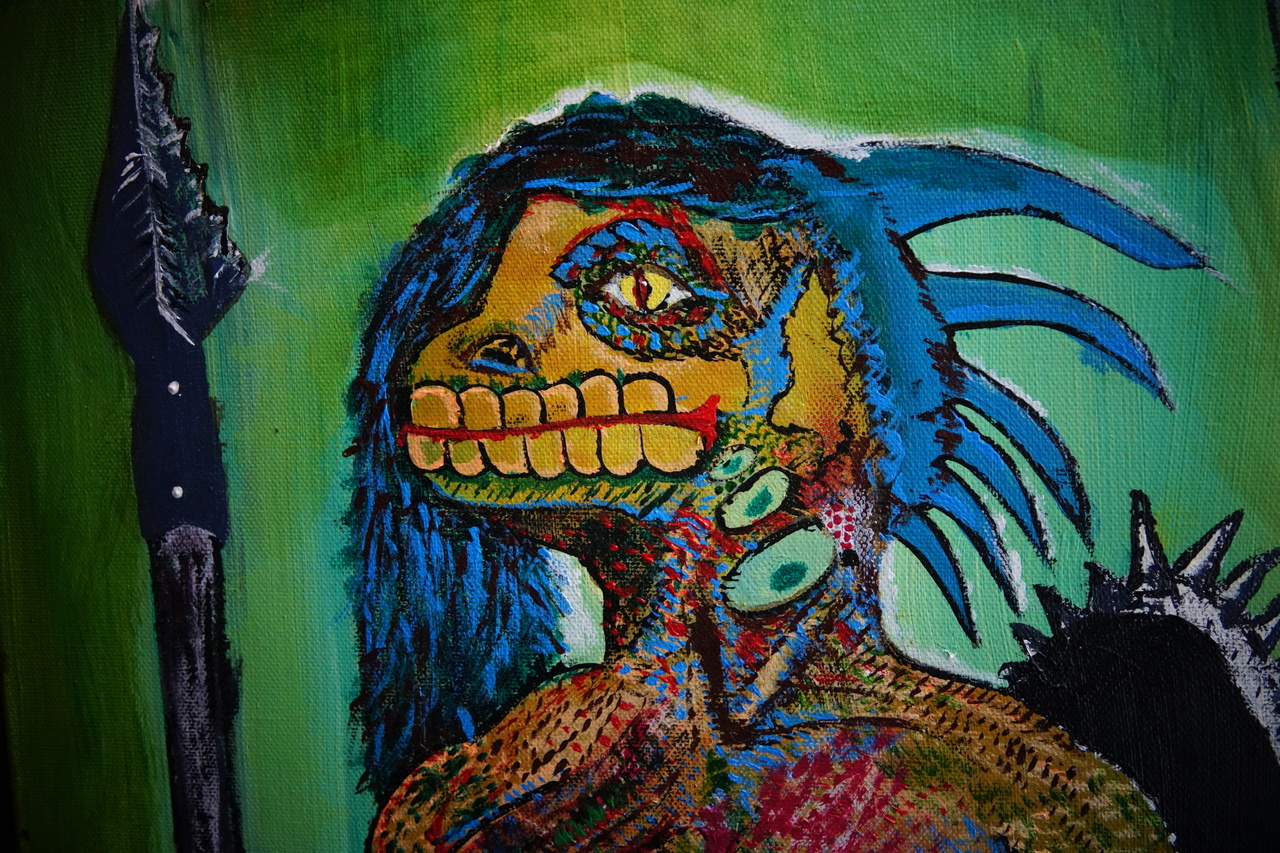 The Prophetess and Soul of the Nahr, Heurrittill.

As this story unfolds, (The 12th Realm, first of twelve volumes in the series) is started off with the daily lives and loves on the planet 'Teggah:' A class M planet over 350 light years from earth, but seeded, operated, and controlled by the 'Wizard of Maane' (Caleb Samuel Mitchell, an ancient man even before they left earth, sporting several identities.)
The racial DNA/RNA comprising the planets ethnicities were specifically, and scientifically chosen back on earth in 2286 ACE after WW IV. Here come forward, by the 13,000th wakxmoon of the Maqqkracken race the technology's had purposefully been limited to that of about 800 ACE on earth, except in the instance of crude but effective cordite disc-projection firearms, -a maqqkracken trust.
The Dynasty in power at this time is ruled by Lok Garr's father, King Raibeart Garr. The 'Garr' being the second son. The opening book is full of the arms and armour, battles, betrayal, intrigue, mystery, and bits and pieces of information about the Rejuvenators, and the Splicers old earthbound pursuits. The main protagonists against the Maqqkracken's, are many several Tribes of a Reptilian-Amphibian, and Aquadic mammalian beings known as the 'Gakle,' 'Mangakpull,' -and many other slurs: Some more human, and some more like their host DNA, i.e., Sharks, Iguanas, Snakes, Crocodilians, Salamanders, etc. Enter Baron and 'Counselor of the Fifty' Palic ap, Baron Herrohvell, General Lair Harr Denas ap, Queen Me'Laun'Dra, and her wayward, brash, Outlaw son: Lok Garr; knighted, The Panther.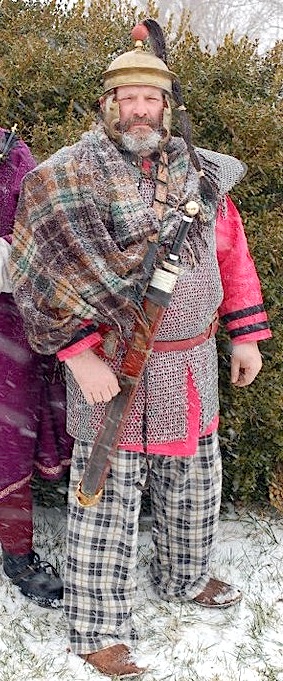 Link to book 3.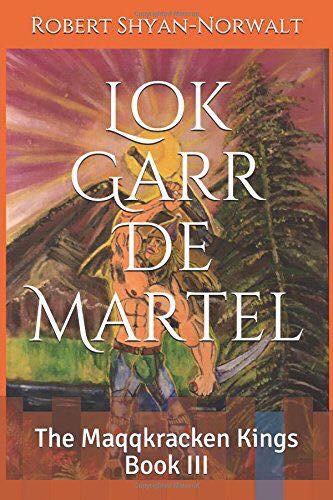 The Author Robert P. Shyan-Norwalt had been a Biblical Student, Soldier, Demolitions Tech, Corrections Officer, Truck Driver, and finally Metal Worker. As a 'Generalist hobby Blacksmith Apprentice and Blade Smith,' since 1988, and then as his skills grew, so did demand, and so he started running a full-time Blacksmith Shop (Hammer Forge and File, Inc.) in Central Indiana: ('Damascus steel', period authentic swords, shields, daggers, knives, and a minimalist munitions grade armory since 1999.)
An avid SCA'er (Society for Creative Anachronism) from 1992-2005, with a well used extensive library, and a Living History grade enthusiast from 2006 to the present. He 'played' in many persona's and historically accurate displays. From Gaul Chief 30 BCE, and also two separate time periods of the 'Picts' (Cruithni) in later Scotland, an Itallo Norman Miles mercenary 1016-1098, and lastly a Jacobite Scottish Laird of the Culloden Era.
He started working on the 'Lok Garr stories,' and the 'Maqqkracken Kings world' as a small boy of only 7, and worked on them initially (as a dyslexic) all throughout his Military Career, (1979-1994:) But not until the invention of word processors in the mid-80's, was he able to dive in with his true desire to be an Author.
He loved and devoured the works of E. R. Burroughs, Lovecraft, Manly Wade Wellman, R. E. Howard, L. Sprague De Camp, Lin Carter, Robert Adams, Larry Niven, Michael Moorecock, and many others to fuel the fire in his own imagination. But he wanted to build on his own foundation, you our readers happily find he worked very hard to be his own writer. A self taught artist he's been into the Heroic Fantasy Genre all his life, and here worked very hard to be as original in plot and character studies as humanly possible.
From his early days with the Ministry as his first goal, and then in the US Army Airborne, Air Assault, and as Indiana National Guards Top Novice Adjutant Generals open-iron-sights Champion, and Combat Infantry, then onto Construction worker, Prison Corrections Officer, and OTR Trucker, he garnered his knowledge of personalities from localities all over the world, to incorporate into his Heroic Fantasy-Science Fiction characters. But for a hobby nothing beats full contact, live steel or rattan combat and living history reenactment.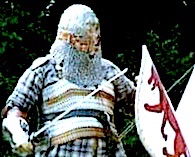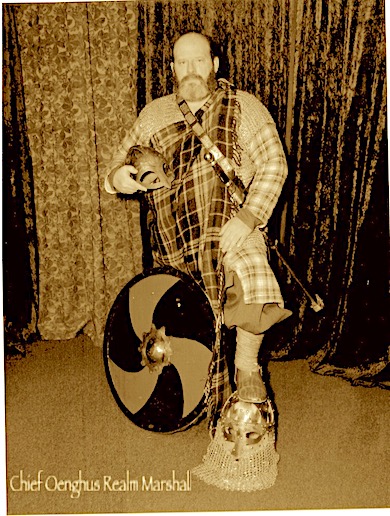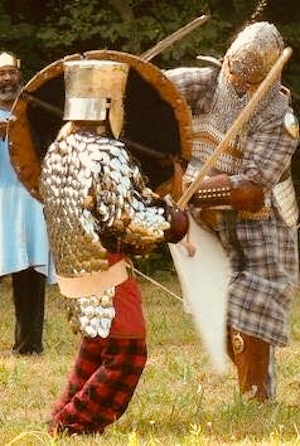 Sir Oenghus (right) vs. a worthy opponent in steel sword combat match in a Wuffingas Historical Reenactment Club 2011..
Link, to Bhob Garr's War book 7.
Book 7. Table top formatting.
~186,892 words. (Currently reformatting for accurate page count as I got the pagination wrong.)
~8 1/4" x 11 3/4"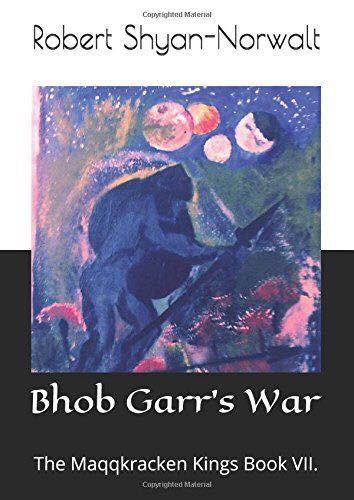 It should go without saying that one of the principle character's is General Bhob Garr of Clan Gocum who with the Wizard of Maane, Chinzon, and Old Job Occaria of book one, features heavily in this yarn. He was tasked with running down and capturing the Outlaw Lok Garr Bannorderell in book two, and failed. Come forward over forty-wakxmoons and he is now the Leading General in the Mid-Realm. As his King faces off with the Wizards Champion, the General is setting up the second civil War.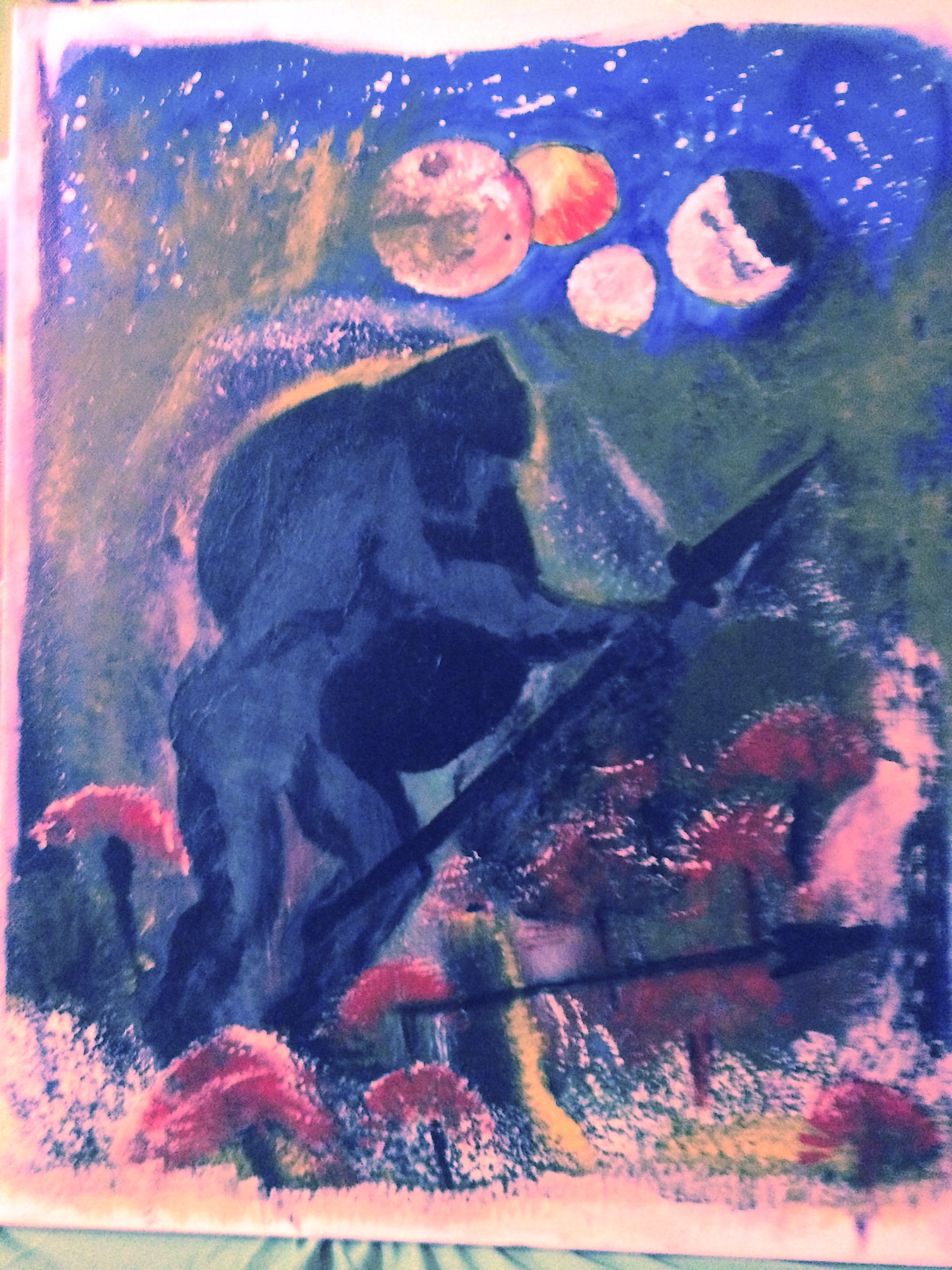 Original cover painting for Maqqkracken Kings 7, 'Bhob Garr's War,' evocative abstract 16" x 20" acrylics and oils framed for $225.00.

Link, to the Maqqkracken's Brood, book 8.
Book 8.
~413 pages, but over 185,570 words for table top format.
~8 1/4" x 11 3/4"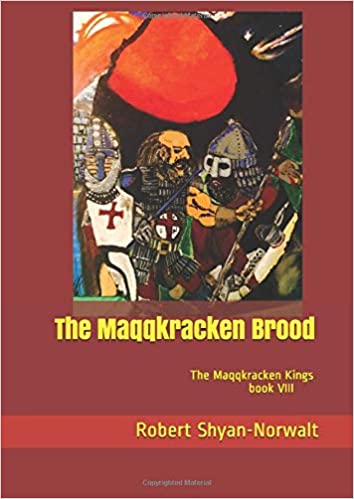 The King's Son's and Daughters by Queen Rion' and those of Queen Robyn Wyldyerkyn begin their clash. Enter a betrayed SIr Raibeart Garr, and his Kackijani savior an old friend of Lok Garr's: Nicolov: as Baron Sir George Garr is led astray by religious Zealots of the Rhone Whelmsites. Enter Lok Garr's oldest son, Sir Finn Harr now in open Rebellion: And in it all rides Lok Garr's Champion, his son by Kair O'line Lt. Colonel Suemas Harr, also his fathers favorite, and the Giant realizes his greatest power yet!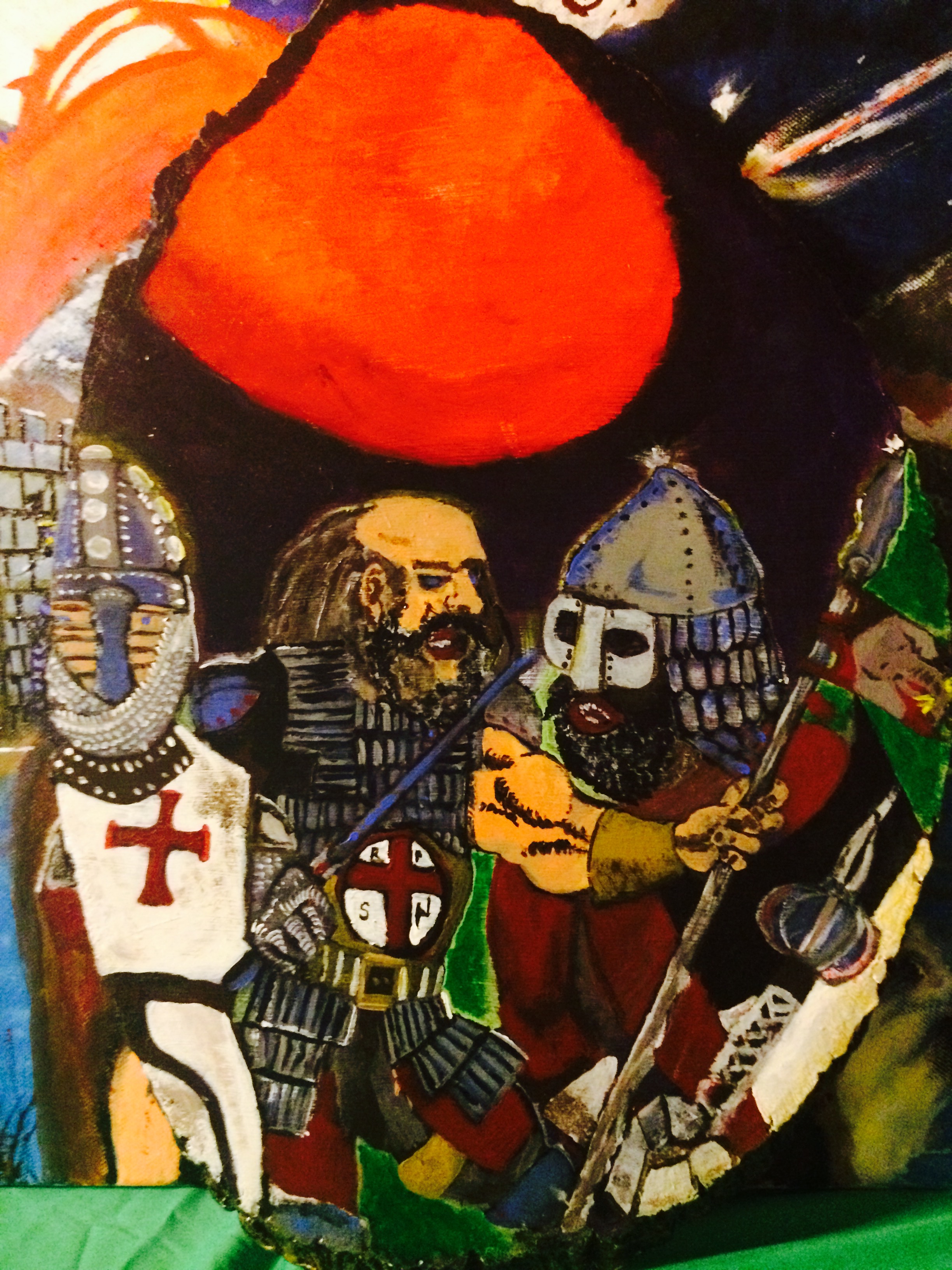 Original art, for The Maqqkracken's Brood, acrylics and oil's on pine. 9" x 15" $150.00

Link, to Maqqkracken Malice book 9.
Book 9.
457 pages.
6 1/8" x 9"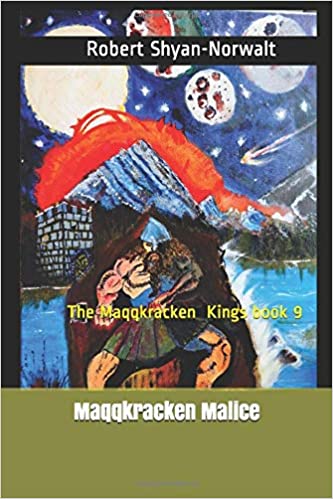 The Being who was backing the Wizard of Manne all along come to pay Lok Garr the King an unpleasant visit. More and more of the Kings powers are realized day-by-day. Fear and loathing of him creep into the hearts and minds of the populace, and bad times return to Yudic. The fight for the lives of Dan Menifee, Rhog Essox, and Chinzon come full circle.
This cover will be changing soon. But if you are interested in the original art, the painting is 18" x 24" acrylics and oils, framed for only $250.00.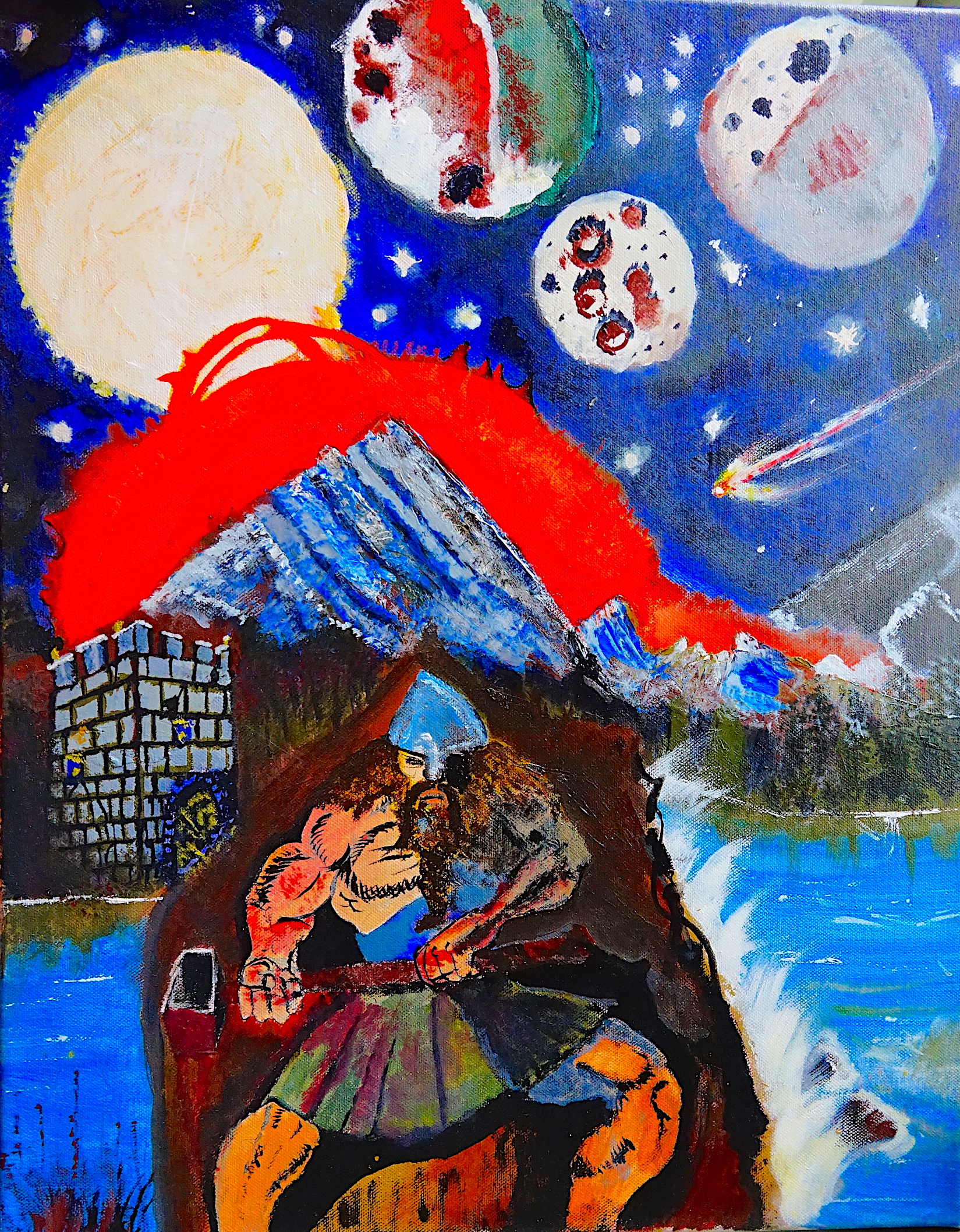 .

Link, to the Drums of Pictdom.
Book 10.
~418 pages.
~6 1/8" x 9"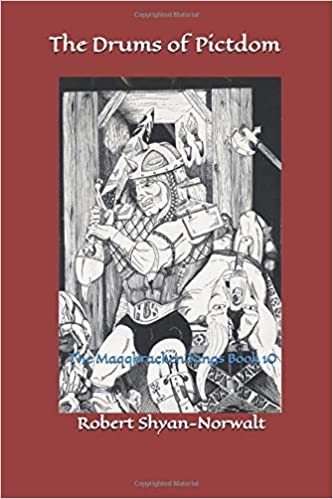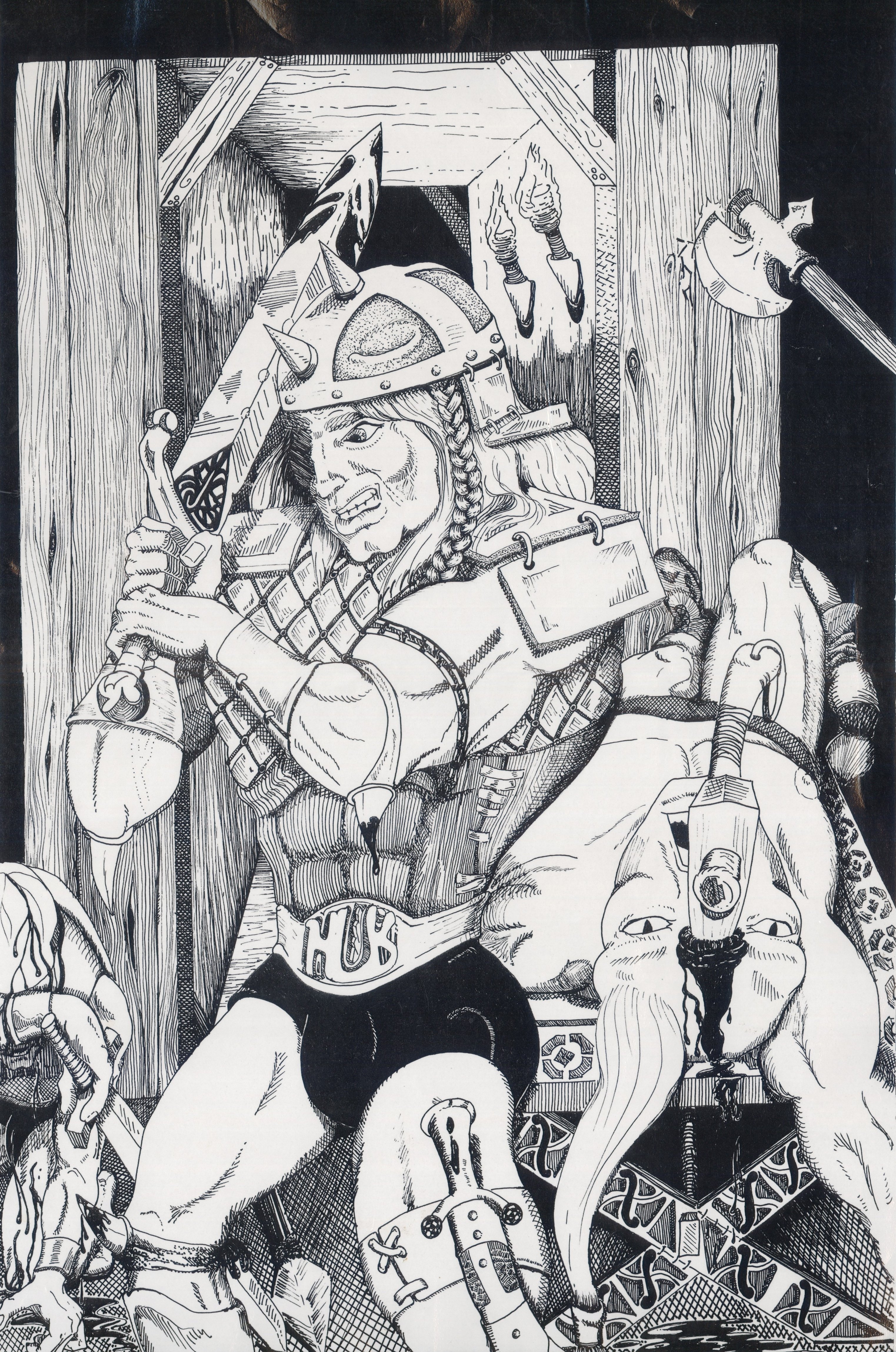 Book 10 finds Lok Garr the King now developing powers that begin to terrify his subjects, and his Generals. He takes an unauthorized Army north to carve out a place for his Cruithni Son's and Daughter's, and is rebuffed by the Caledonians, and Gawliks. The Wizard is at work and more assassination attempts are made. It's all settled at Pine Bluffs, and Lok Garr's world will never be the same.
Original art work, is a scene from Kazan-Kalpak the Capital of the Gakles, but not on original paper, pen and ink of Lok Garr done many years ago, before the books were a reality. Framed 18" X 24".
Pencils Robert P. Shyan-Norwalt, inks Ms. Kathy M. Smith.
These are the only existing copy prints as the originals were stolen. I wouldn't part with this for a dime less than $1000.00.
If anyone, anywhere sees this work on display please notify the authorities.
Link, to the Masters of Time book 11.
Book 11.
725 pages.
6 1/8" x 9 1/4"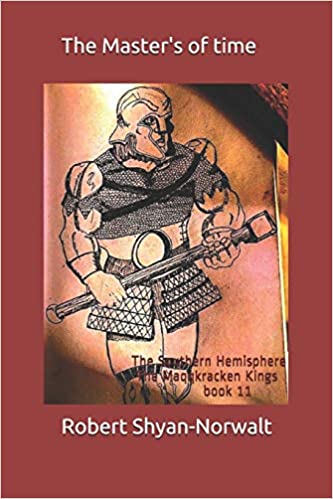 Pivotel moments in his life, and strange occurrences mark the end of his Reign as King after nearly a hundred and ten wakxmoons on the Throne. Life of our hero; Lok Garr the Hammer, is changing rapidly, as his powers are manifesting now almost by the hour, and neither The Being, nor Caleb Mitchell are ready for it. The Evil pull out all the stops and they use all the stratagems at their disposal to rid the world of this annomoly: Attack his family, his reputation, and his legacy. WIth his current powers he comes at the situation from a new angle for him, and his choices change history on teggah for ever.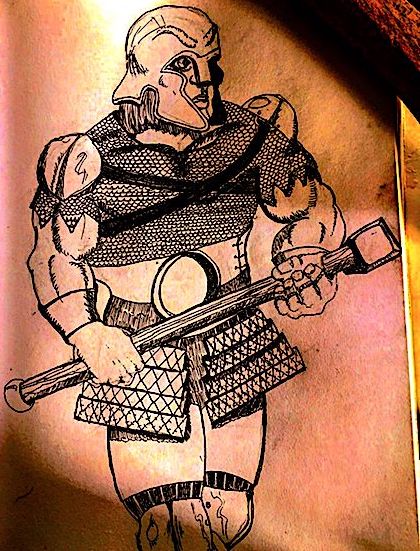 Treatment for the cover.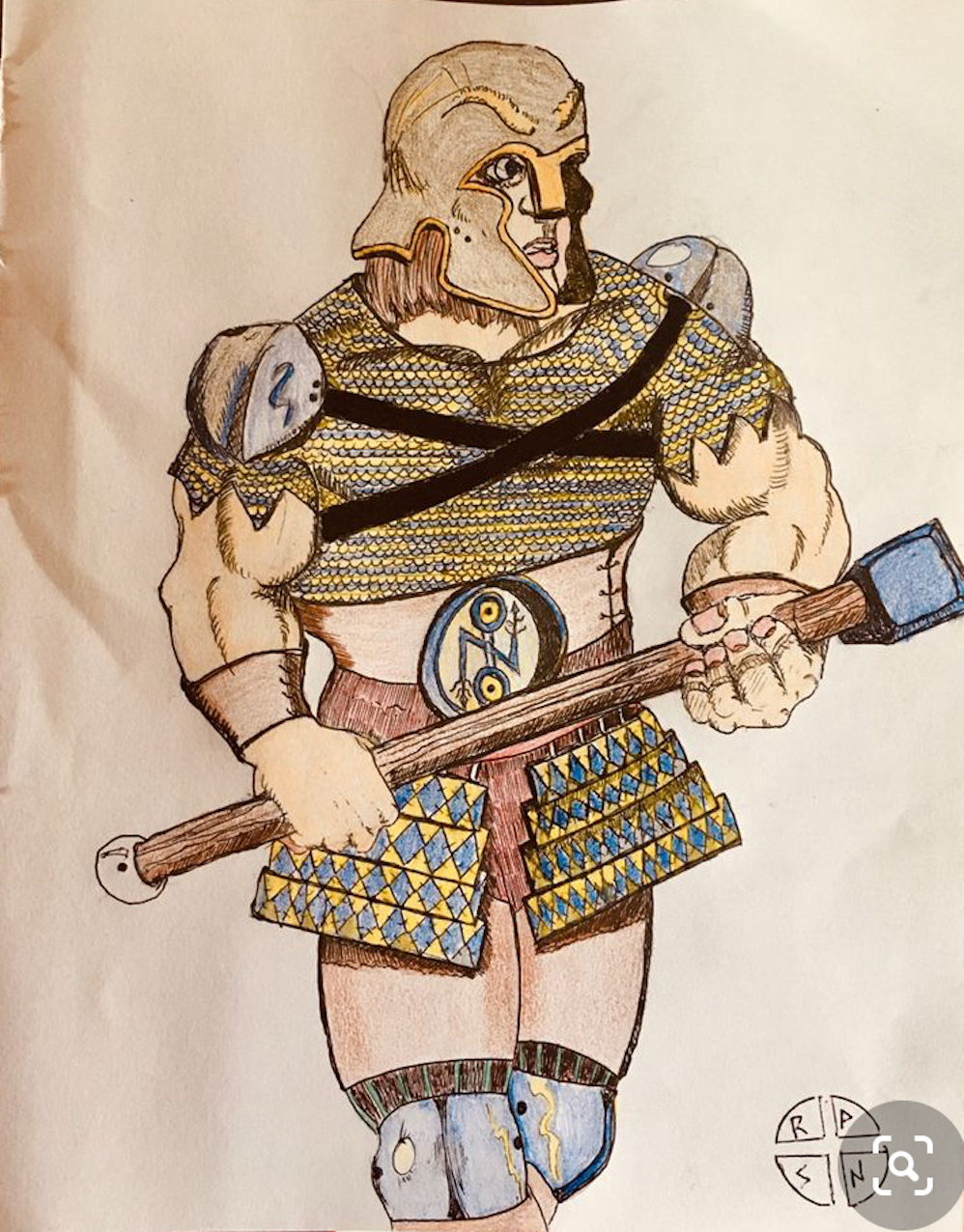 Original
This 8" x 10" watercolor and colored pencil drawing for book tens cover, will be replaced soon, but I'm offering this one unframed, in pen and ink, with colored pencil, for $50.00.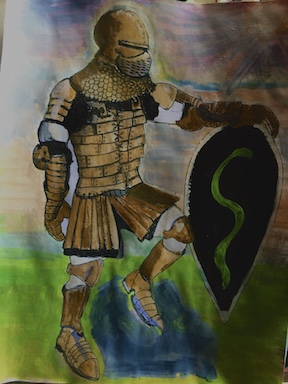 Gakle Salamander in armour, unframed watercolor 10" x 14" $150.00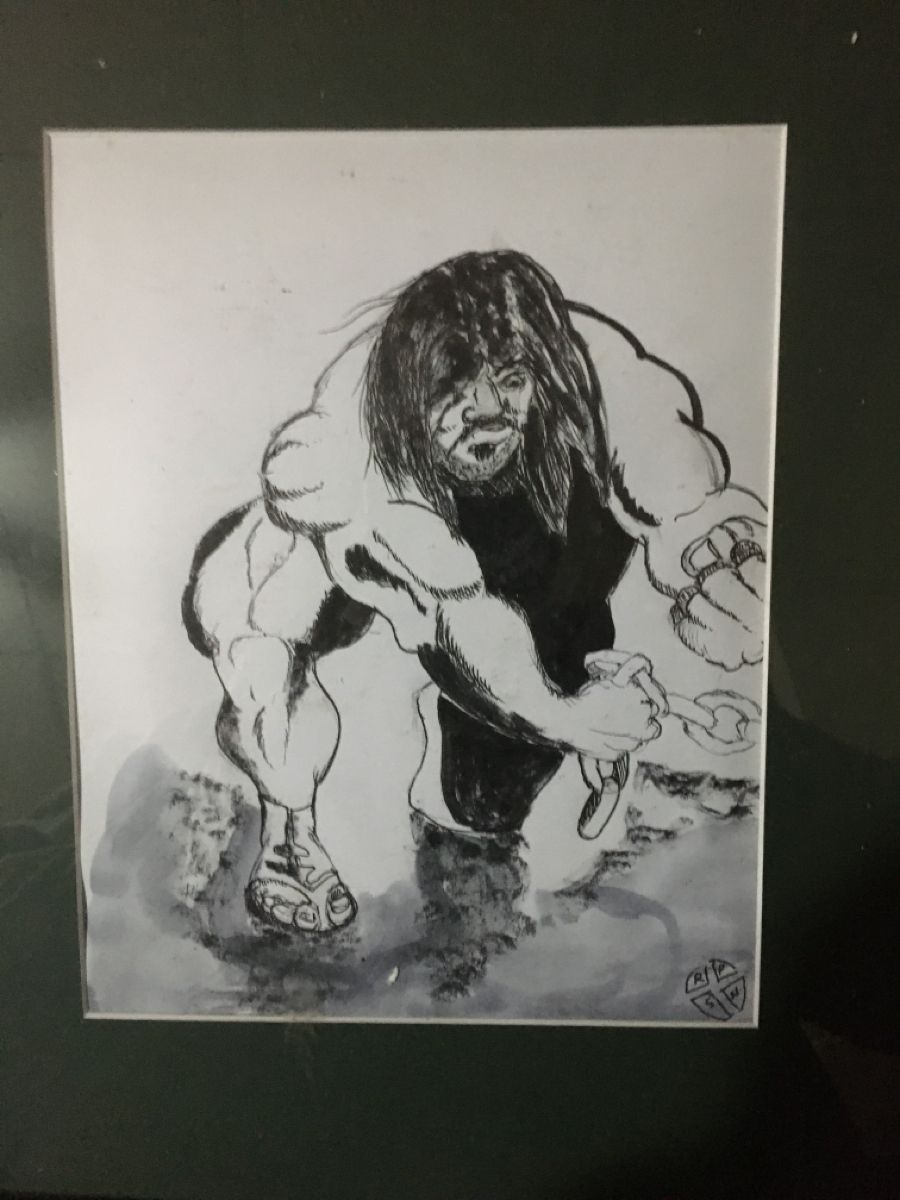 Lok Garr pen and ink, he as a young man in peril with Clan Mahkmahn of the Shiners Realm, in a scene from Book II. Framed 8" x 10" $100.00

Early pen and inks.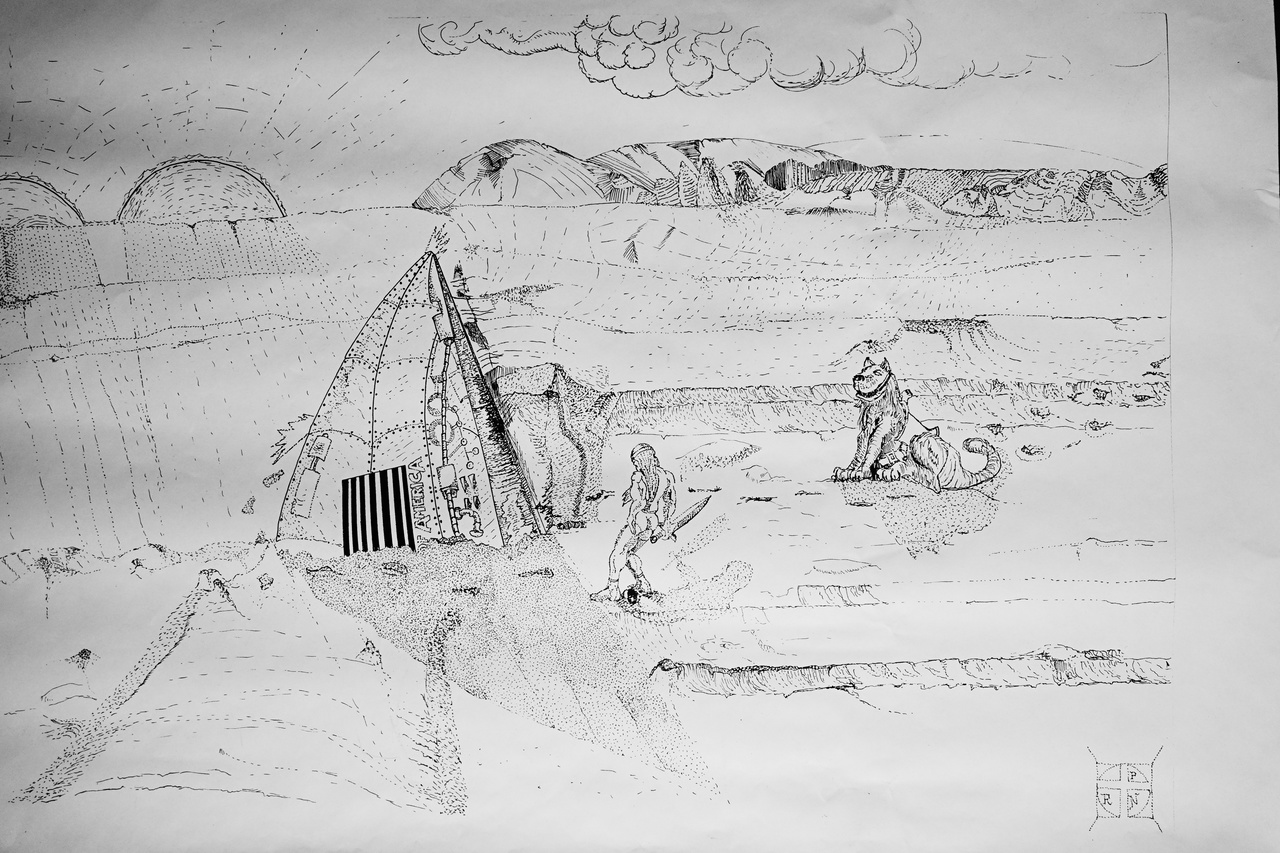 This is an very early envisioning of Lok Garr at 14 with his trusted Clou Rue Rusty. Out of book one they stumble upon an Idol of the Ancients, out in the Alkaline desert of Thrashal Ague. Pen and ink on 120 lb. paper. 24" x 36" framed for $1000.00.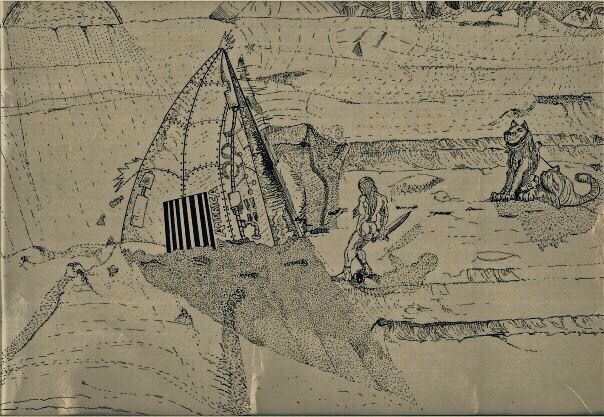 Closer in sepia.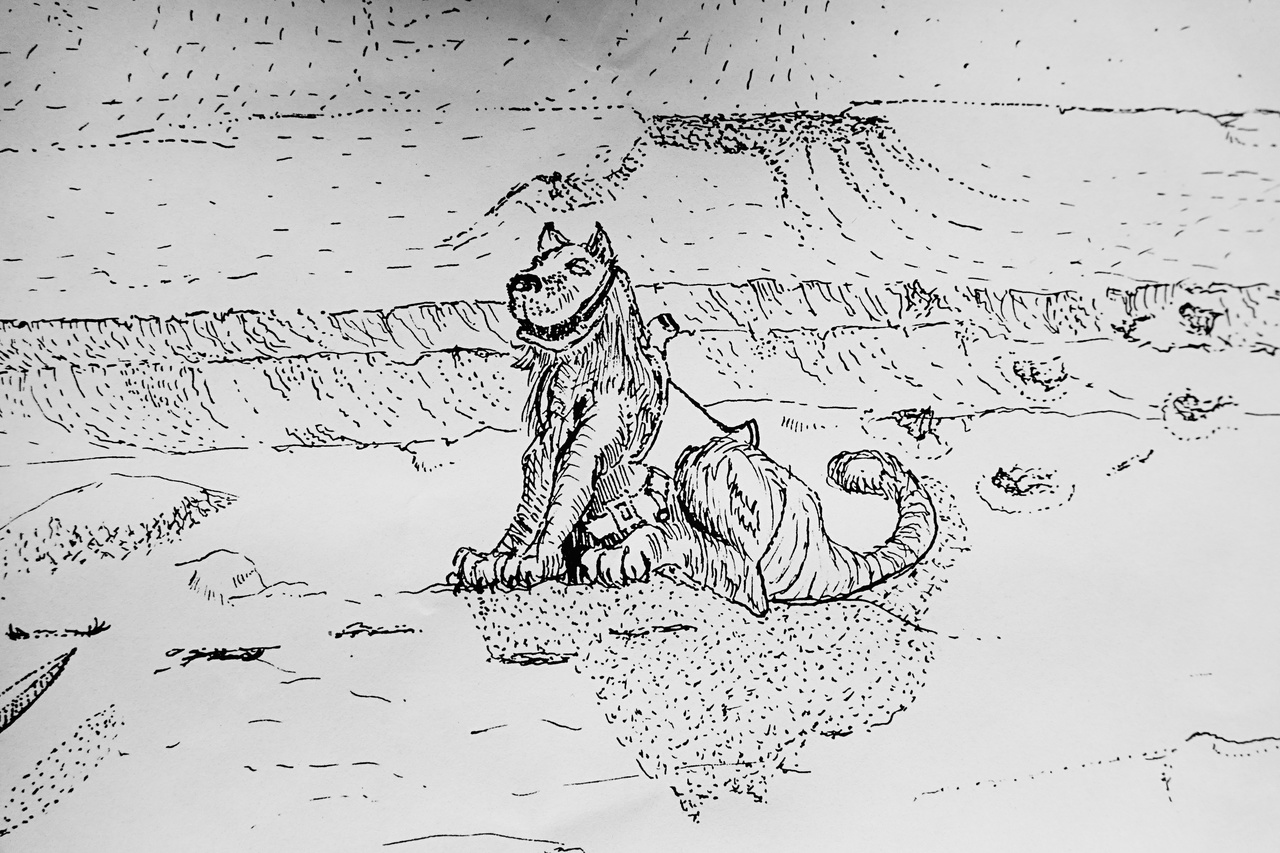 Rusty.
We do signed copies by the Author for the cover price, plus $25.00, shipping and handling in the continental USA. Otherwise actual shipping rates per customers request.

Once the Covid-19 is abated look for us at Book Faire's, SCA, Comic Con, Renaissance Faire, Dragon Con, etc.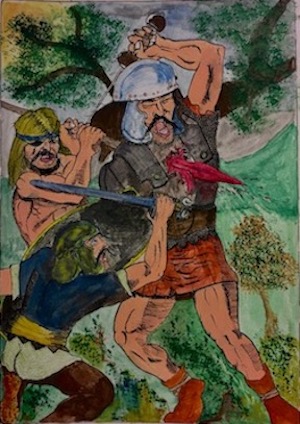 The Duel. A print from the up and coming, "The Gaul" a Historical Christian Fiction, out in October 2020.
Other books and art work in the series, art work and details.

Although not based on the Maqqkracken kings series, this is an evocative historical piece that I did for a character study for a future book I'm working on. That's my Heraldic device by the way on the Norman Knight. This painting is acrylics, oils, and texture mediums on canvas board 18" x 24". For sale $650.00.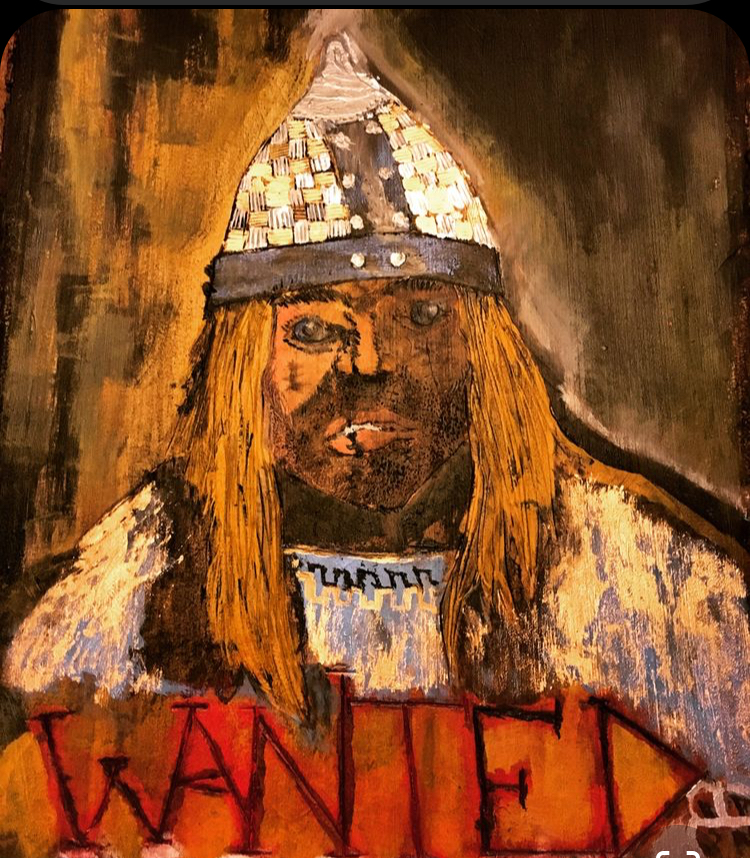 This is Lok Garr at 14 still recovering from his ordeal with the Mangak. By now he's a wanted man, with a huge bounty on his head. Details are burned into pine, with acrylic, oils, and ink. 10" x 12" for $150.00.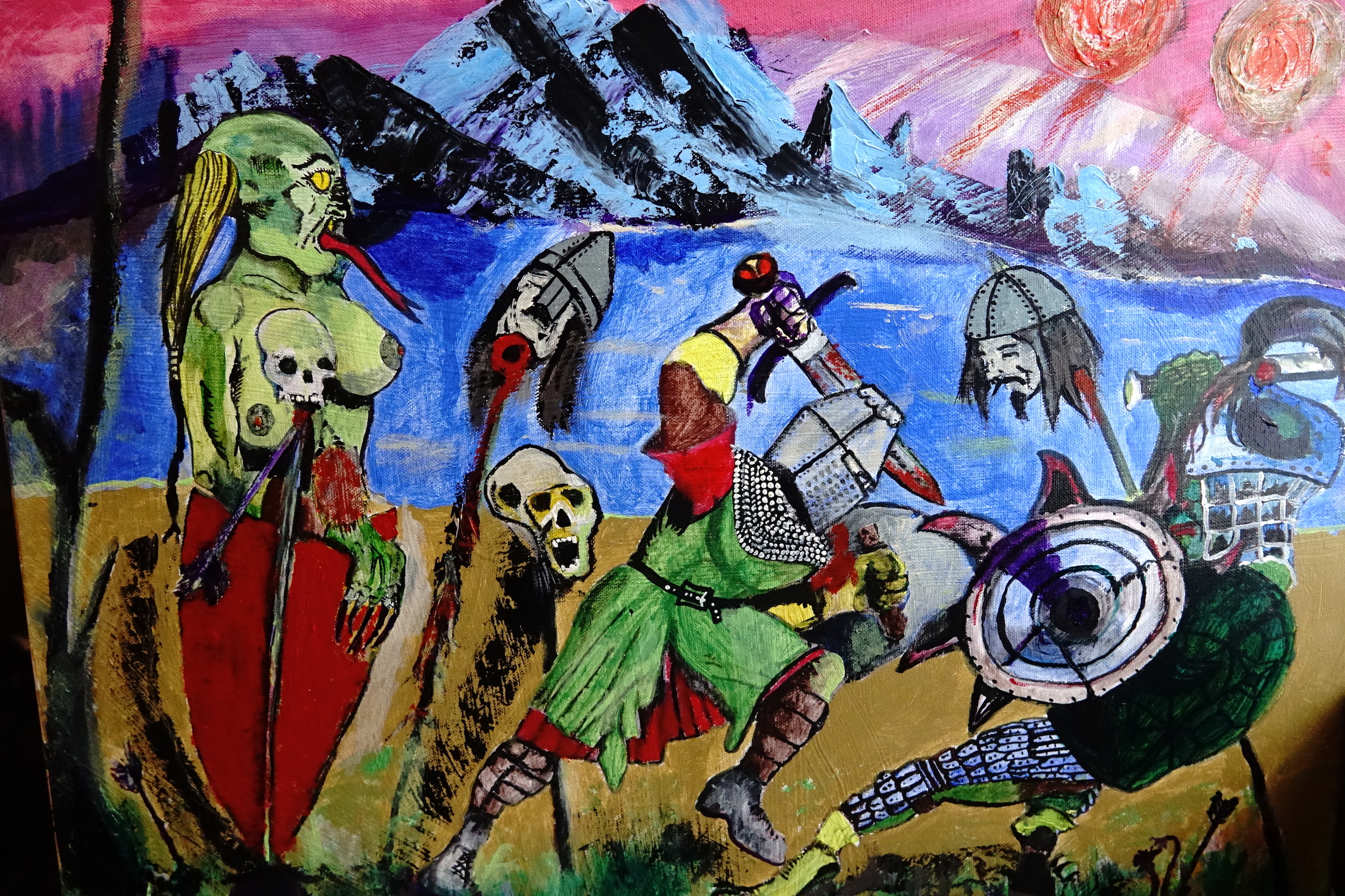 This scene above just left me wanting. So I changed the mountains, muted the shadows, changed the suns, and added snow. Much better.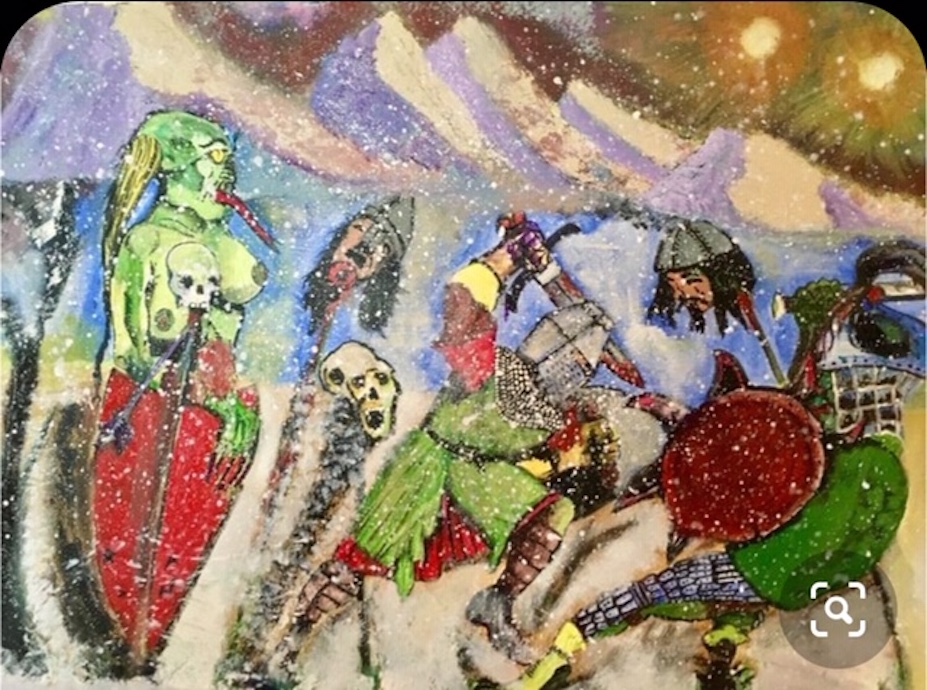 Final piece is 18" x 24" acrylics on canvas. $450.00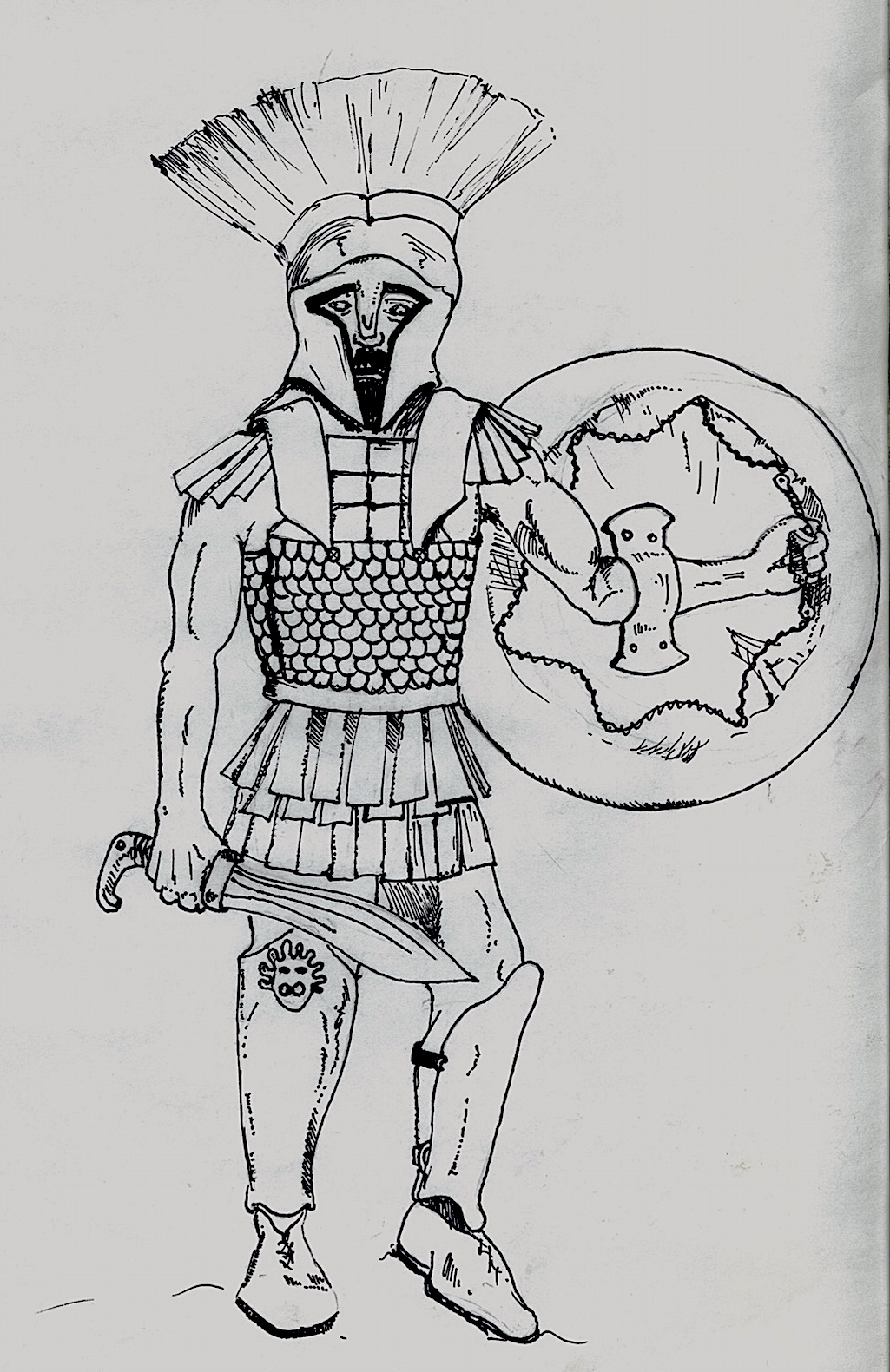 I did this mock up as a sketch.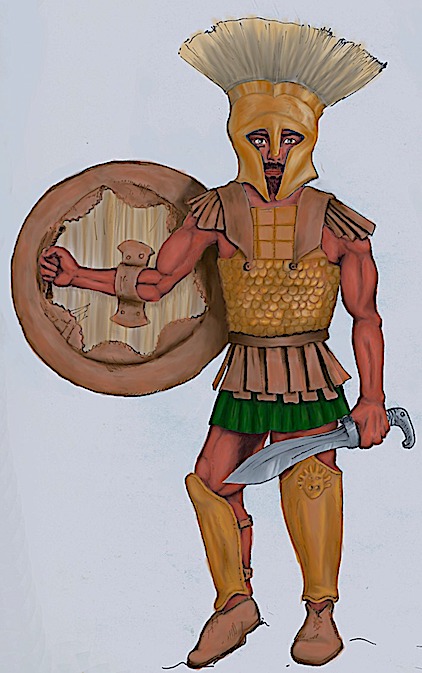 With photoshop help from Mrs. Debborah Zicht it really popped. Not for sale.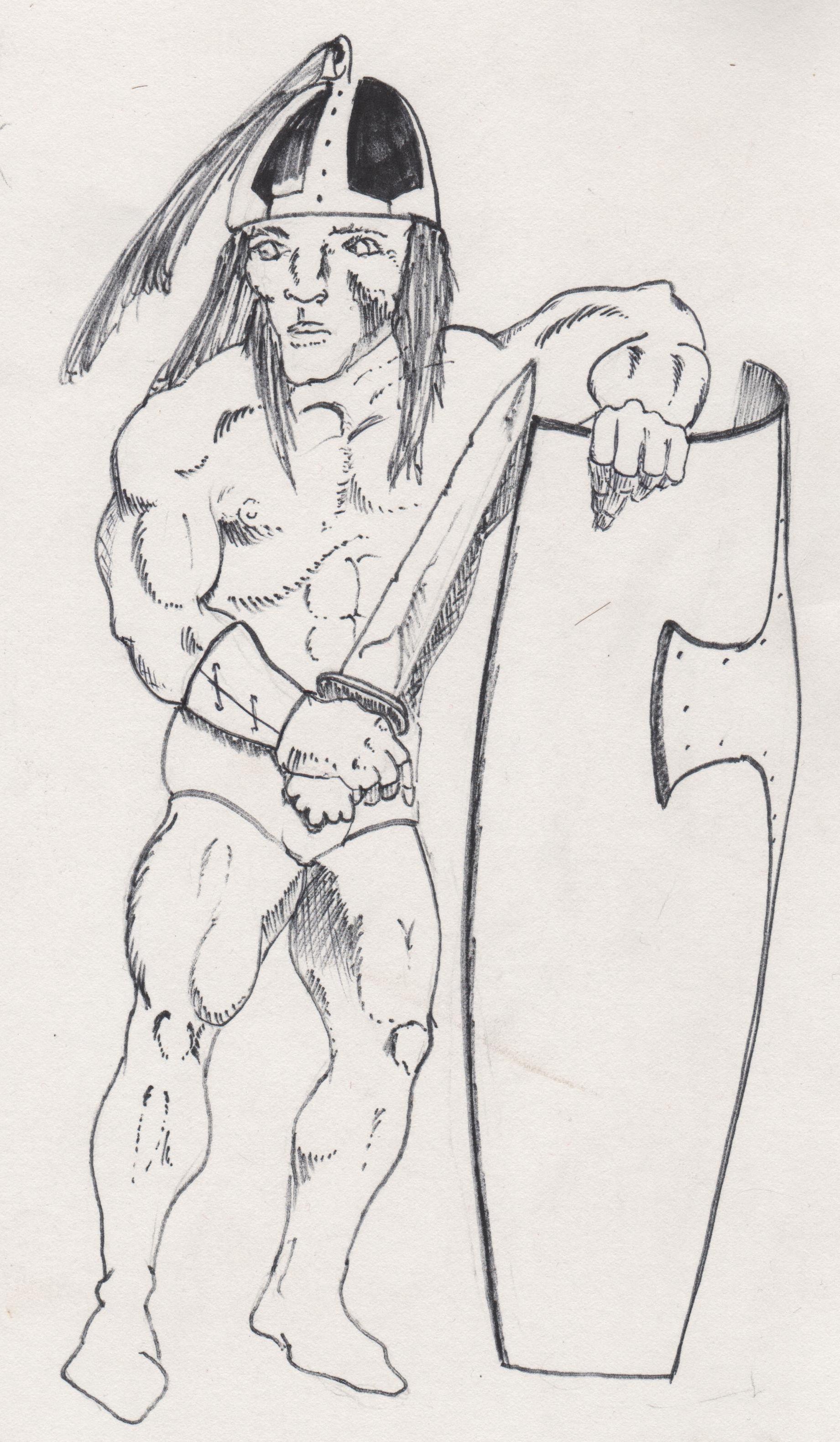 This is Command Sergeant Uoockmann ap. without armour.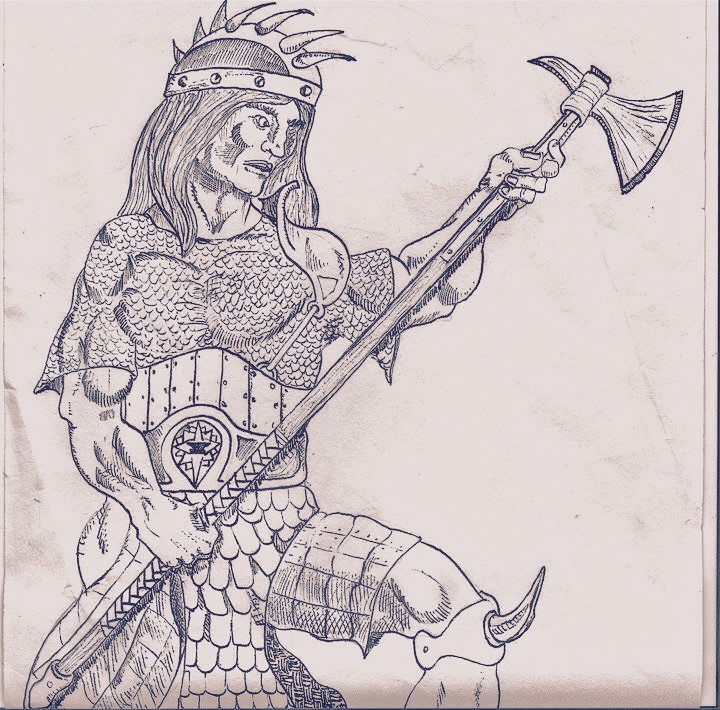 I did the below sketch in highschool.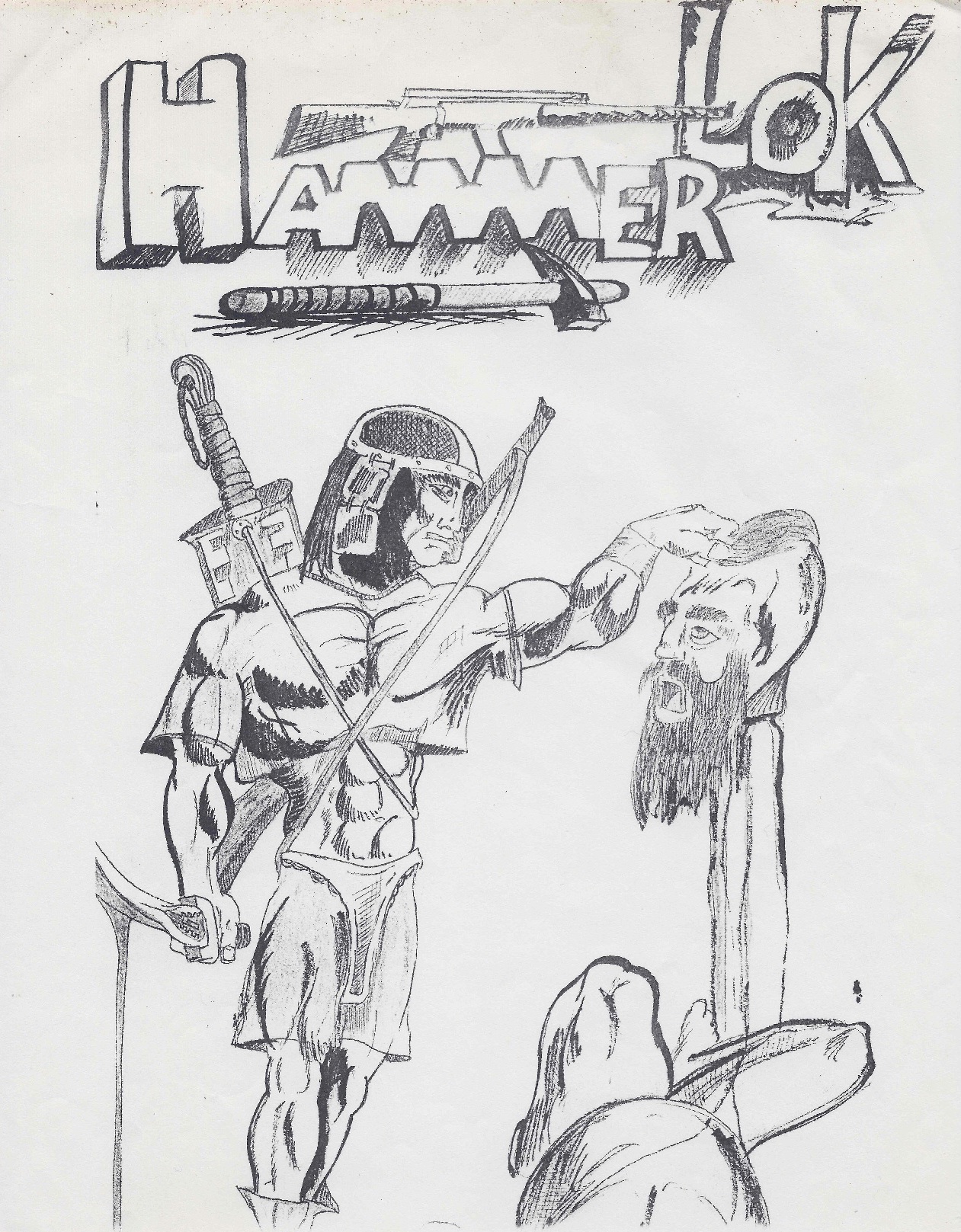 Lok Garr in his Gladiator days in Nzepukim. "Forth Son." Pen and Ink by the Author. Not for sale.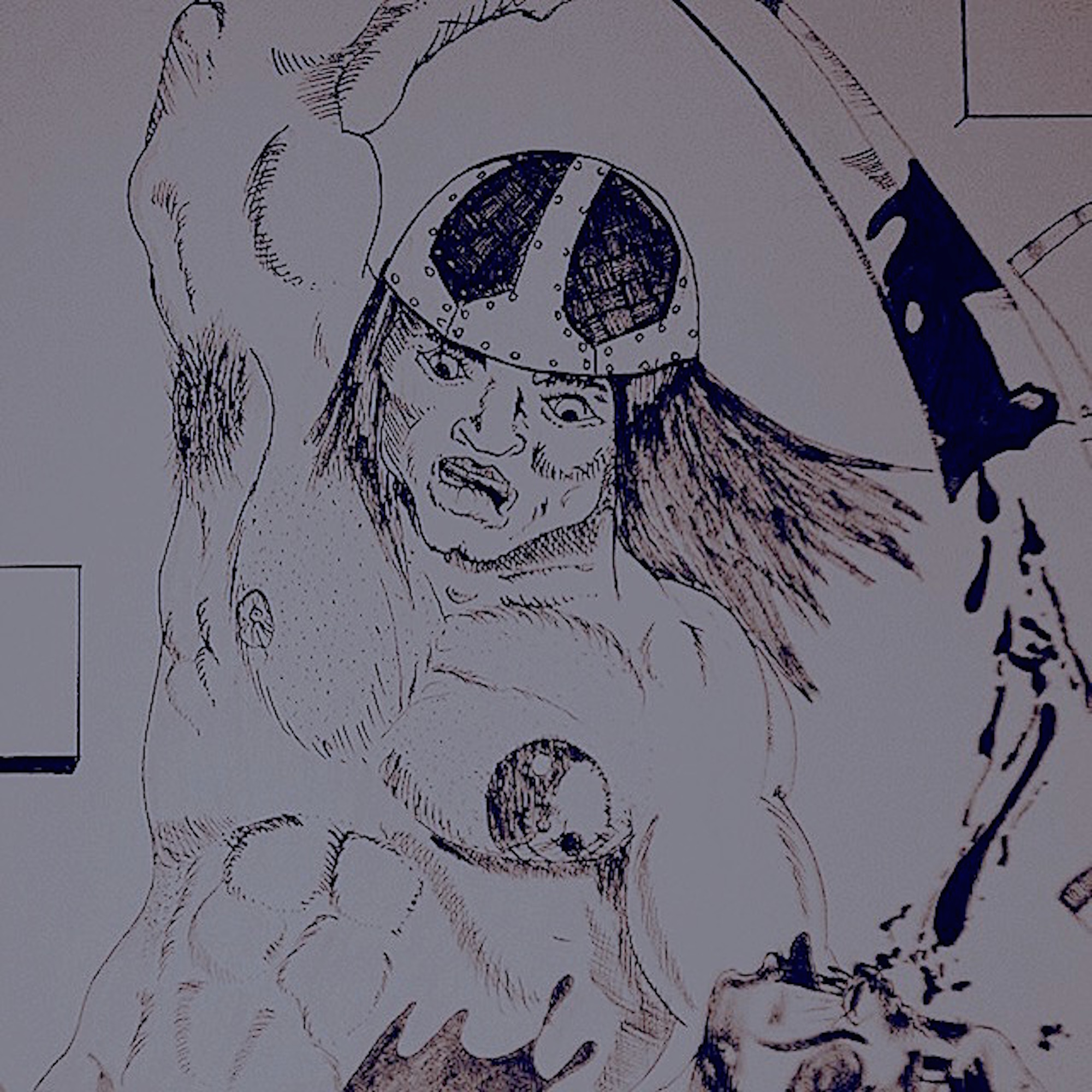 Lok Garr in his early teenage years (8" x 10" pen and ink) as a Gladiator
for Jung the Forth Son. Was used as a temporary Kindle e-book cover, ...not for sale. .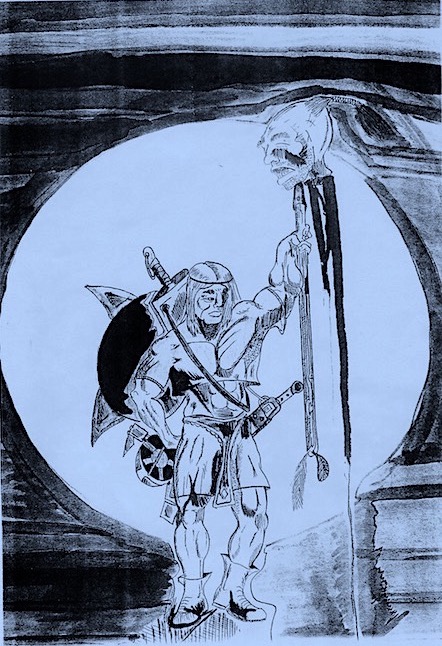 Early work from in my Army days.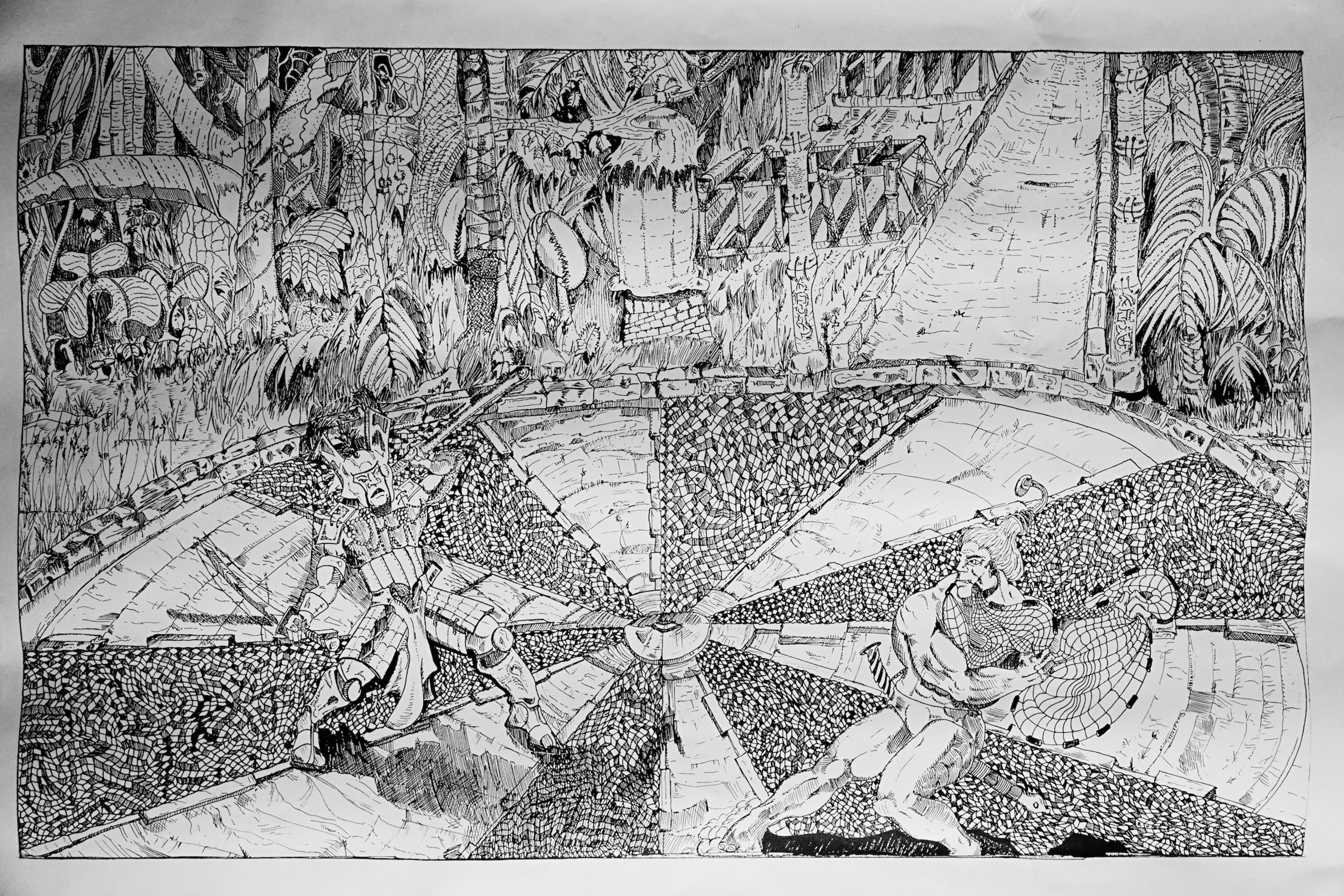 The final showdown between Po Reah and our Hero. 24" X 36" only existing copy. Original stolen. $1000.00. This scene is from War College after Lok Garr has been first a Slave and then a Gladiator in Fabled Nzepukim, in Wouachou.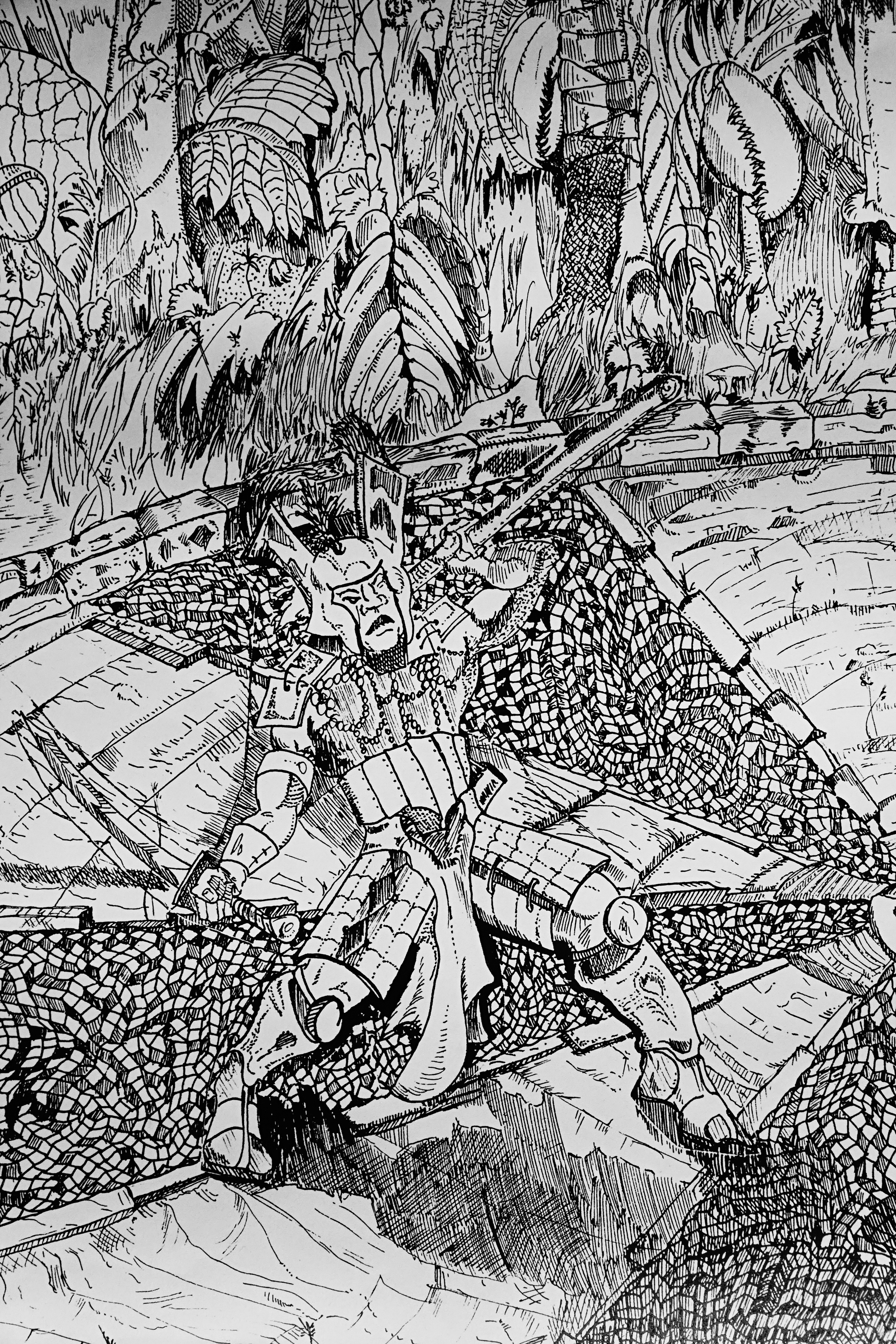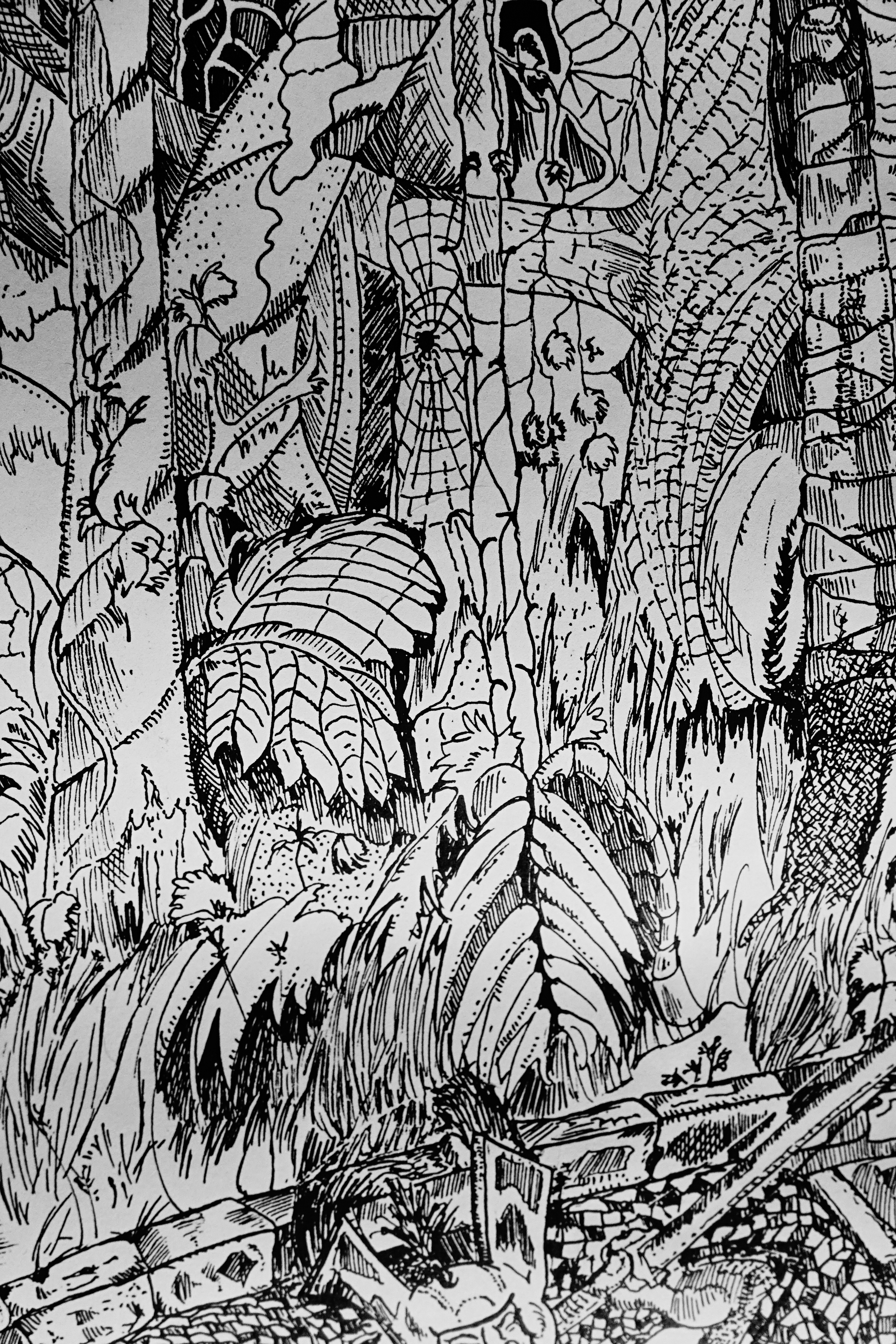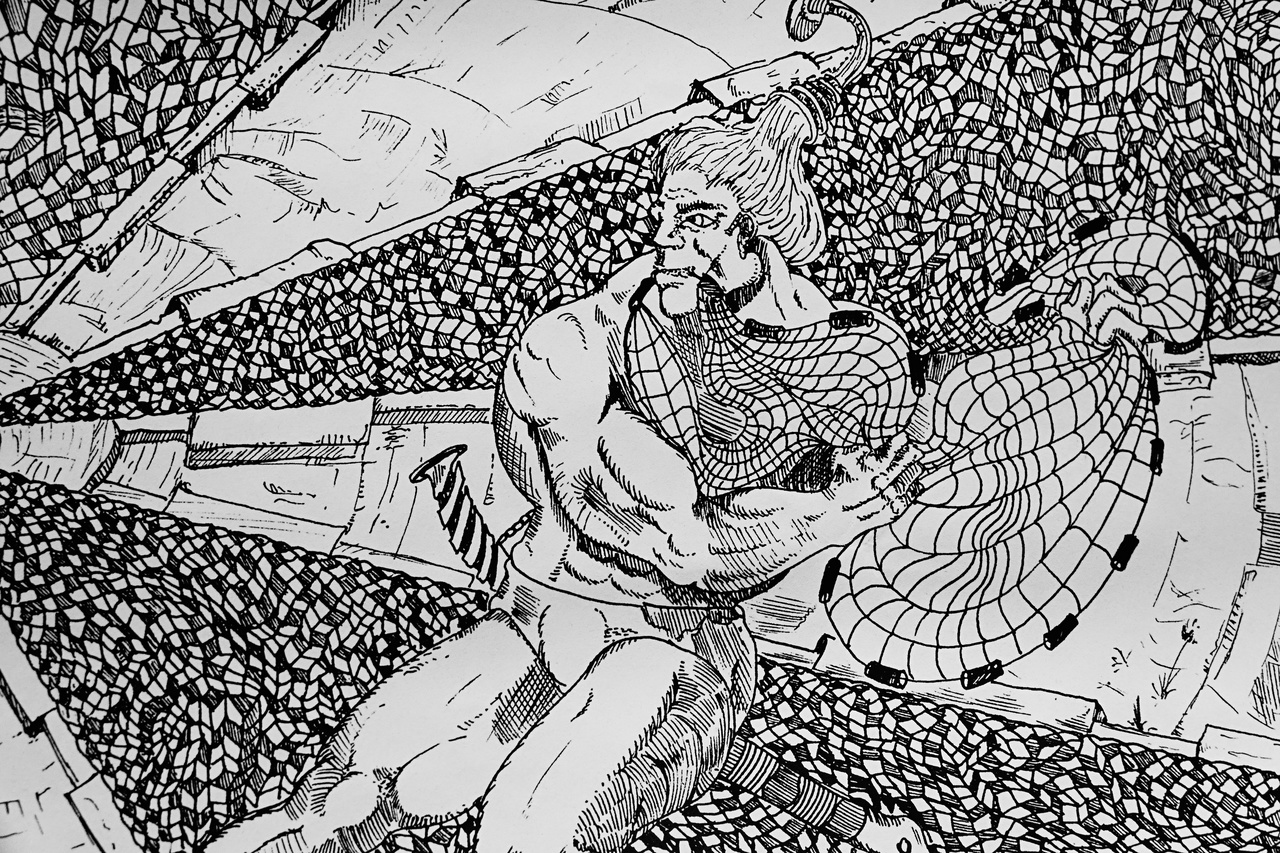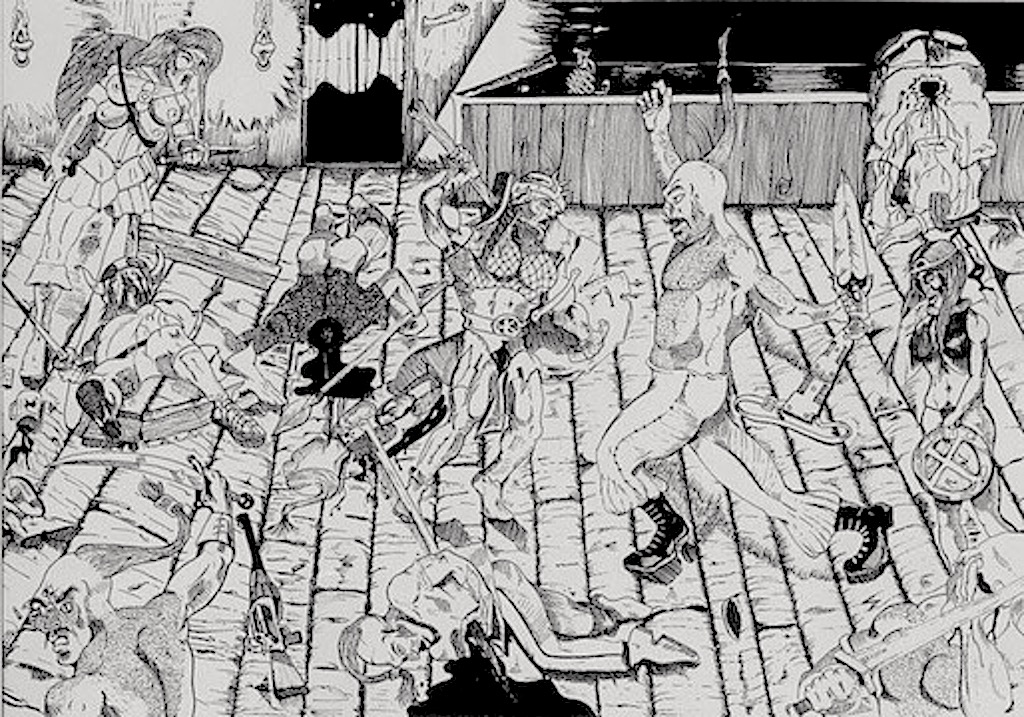 Lok Garr vs Zakxmare the Great Hall of Nahrcraveaton. 24" x 36" pen and ink. Not for sale.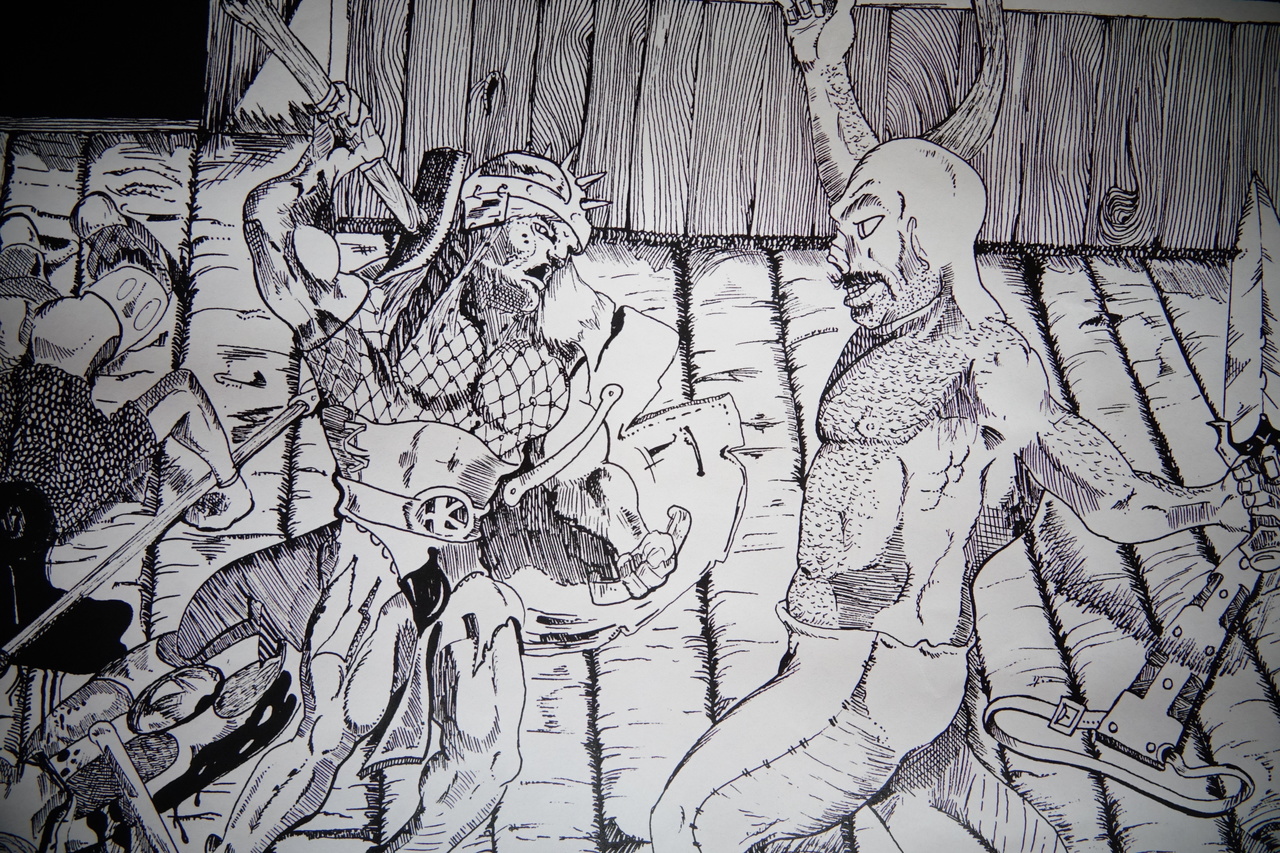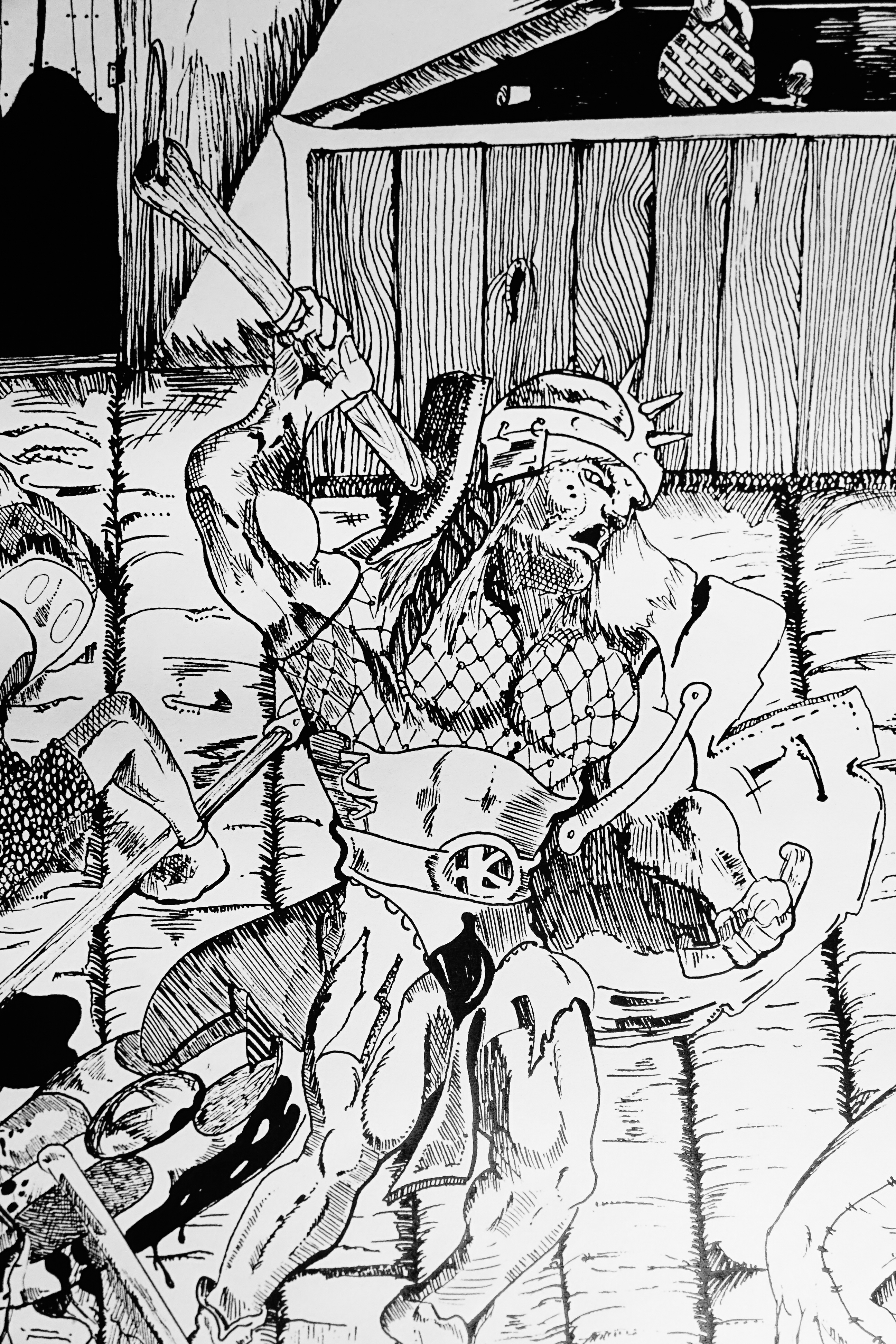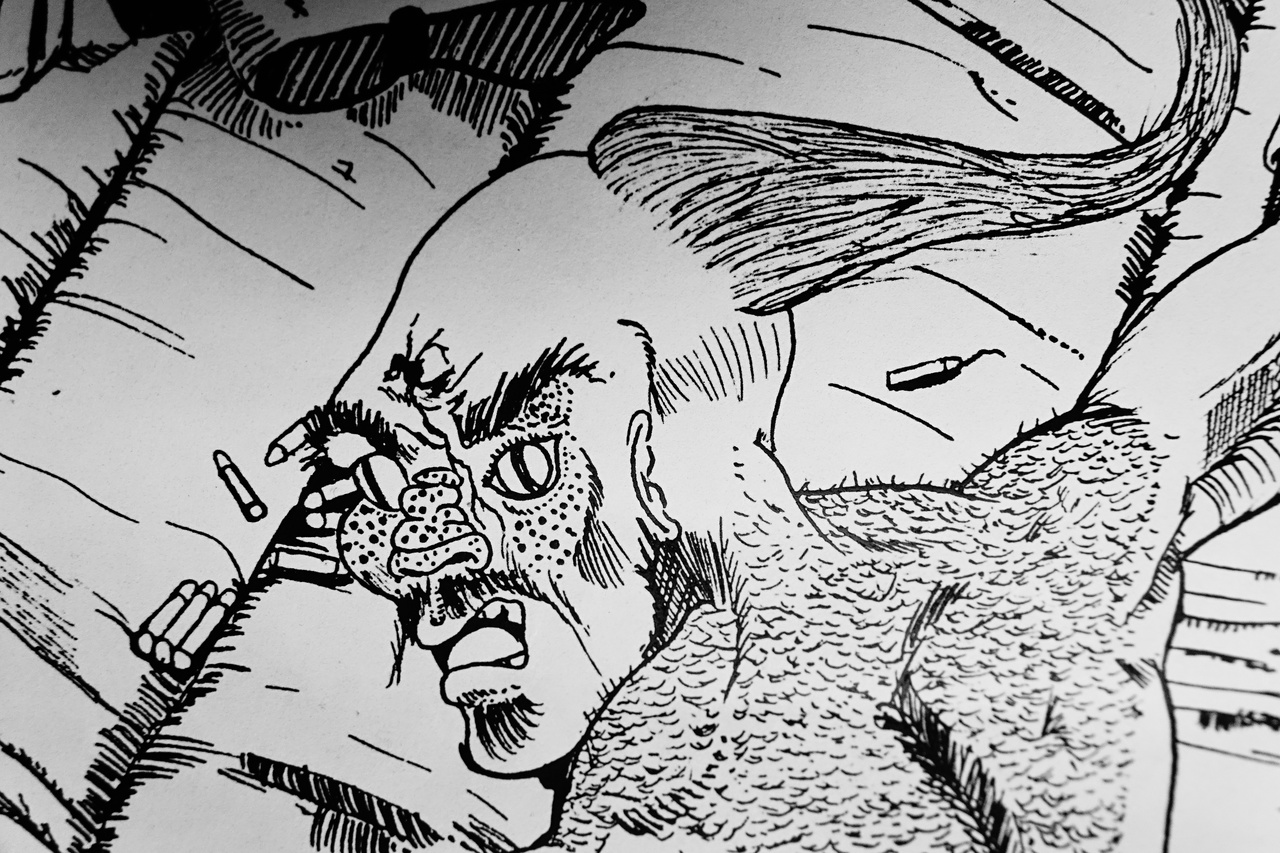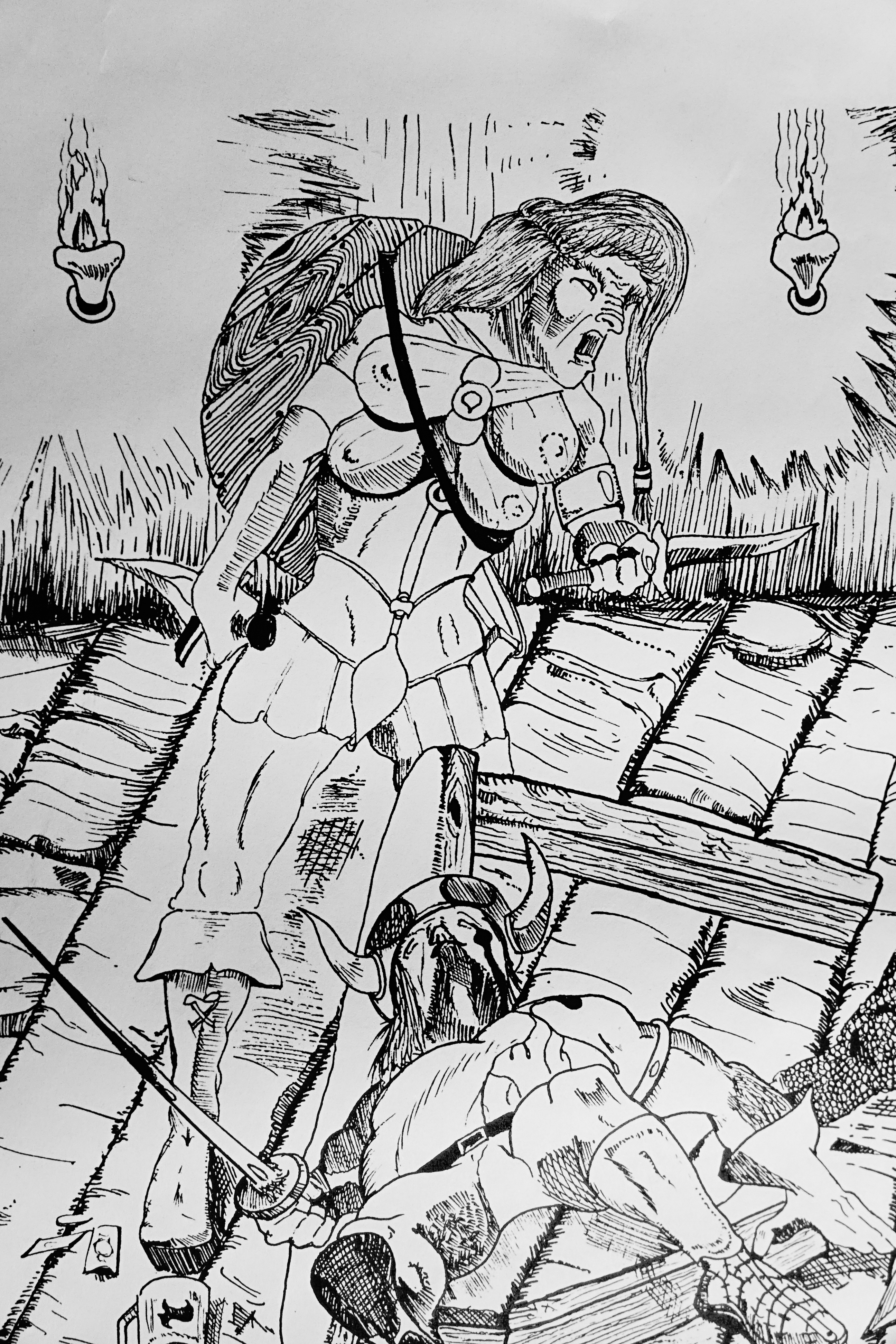 Close ups of Lok Garr in Nahrcraveaton, in the Great Hall facing off with Zakxmare. That's Zeleg the Thungarian knocked out on the floor. Pen and ink by the Author a scene from book 4. This work was done in 1989, before the Gakle had come full blown into my mind as a Reptilian, aquatic Mammalian, and Amphibian, Species. The pen and ink is 24" x 36" and only one copy remains. I'd be willing to sell it to the right collector for $1000.00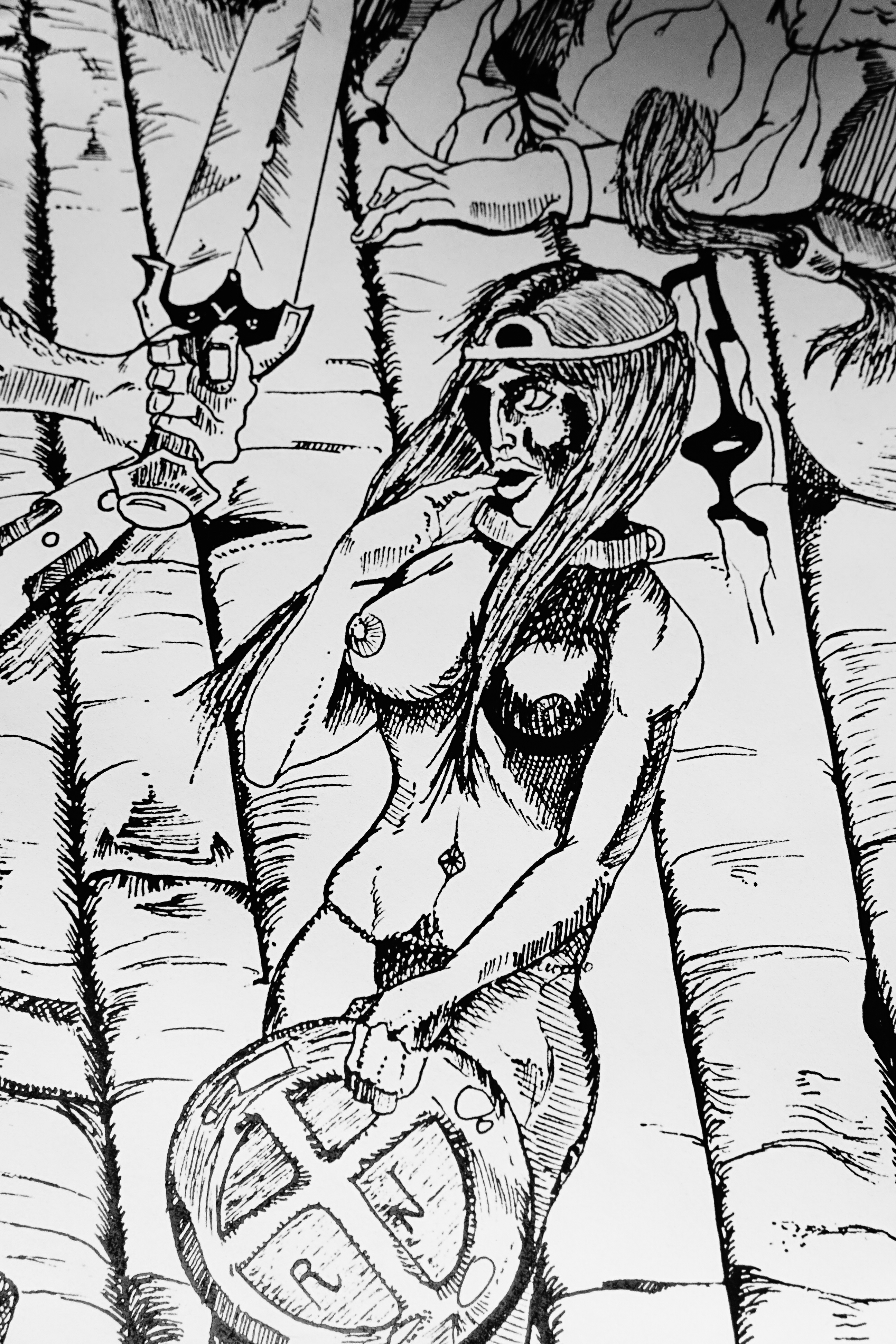 First rendition of Rionnaggan, (Starrlight.) Since this time I've
been privileged to meet a willing model who will grace the cover
of book five in the future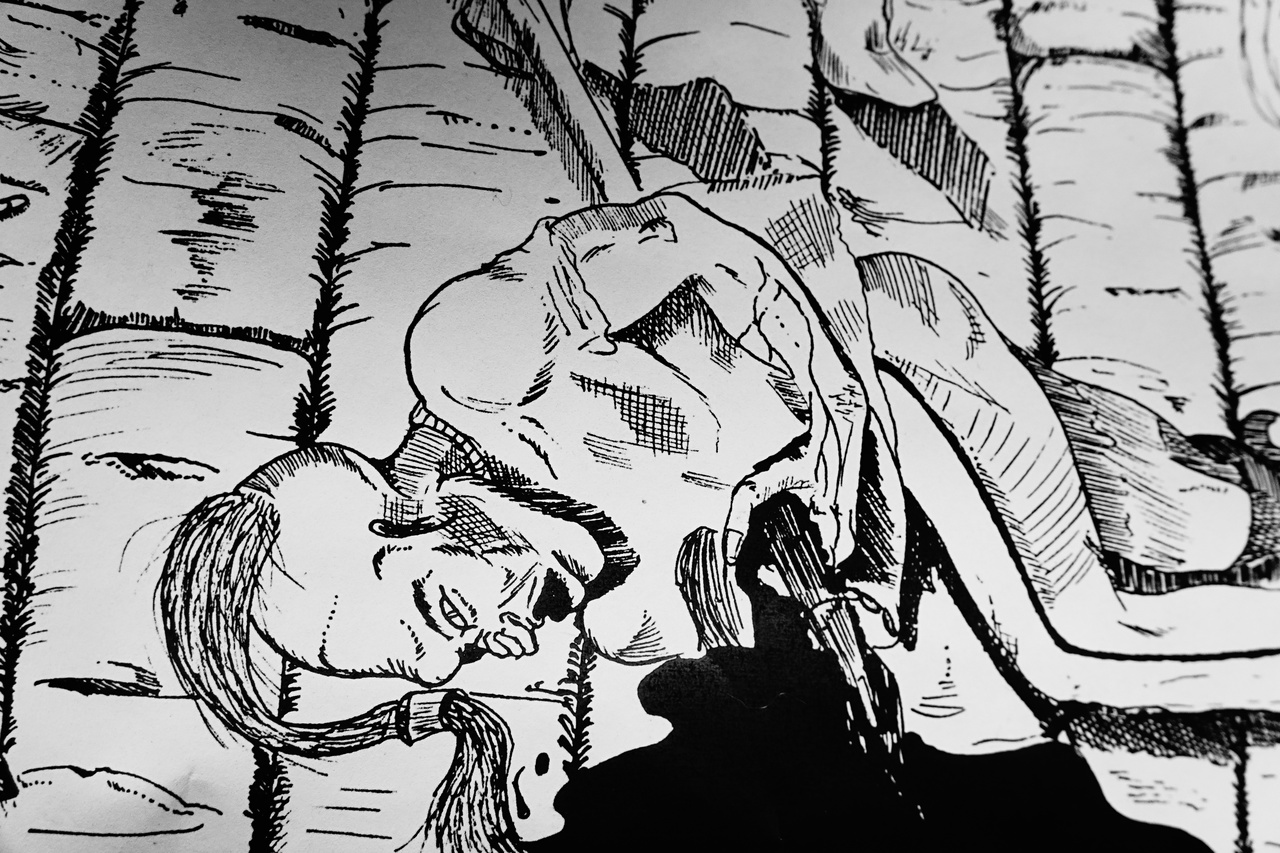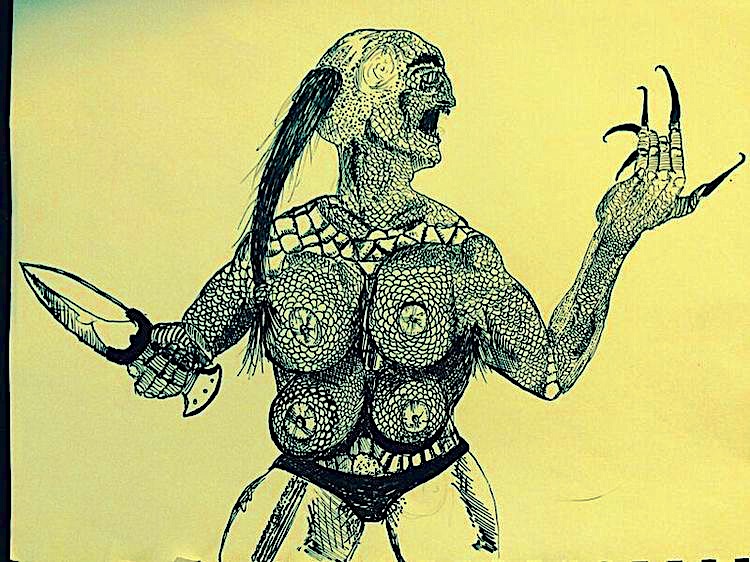 There are many Tribes, (Species) of Gakle; Ranging From pure Reptilian with very little resemblance to human characteristics, and also many who present unto hybrids such as this 'Mangakpull' female at the Shanty after Lok Garr's battle in Nahrcraveaton. In the book she's totally naked, so, ...you're welcome.
.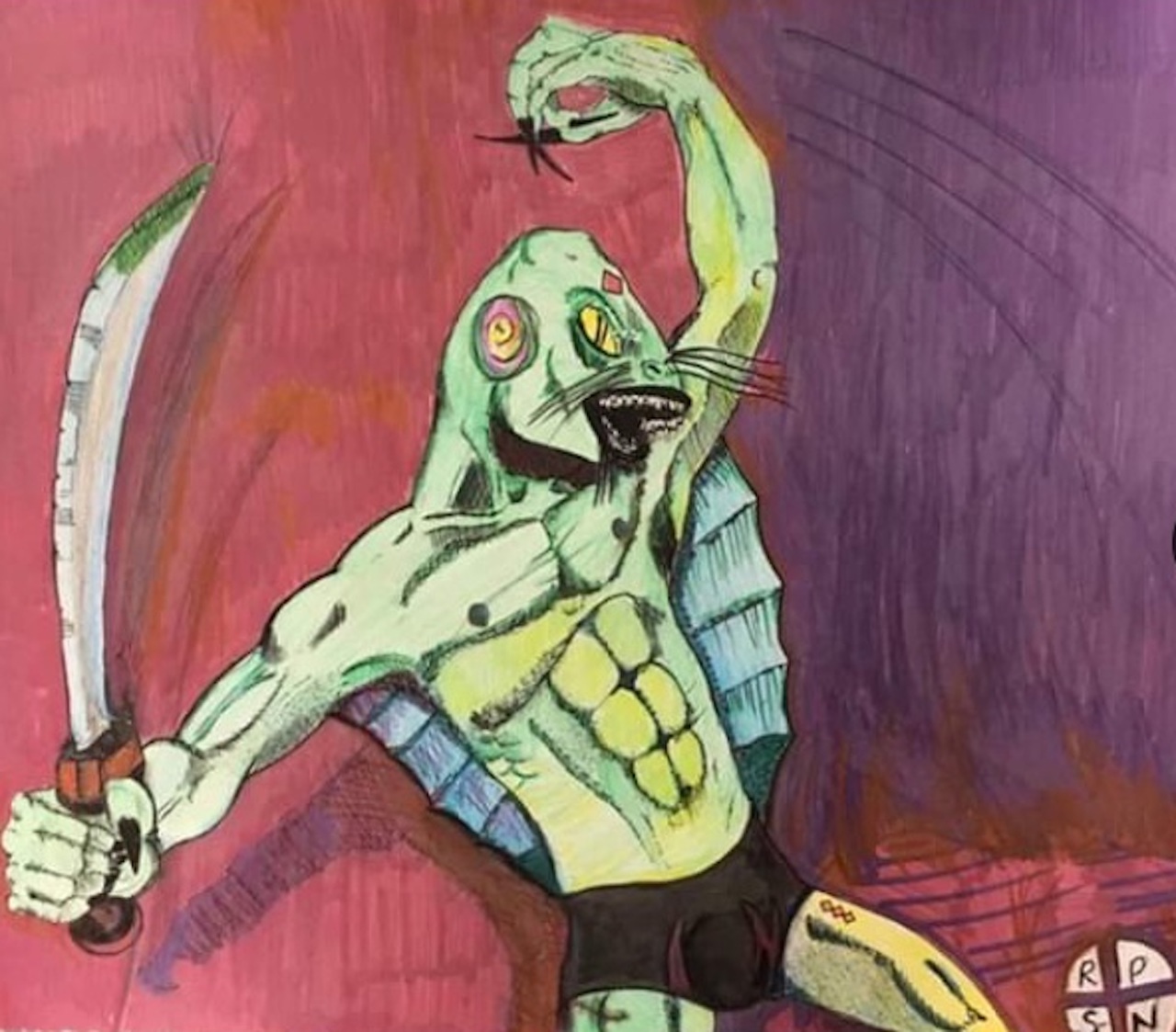 Gid the Eagle: (Though Lok Garr starts off calling him 'Gid the Ugly.') Gid the Eagle: Warlord of the Nahr, and the Gakle responsible for saving Lok Garr and Rionaggann in Nahrcraveaton. Small work, pen and ink, colored pencils, and markers, not for sale.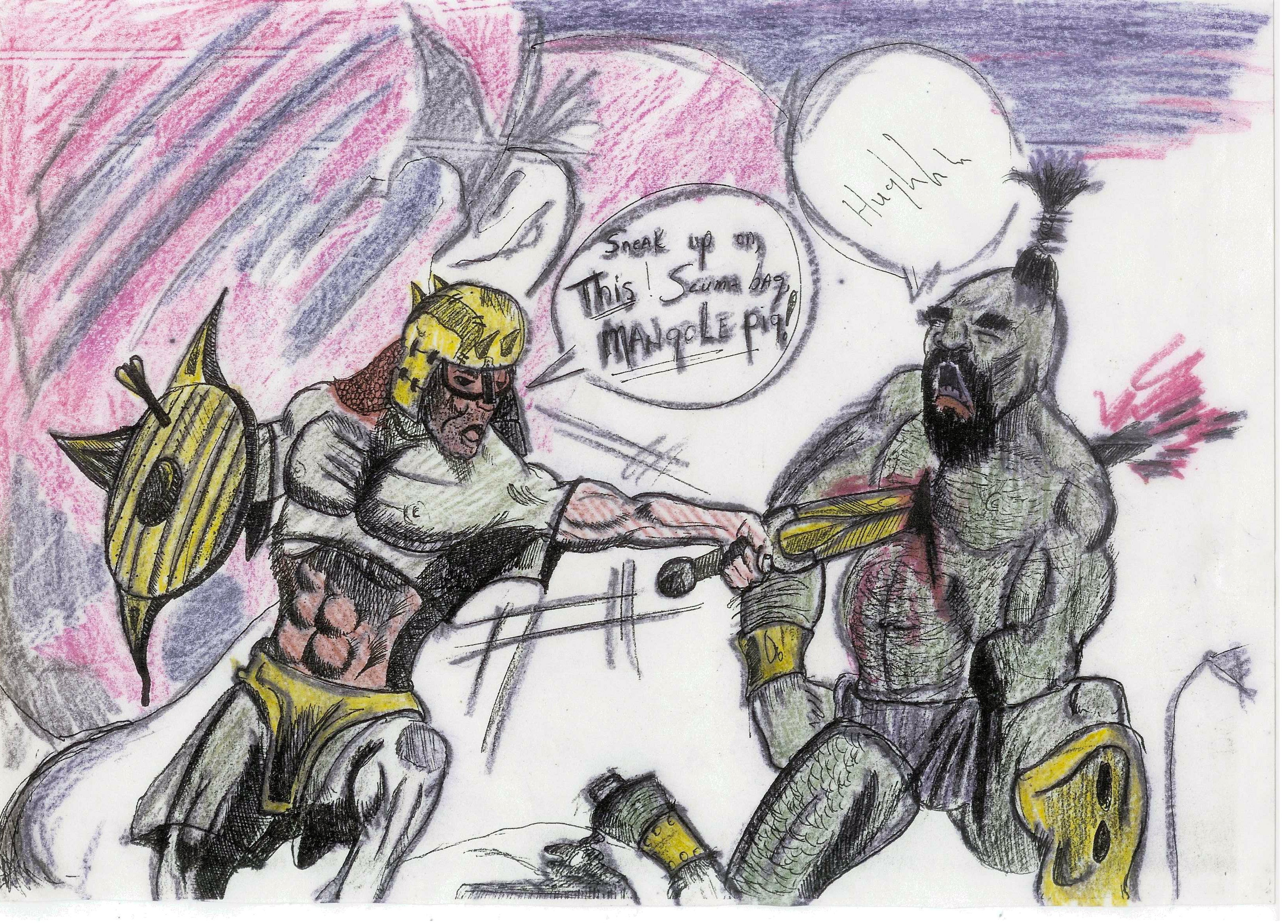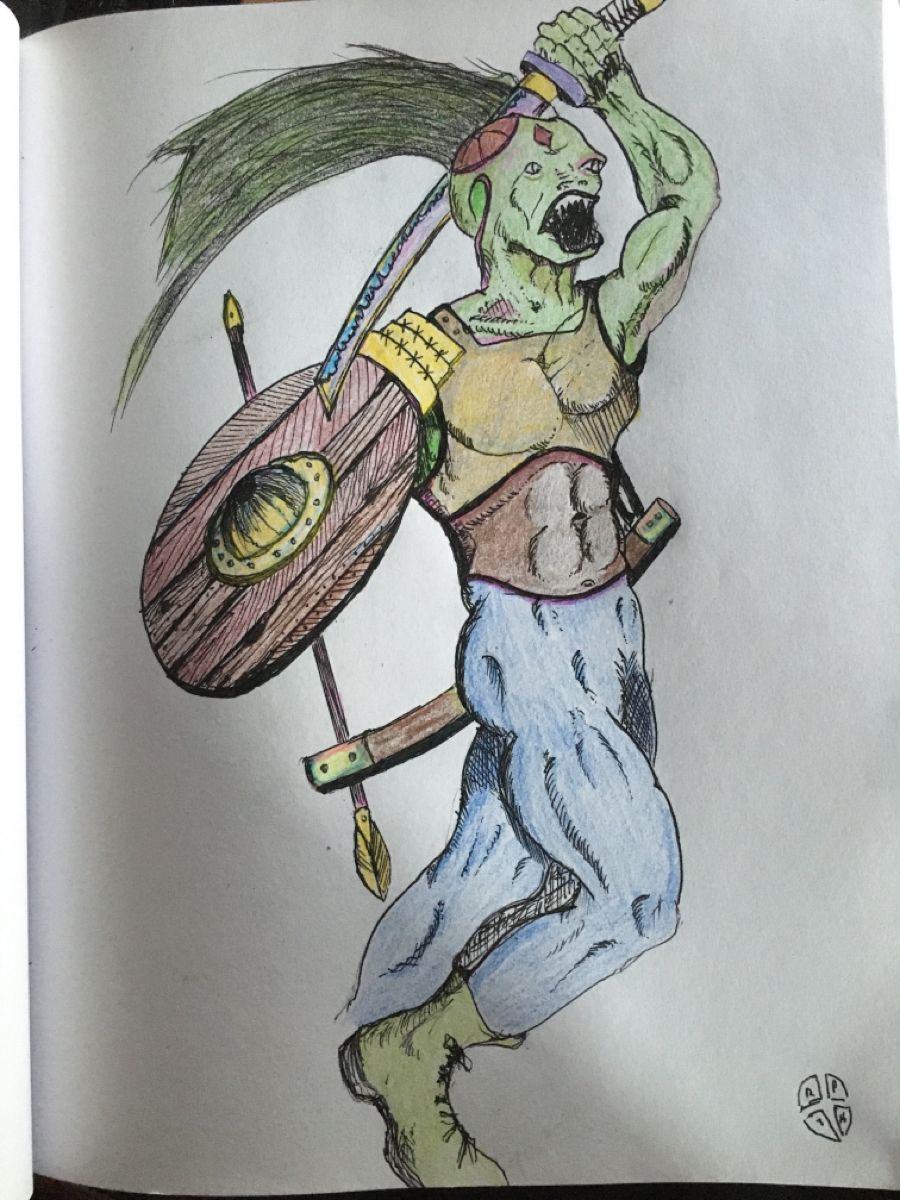 Character study for Samson'nocht, Lok Garr's Grandson. Not for sale.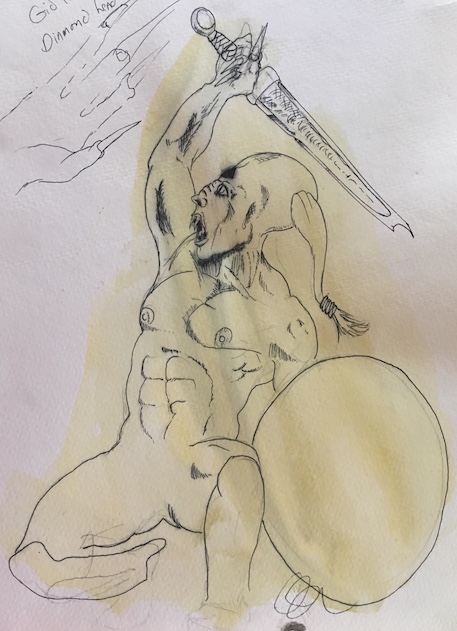 Working on the Gakle took many years to perfect.
This is the full view of Heurrittill. Sorry if Iguana boobs are too much for you. I my defense: I don't care. This original painting is all acrylic, 18" x 24" and goes for $450.00.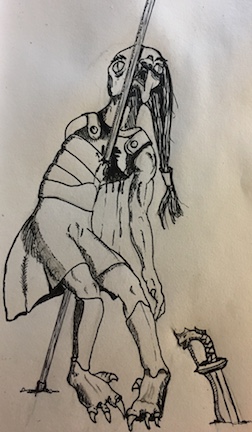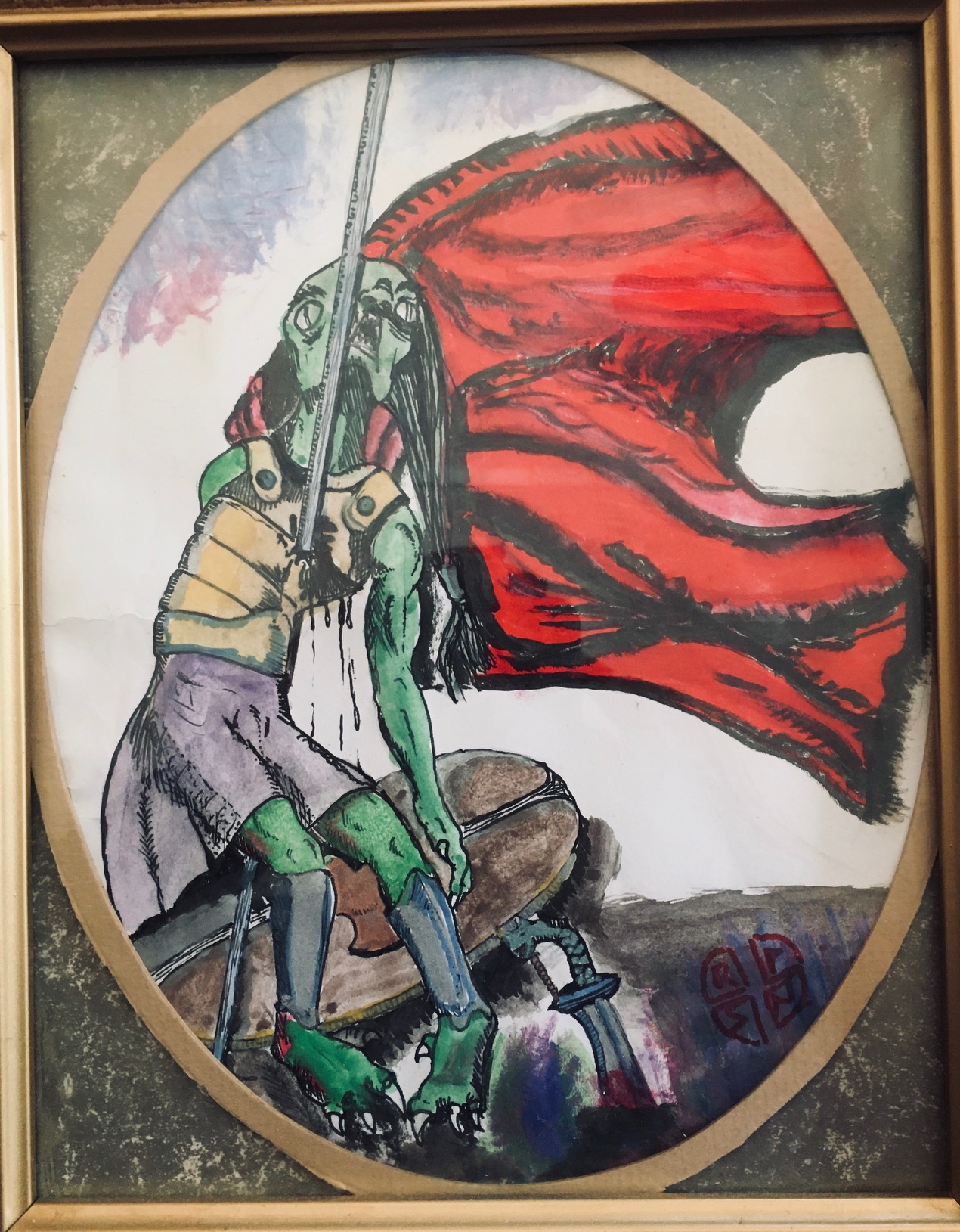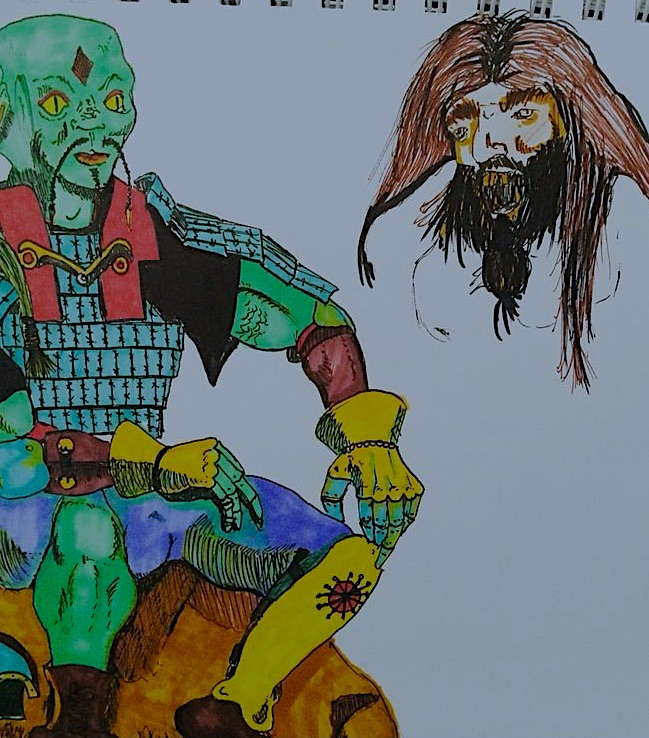 Scene from book one, in regards to the attack on the Stockade. Lok Garr's stepson Sir Raibeart Garr, and a Kackijani named Nicolov his adopted son.
This Gakle soldier is named as one Private 'Pooki'nocht.' Poor bastard.
I only have this work in prints.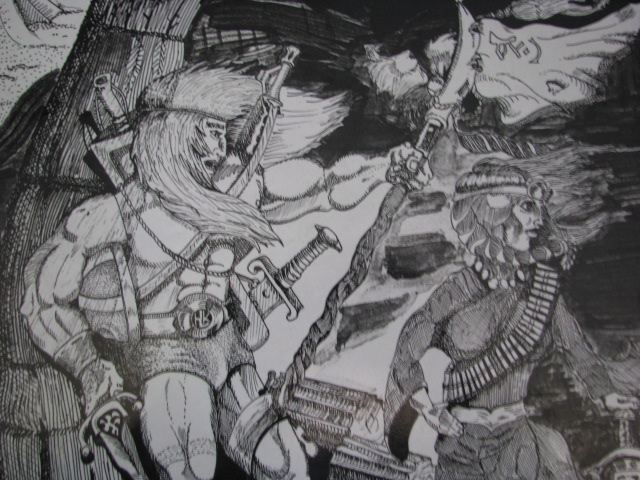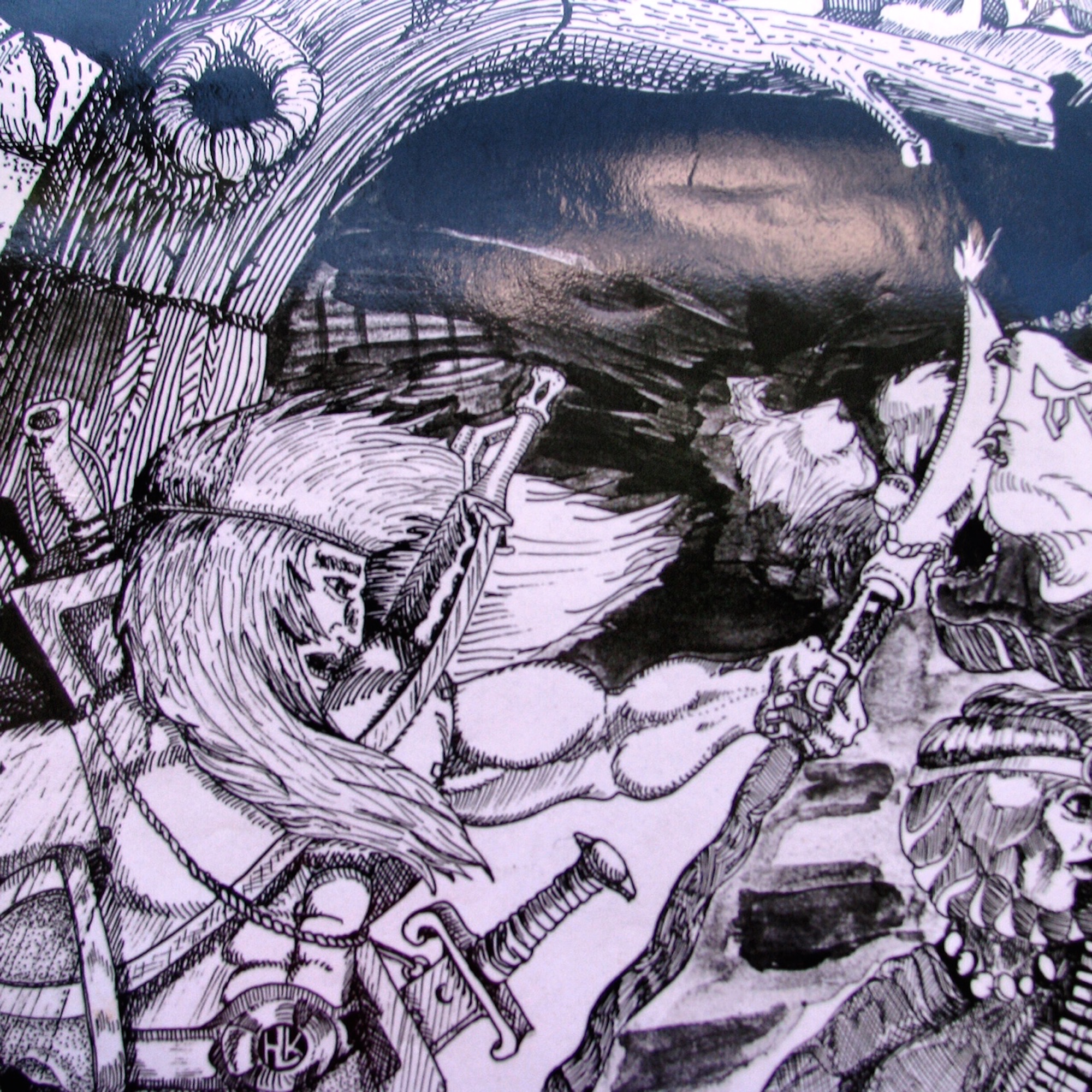 This original was stolen. All I have is one bad copy, Learning to not use black sharpie, the hard way.
and digital images. So I'm redoing it in color using my new muse.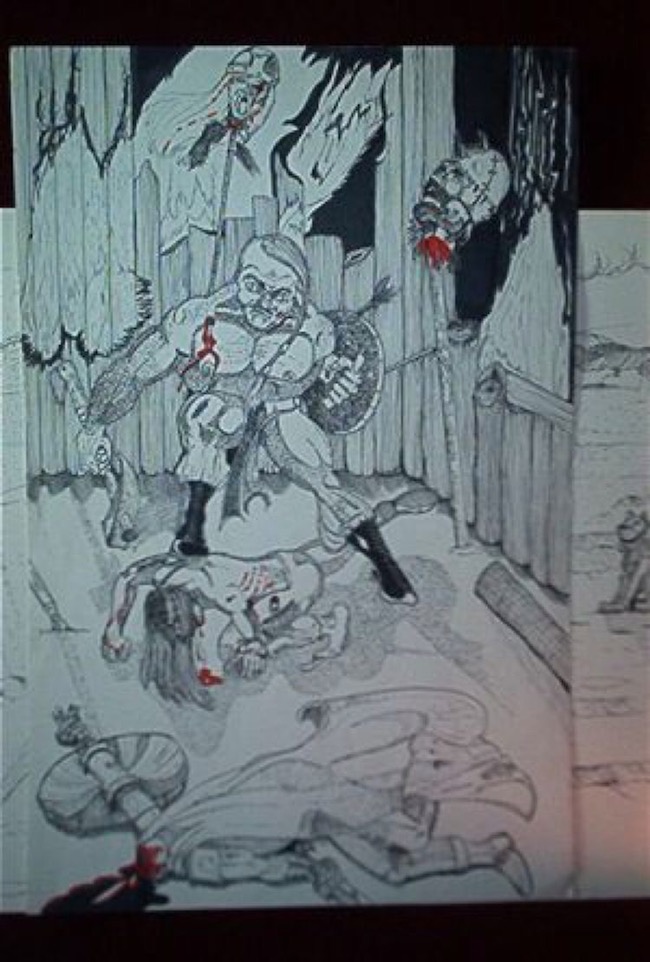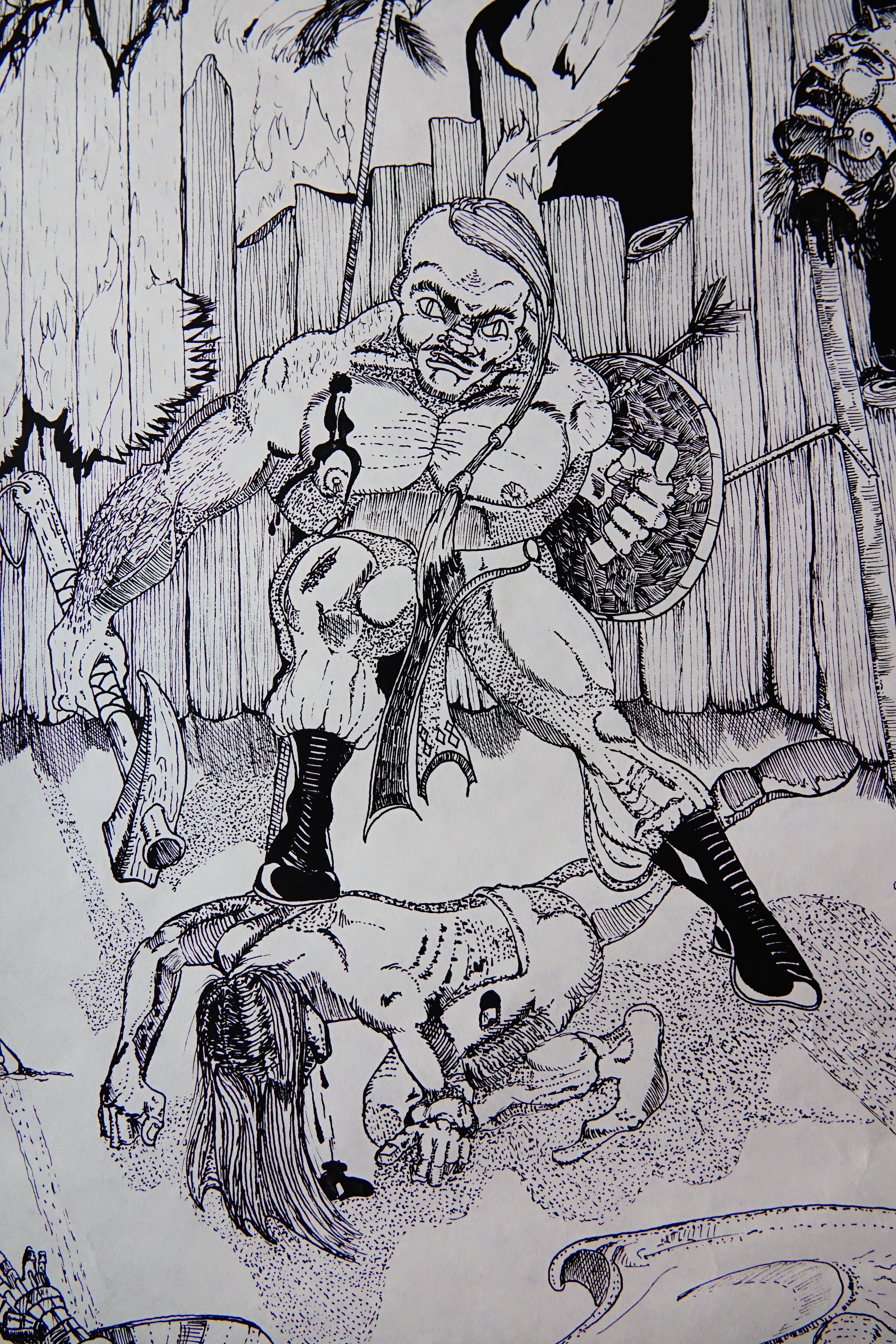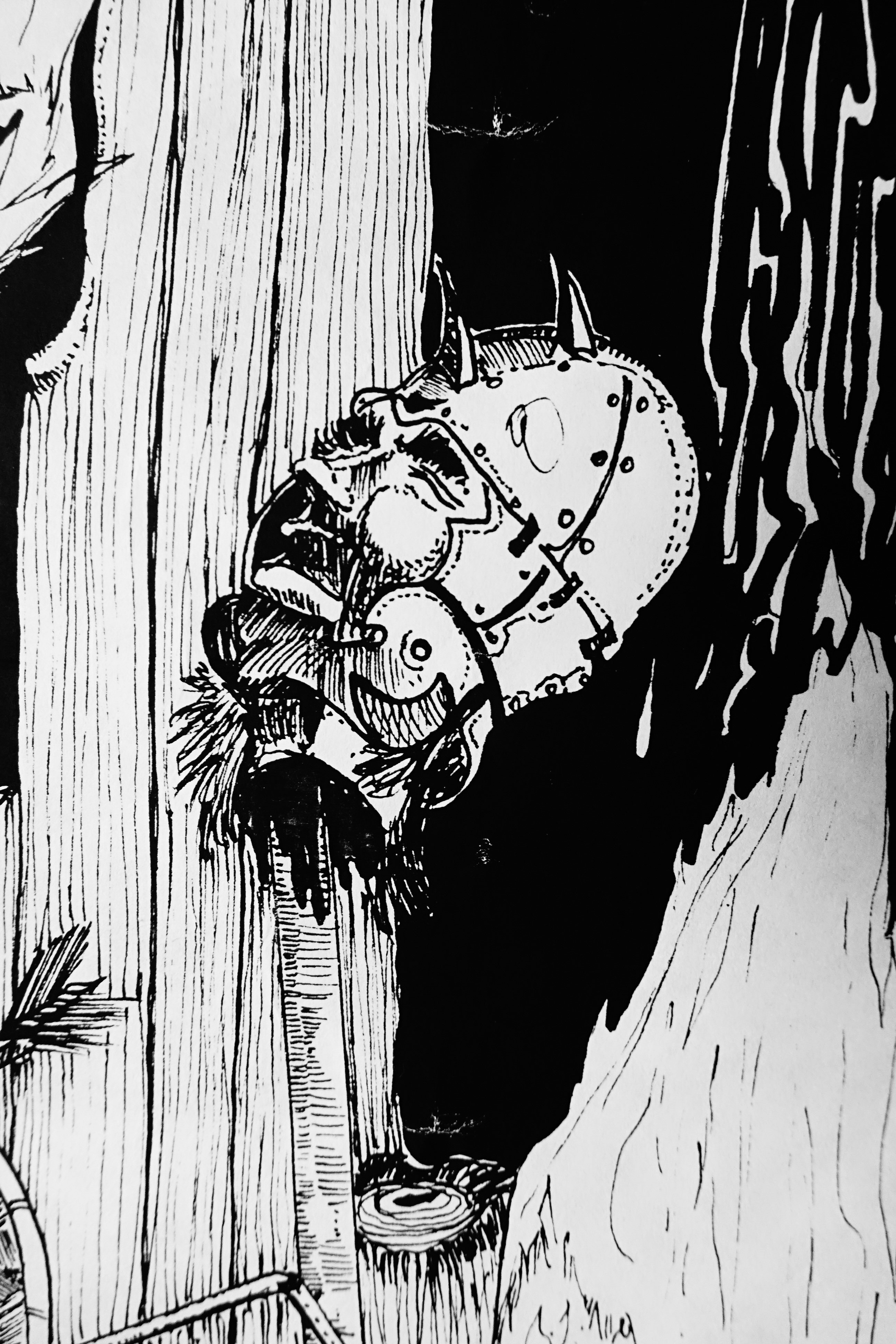 Only existing copy of original pen and ink by the author is 24" x 36" for sale for $450.00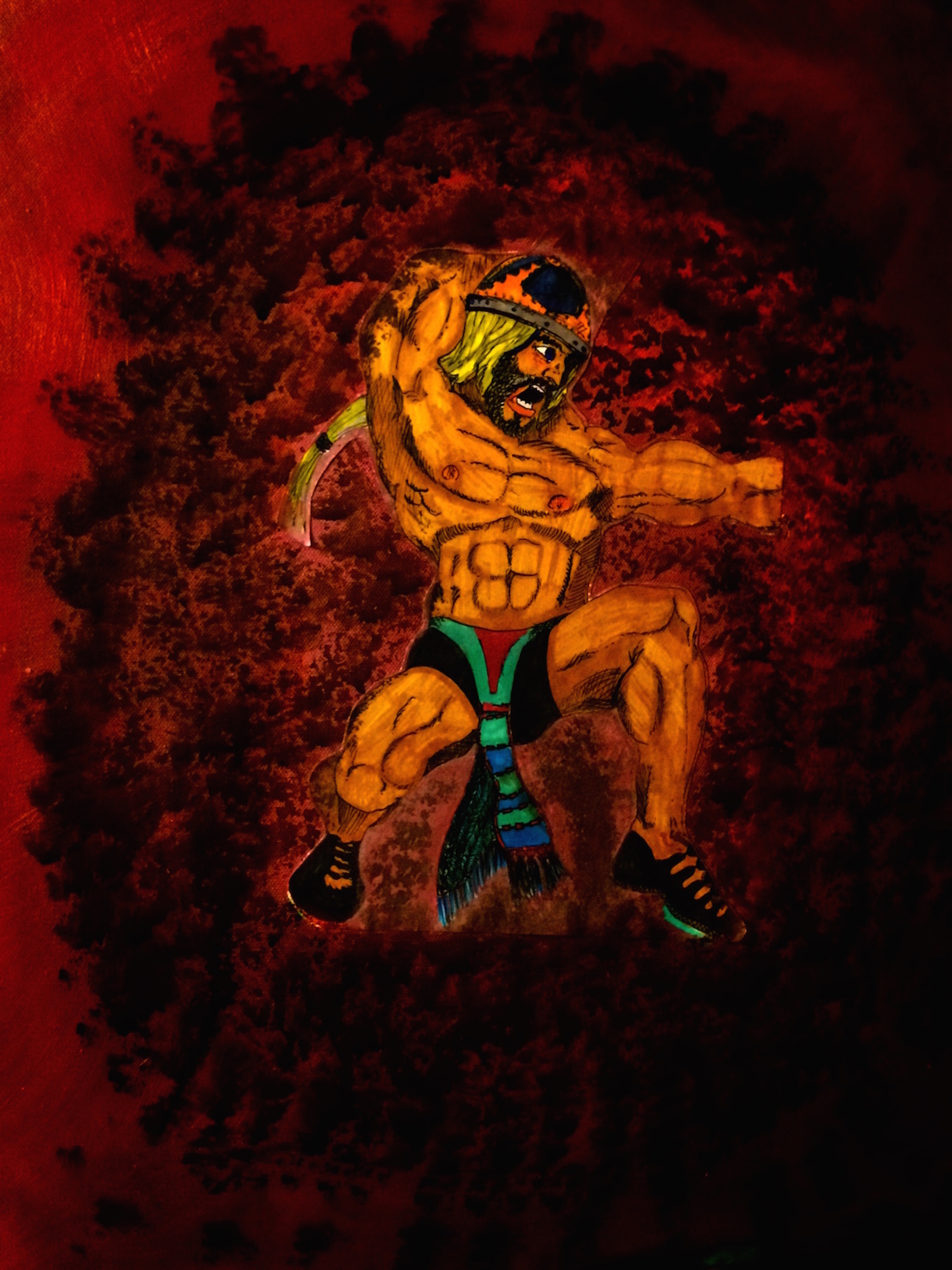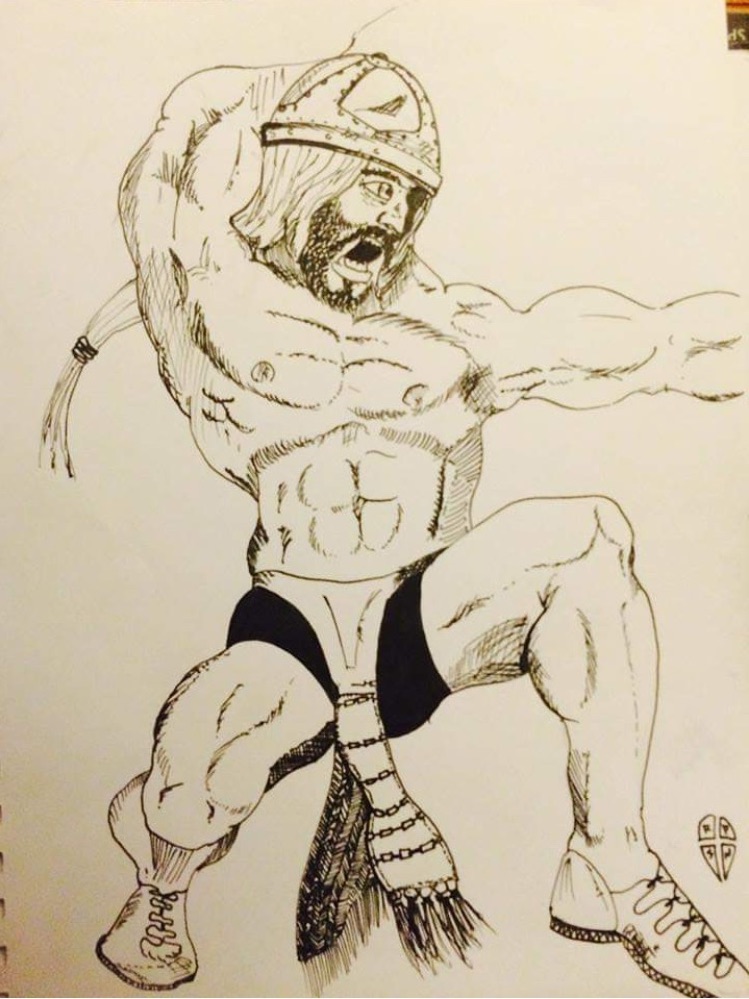 Meet 'Rhog Essox,' (Henry Von Essen) King of the 'Sky Things,'
(Teggahian Scythians) Original Painting, acrylics on 14 x 20" canvas,
matted $225.00. It is a cover for one of the e-books.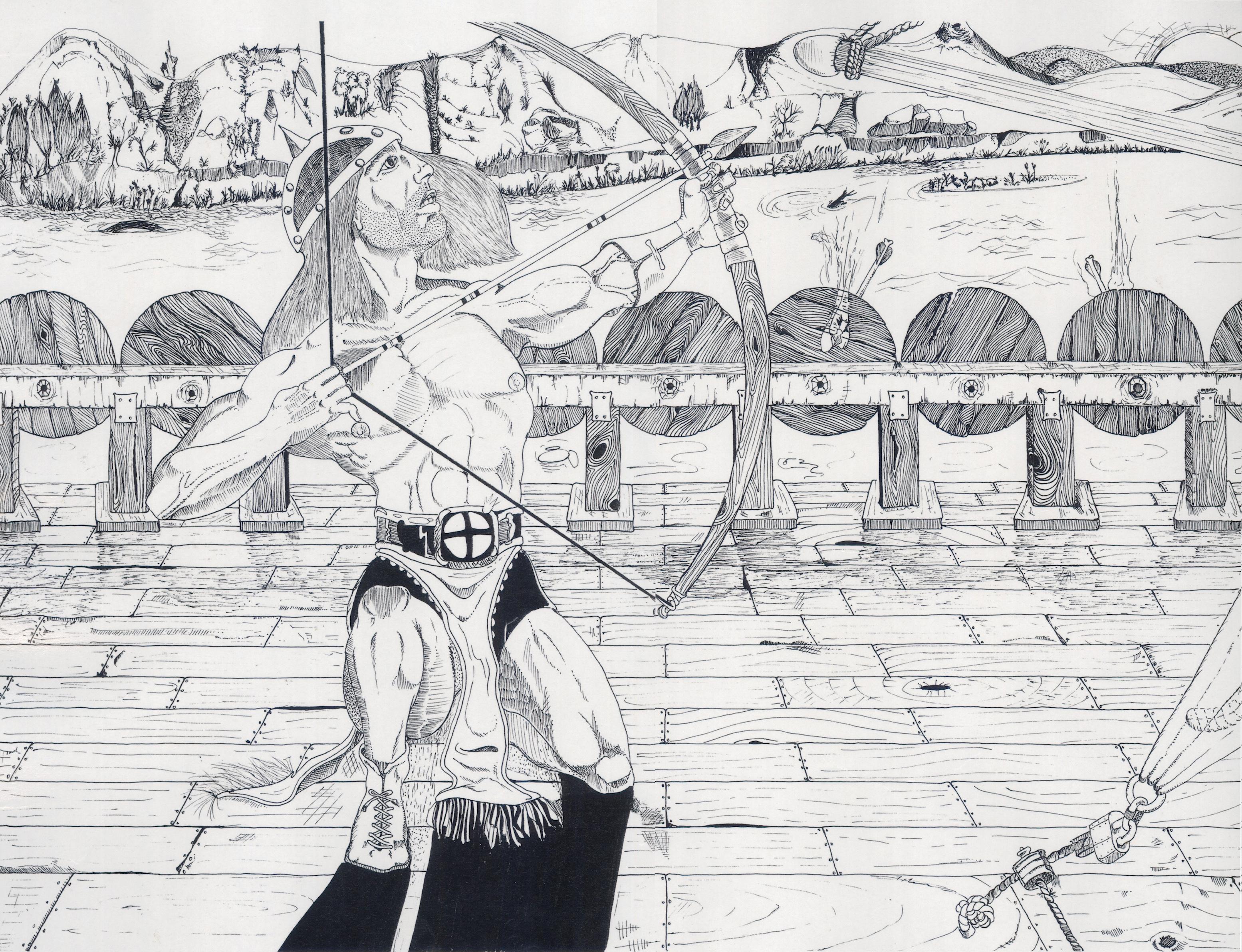 This is the Great Admiral Jshon Harr on the Serpent after his release as a Galley Slave for the Mangak.
This is the only print of this piece, and I wouldn't take a dime less than $1200.00 for it.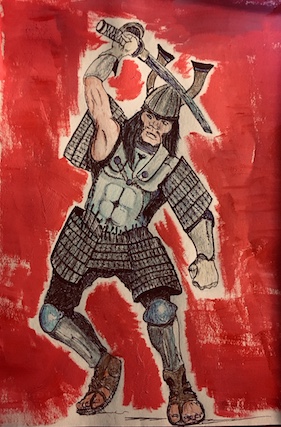 .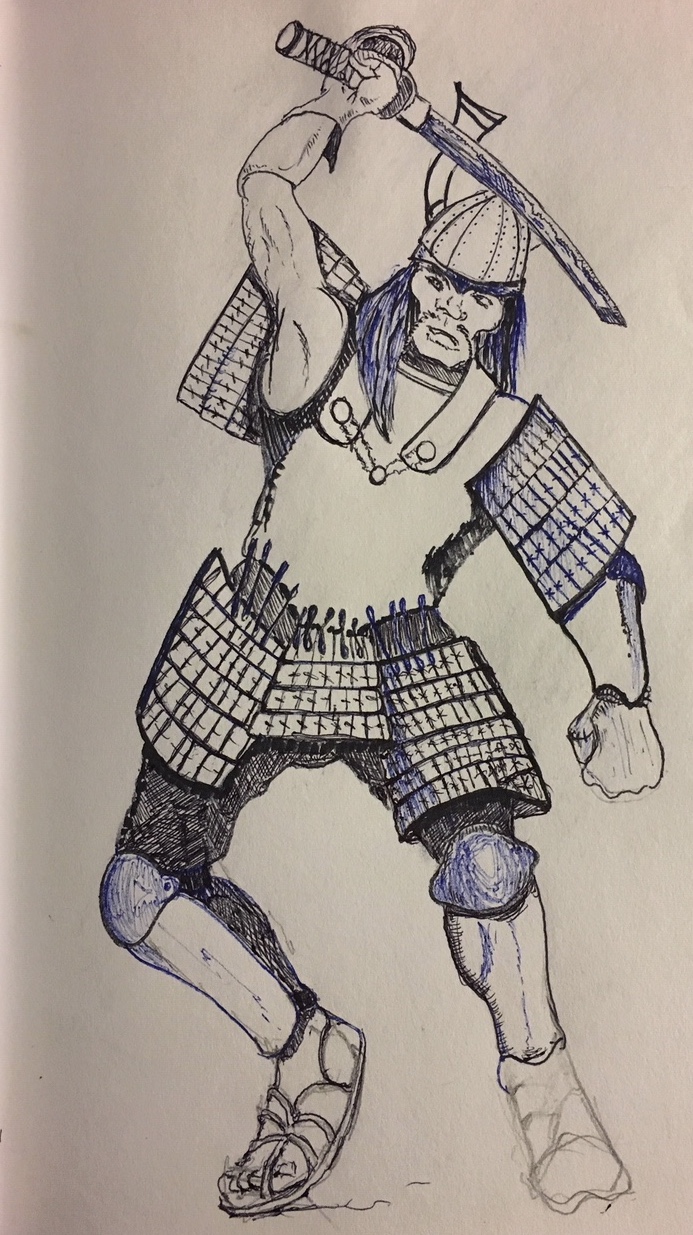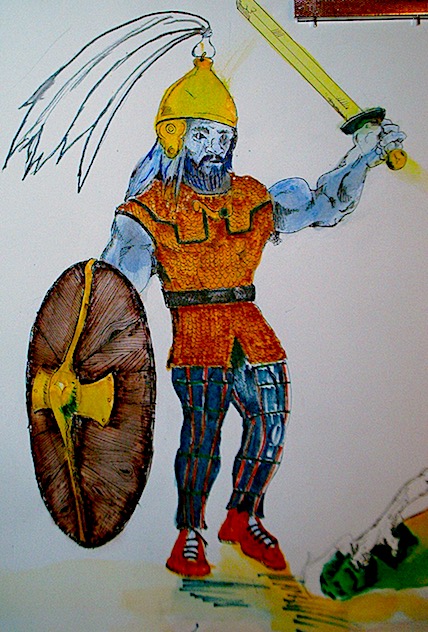 The concept of amalgamation of arms and armour started with the Teggah version of the Samurai, as it was a suit of samurai armor I was wearing the day I met my wife an an SCA fighter practice. For the books I used a hodge podge of Oriental and Greek pieces seeing many actual late period admixtures of real samurai armor in museums. On the right is the Cruithni Warlord Jimmy MacKay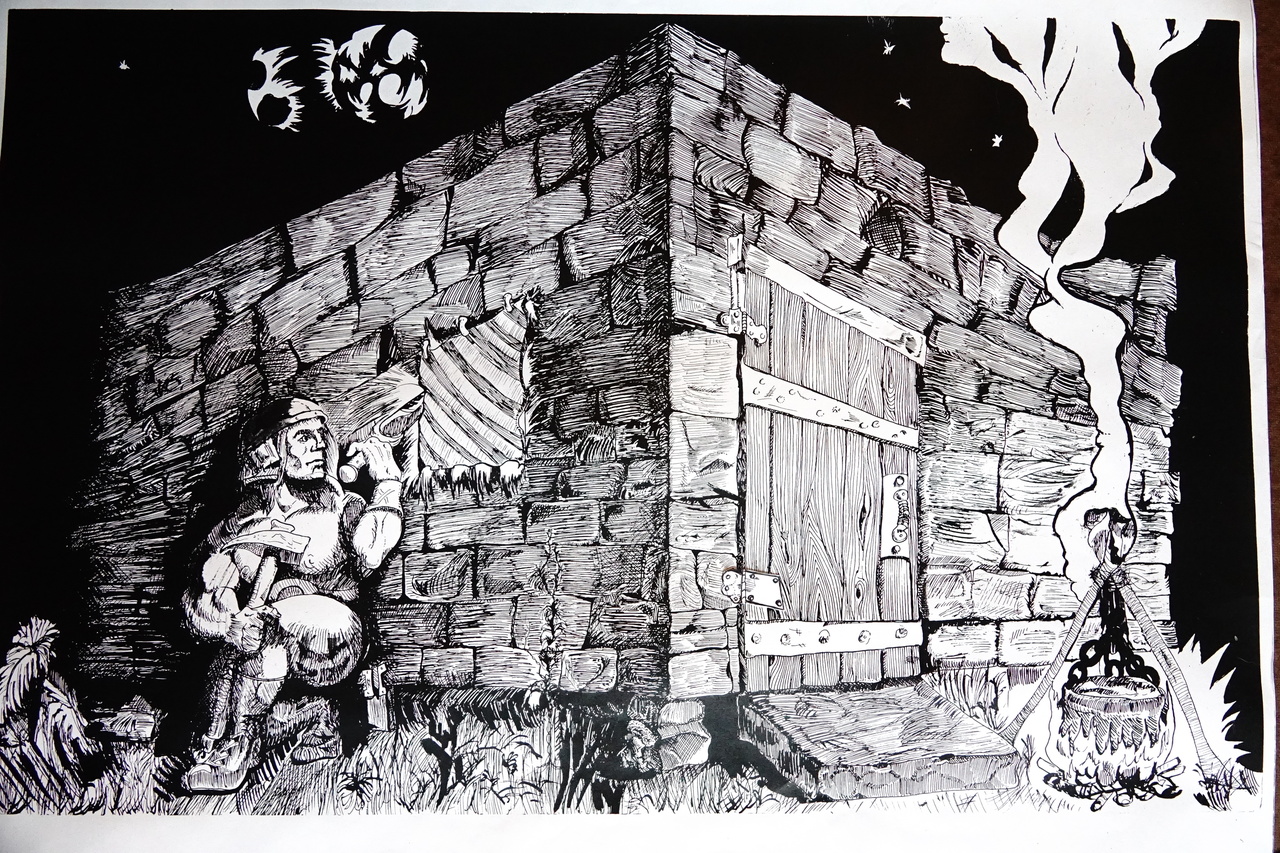 Lok Garr at the Shanty. This version has both hinges on the door, something I'd overlooked in the first rendition of this scene.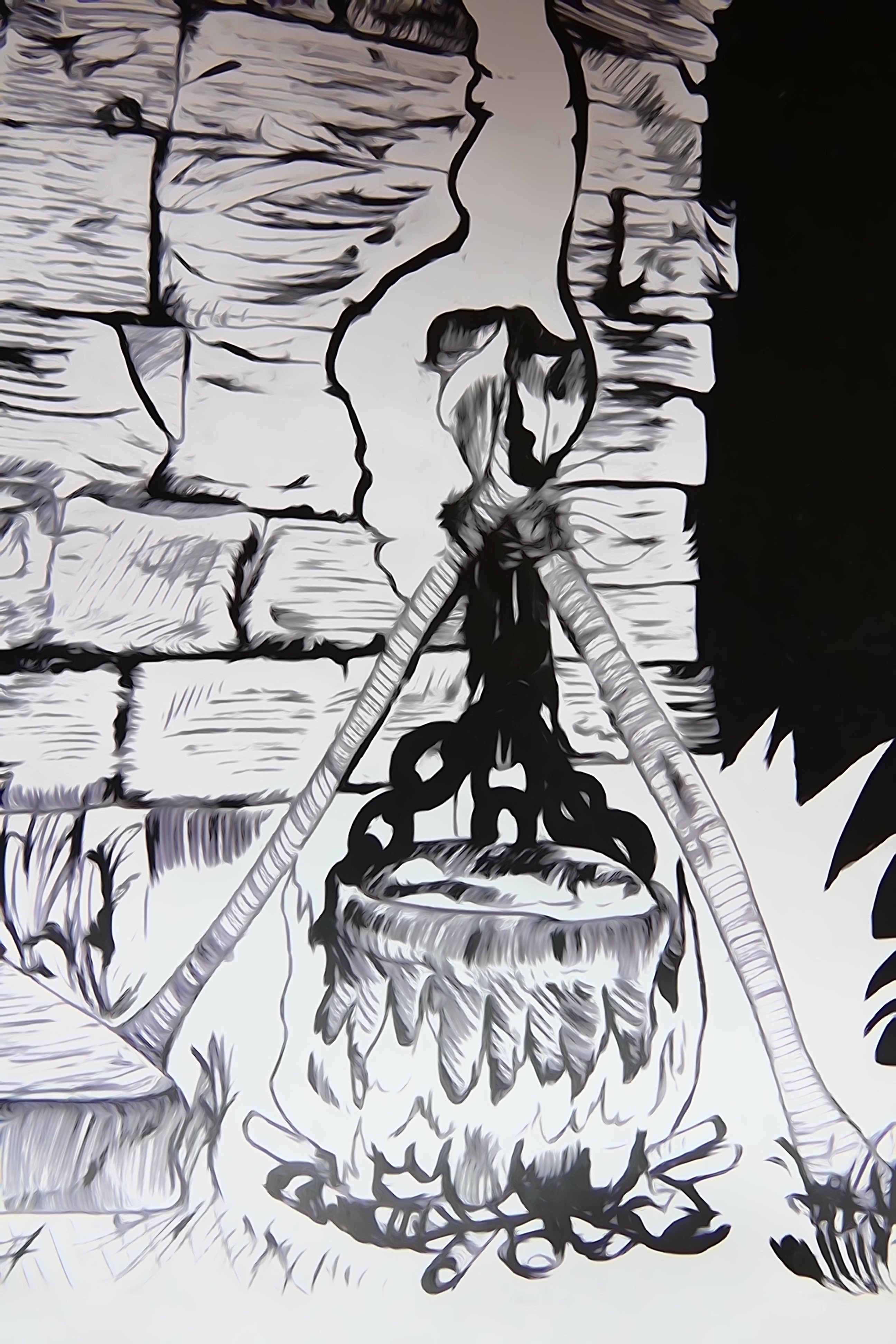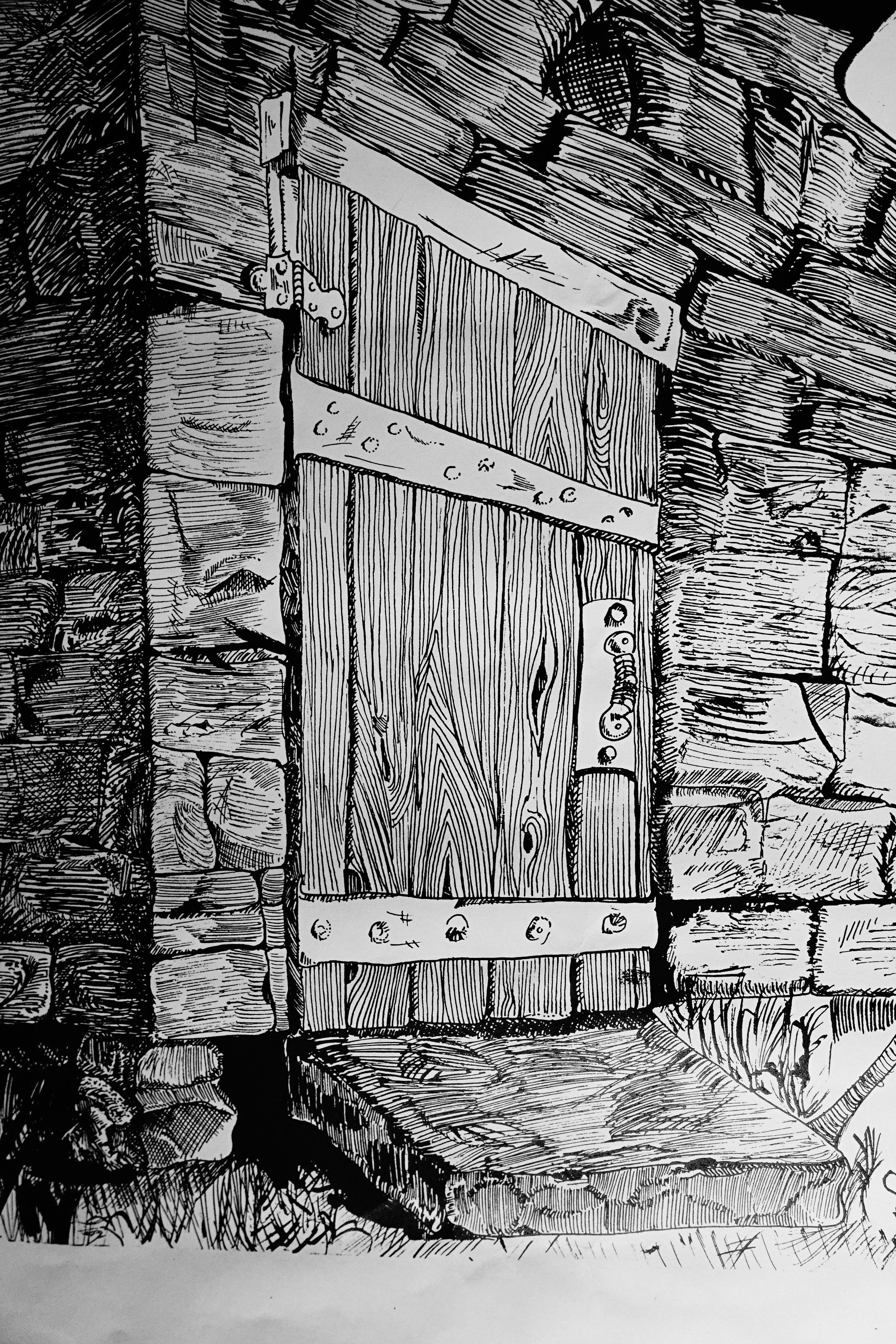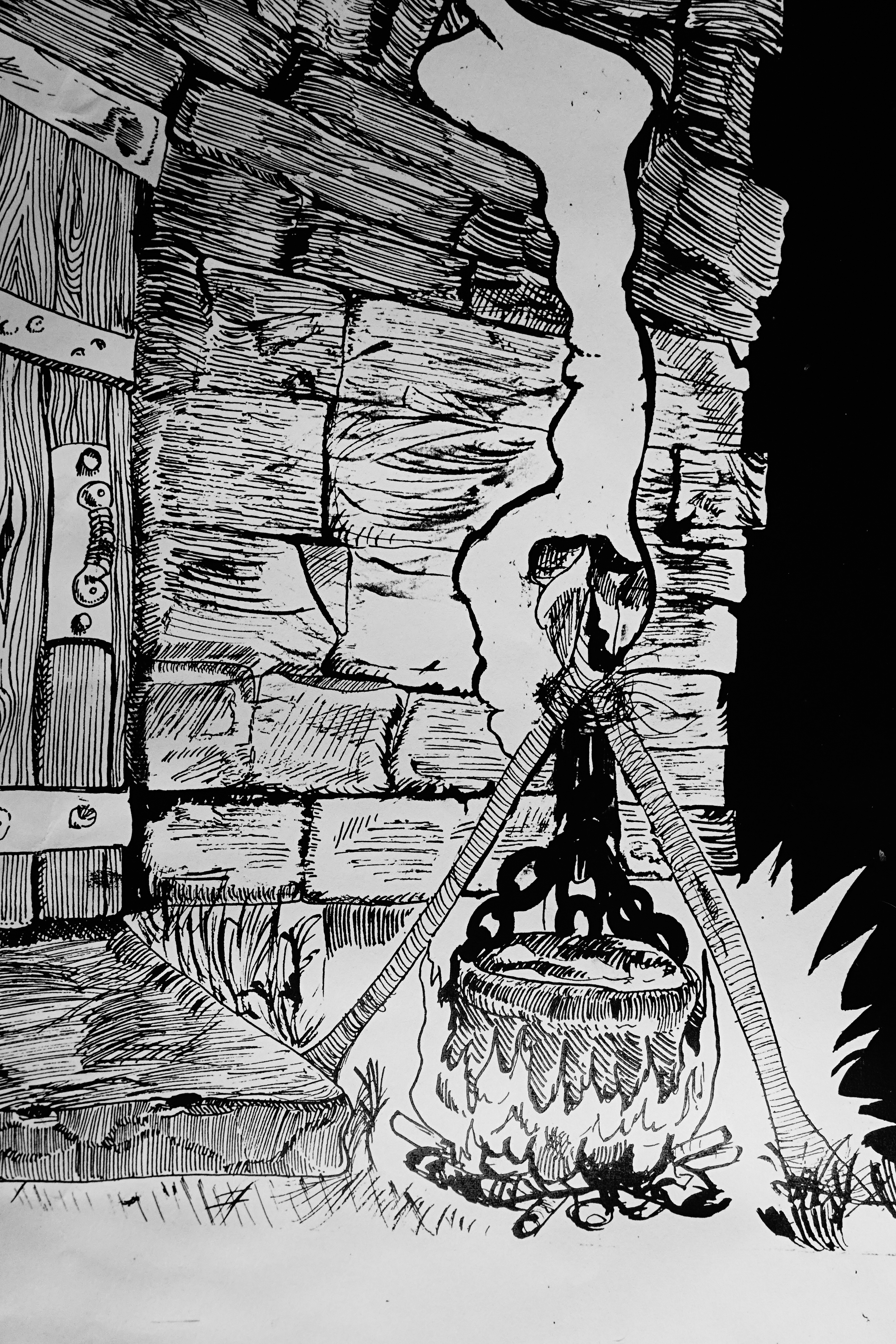 Special effects by Photographer Ruth Kingman. Find the difference between this pic and the one above. I liked the cooking pot a lot.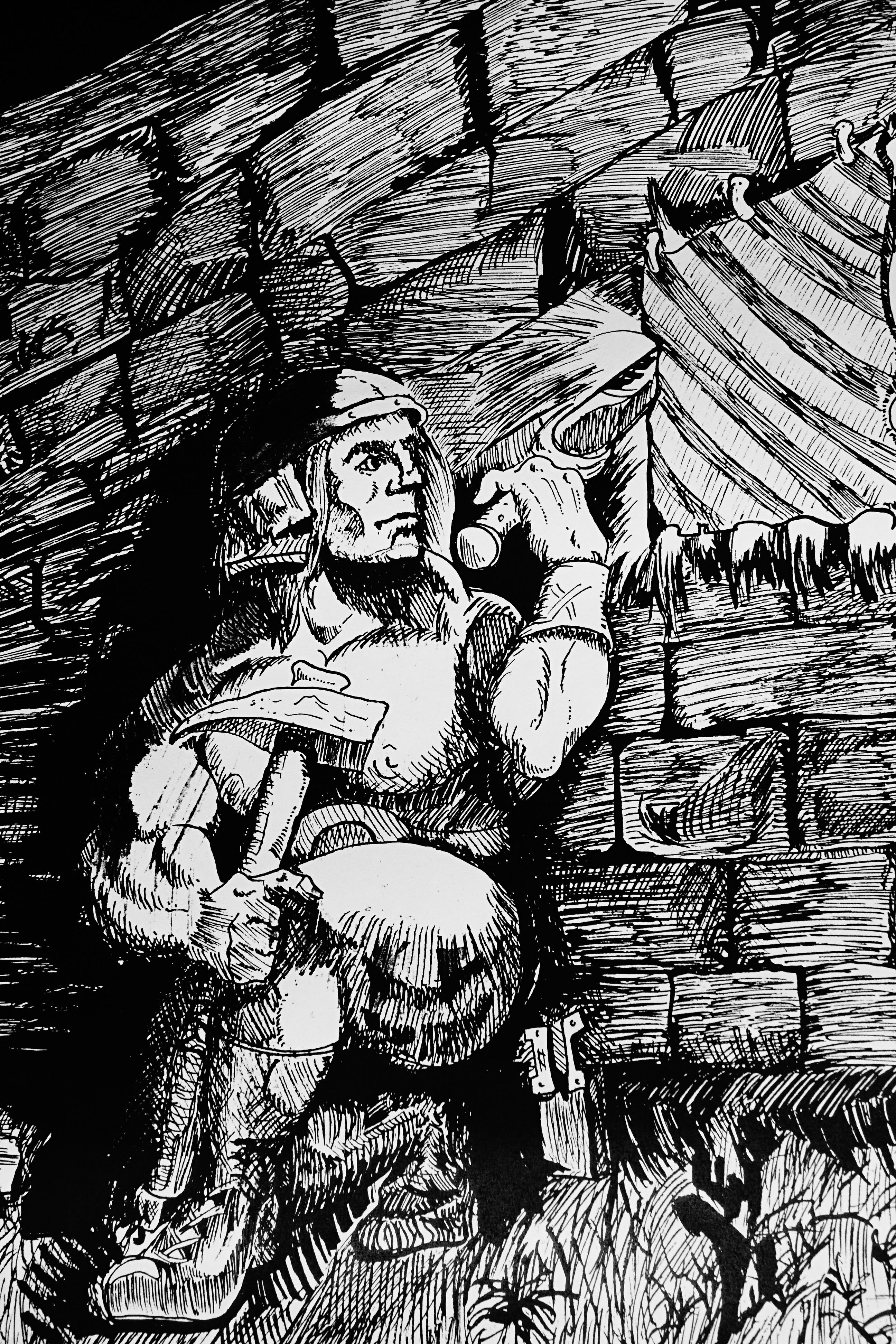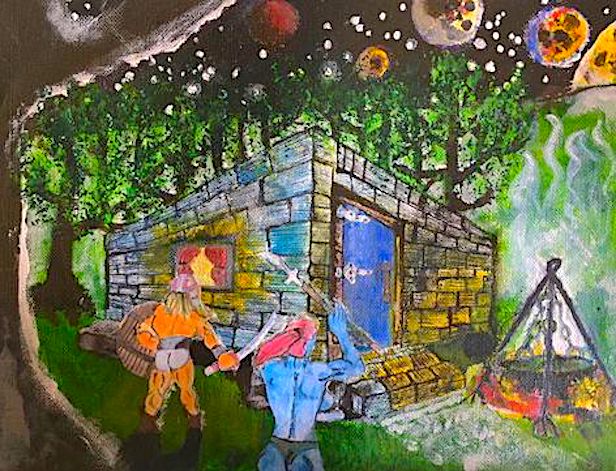 Colorized redo of this scene in ink, acrylic, and oils. 8" x 10" $120.00
MAPS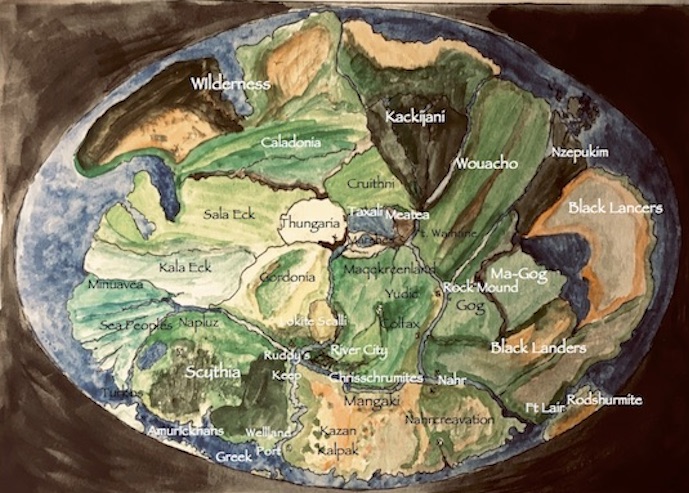 The Northern Hemisphere of Teggah looking down on north.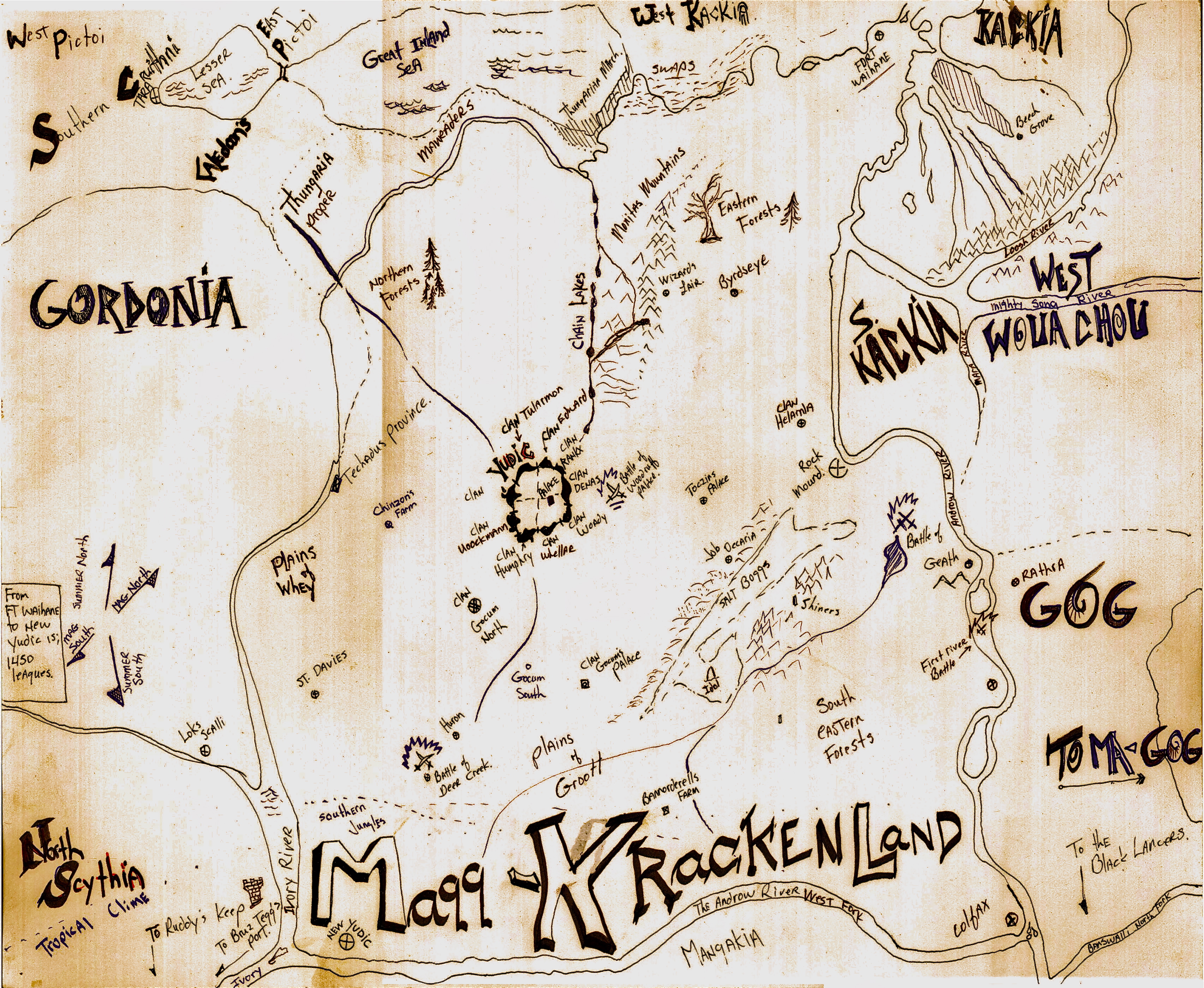 Maqqkrackenland earlier rendition.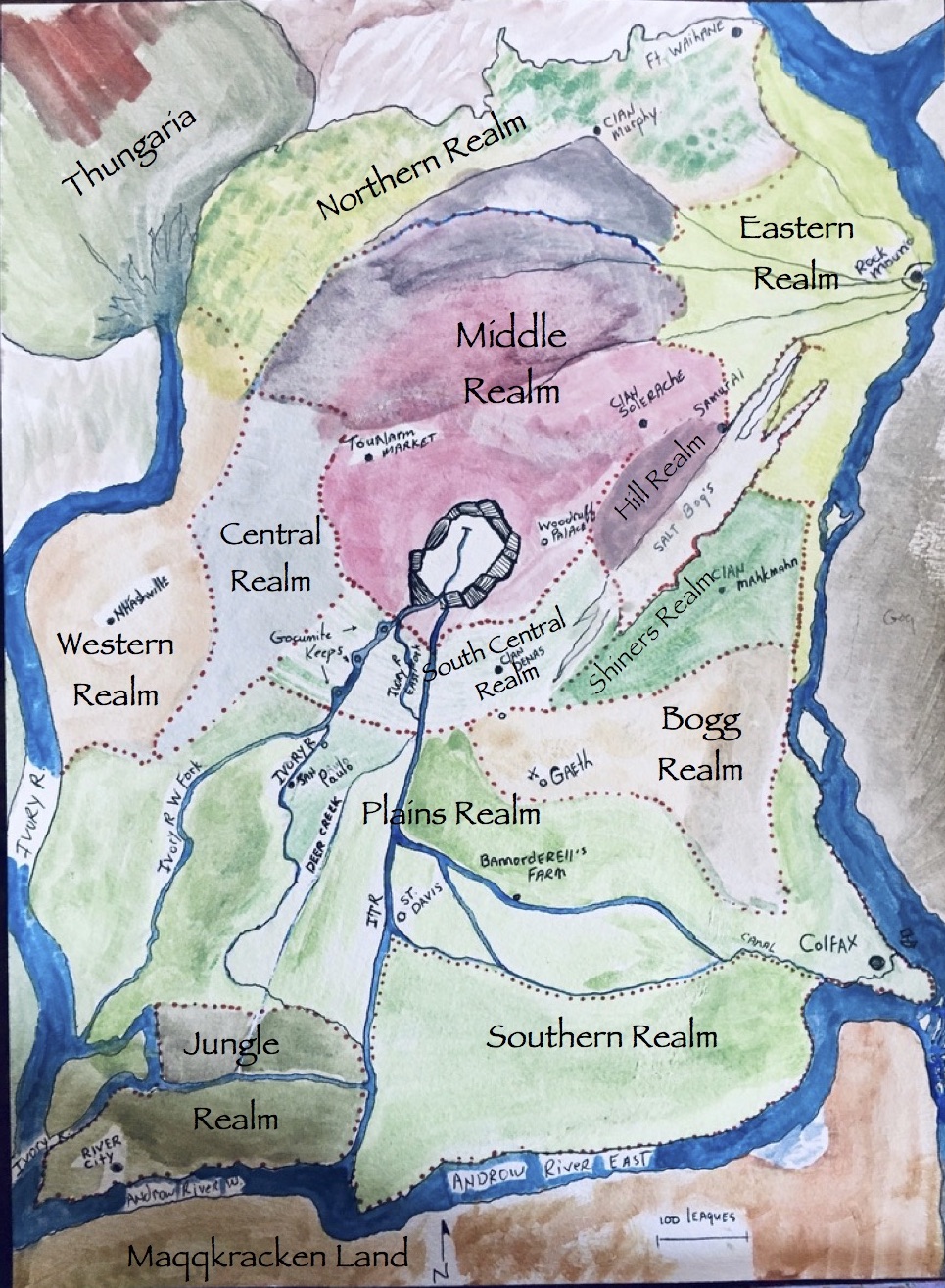 Maqqkrackenland Realms

All maps by the author.
Just for fun I'm publishing the first "Hammer Lok" comic I did with my best friend D. Lair in his living room; summer of 1968. Dyslexia is a bitch so not much is spelled even near correct. I was 8 years old. So!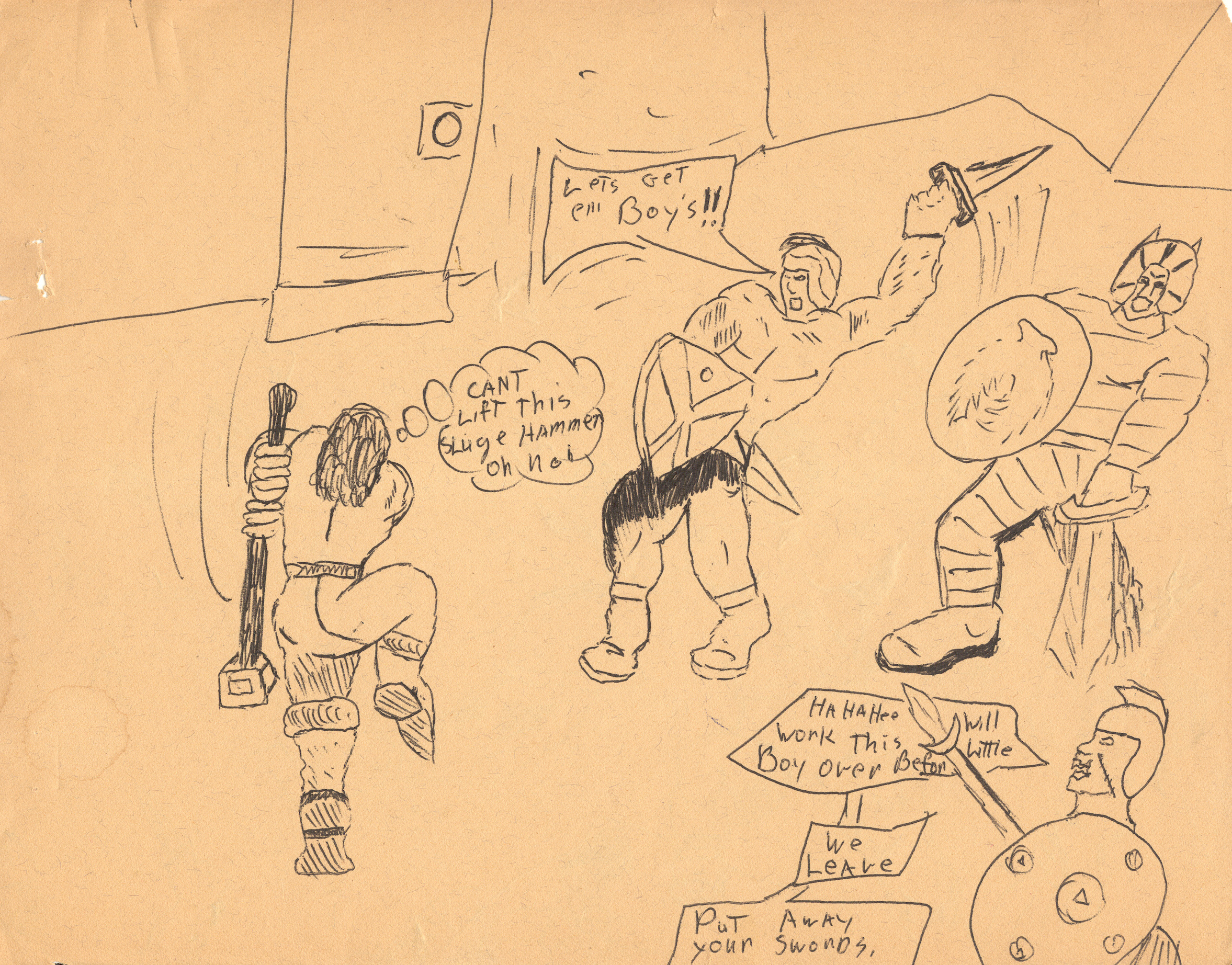 Oops. Somebody wrote a check with their mouth, that their ass couldn't cash! I like the mobster style, "Let's get 'em boys!"
The abuse and the drama. My ex-wife and I got a kick out of the fact most words were spelled incorrectly: And his mother looked like Lurch from the Adams family. "Hammer Lok Momma. Hammer Lok!"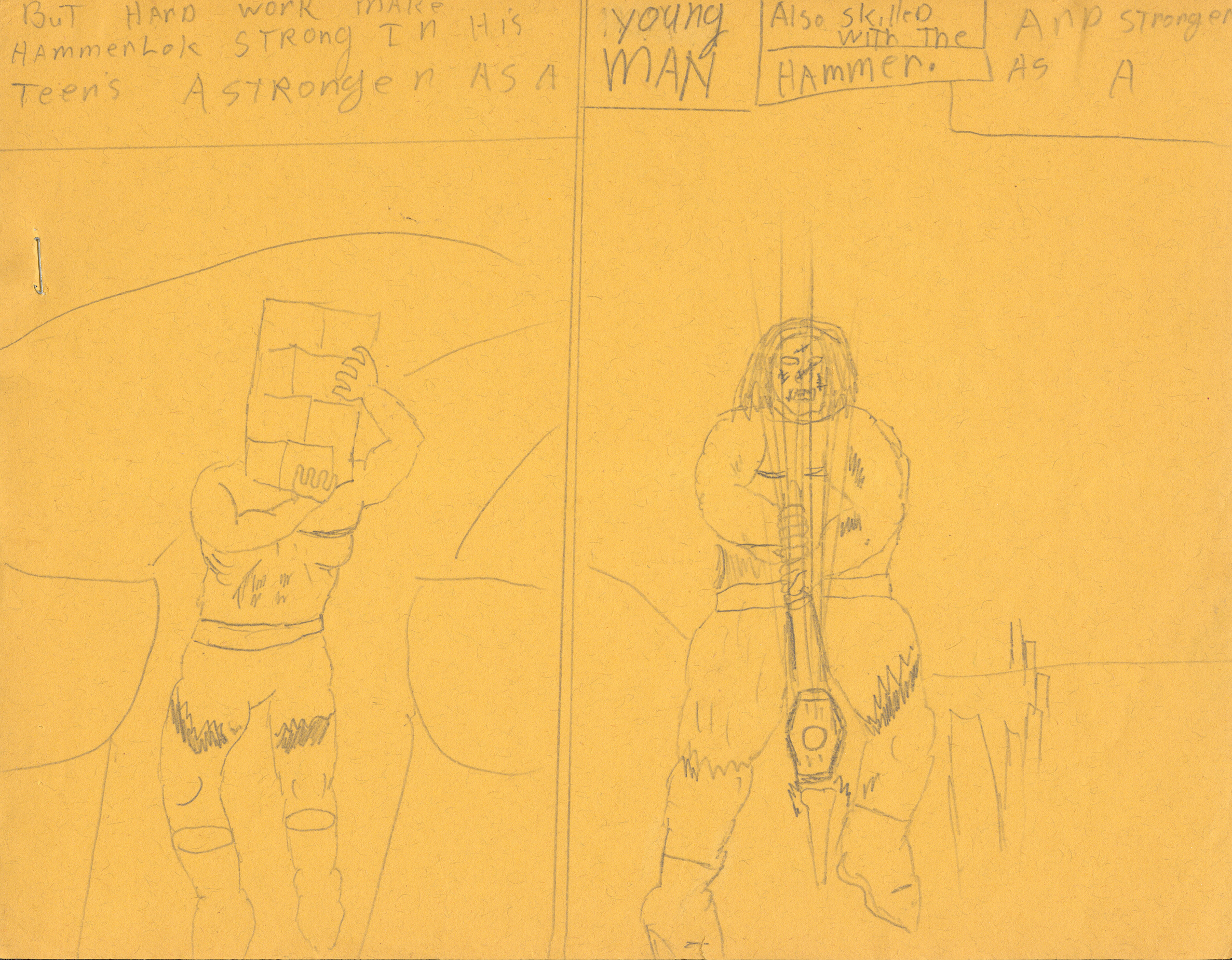 Time for the montage. Everyone knows hauling bricks and driving railroad spikes makes a warrior, a Warrior!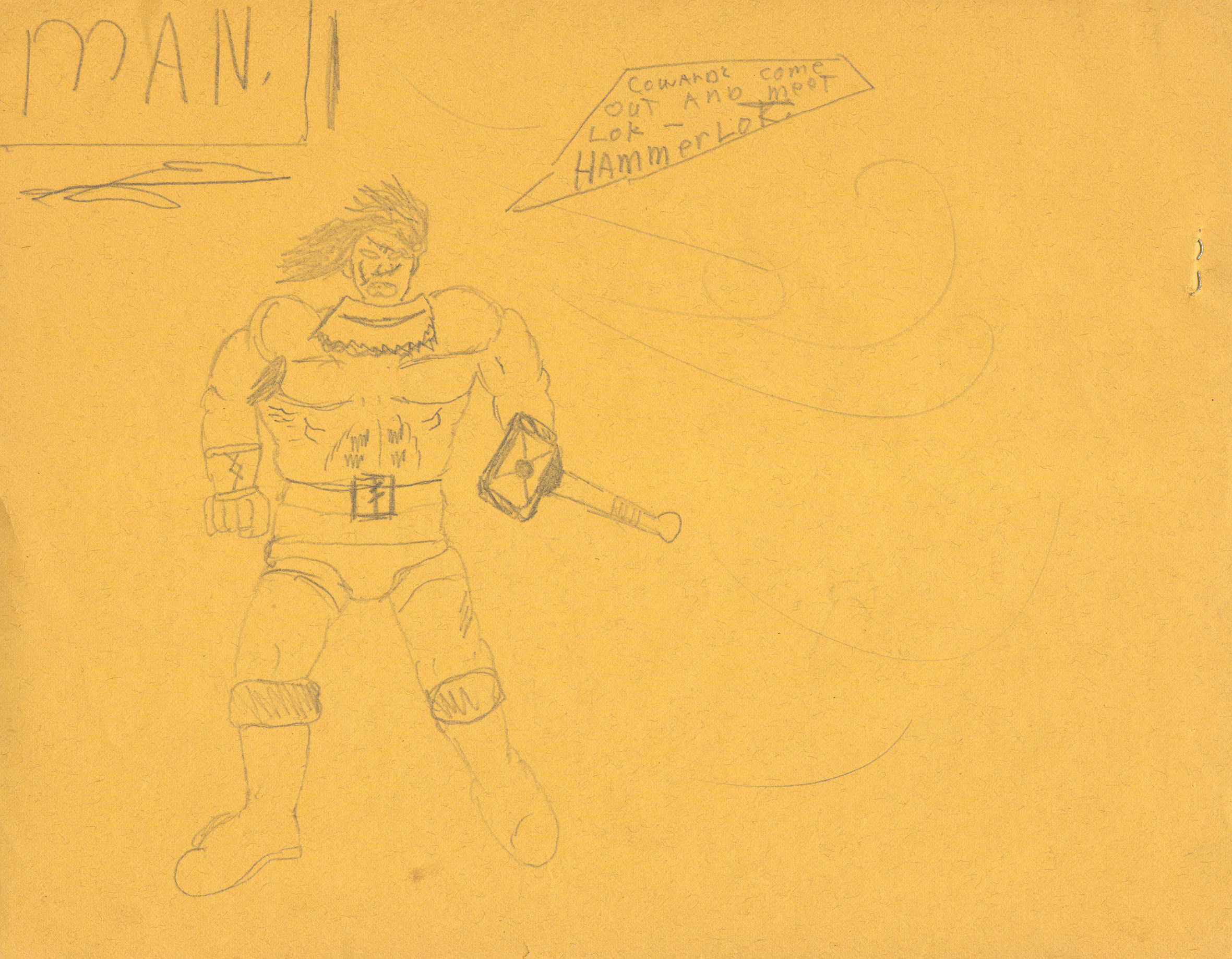 The big reveal! Literally. Fifteen years later, and walla, the scars, the worst hair day on this planet, (not named for years but his 'Teggah' after Tech High School Indianapolis, ) the mystical hammer, and apparently the biggest penis on said planet. It was the best a 8 year old could do at the time.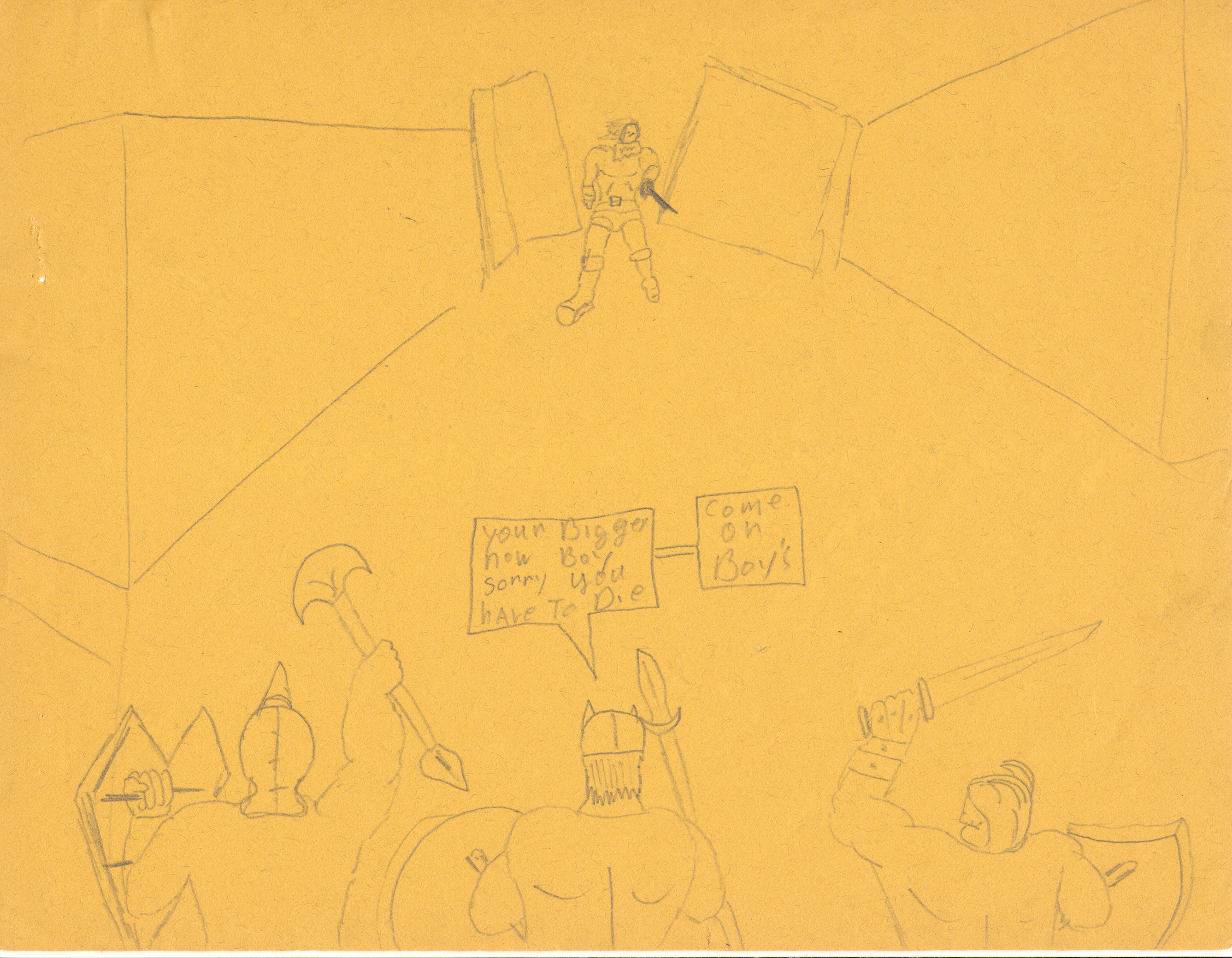 The showdown at the not so okay corral. I like the madu.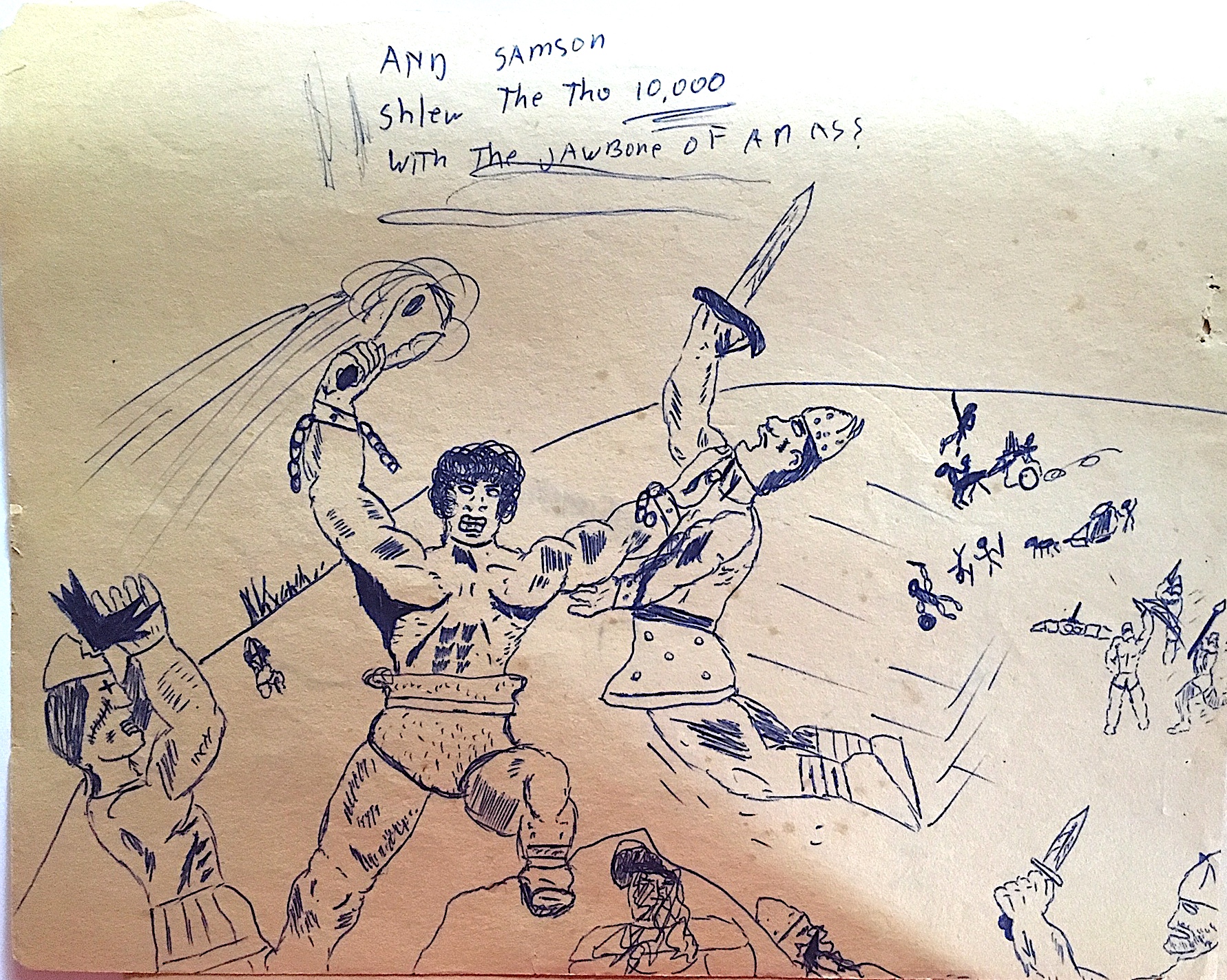 All comics have a pin up, and I chose Sampson. He "'Shlew' the 10,000 with the jawbone of an ass." Getting to say 'ass' straight out of the Bible, was the highlight of my day being a young Baptist.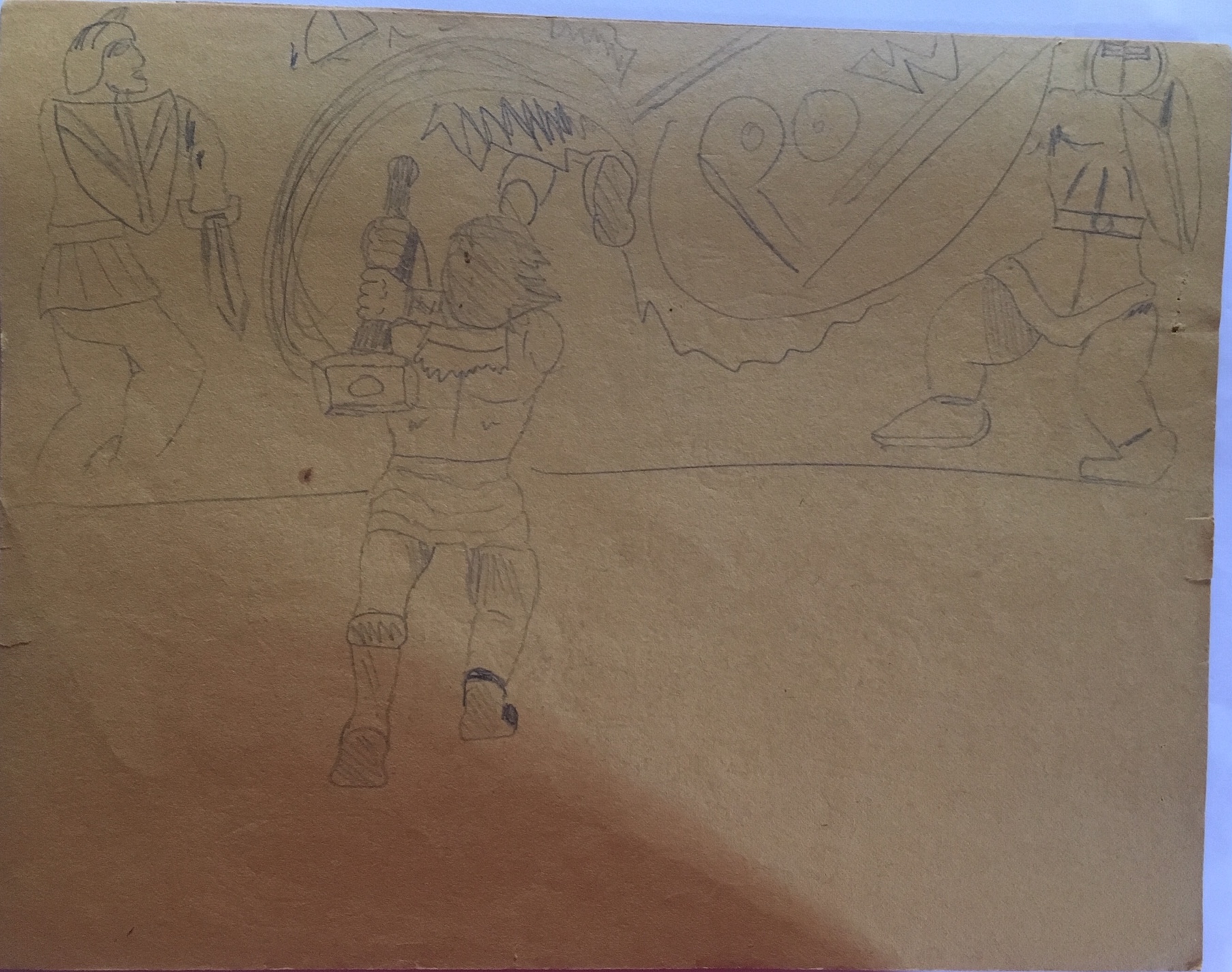 Speaking of ass. It was "Pow" ass kickin' time!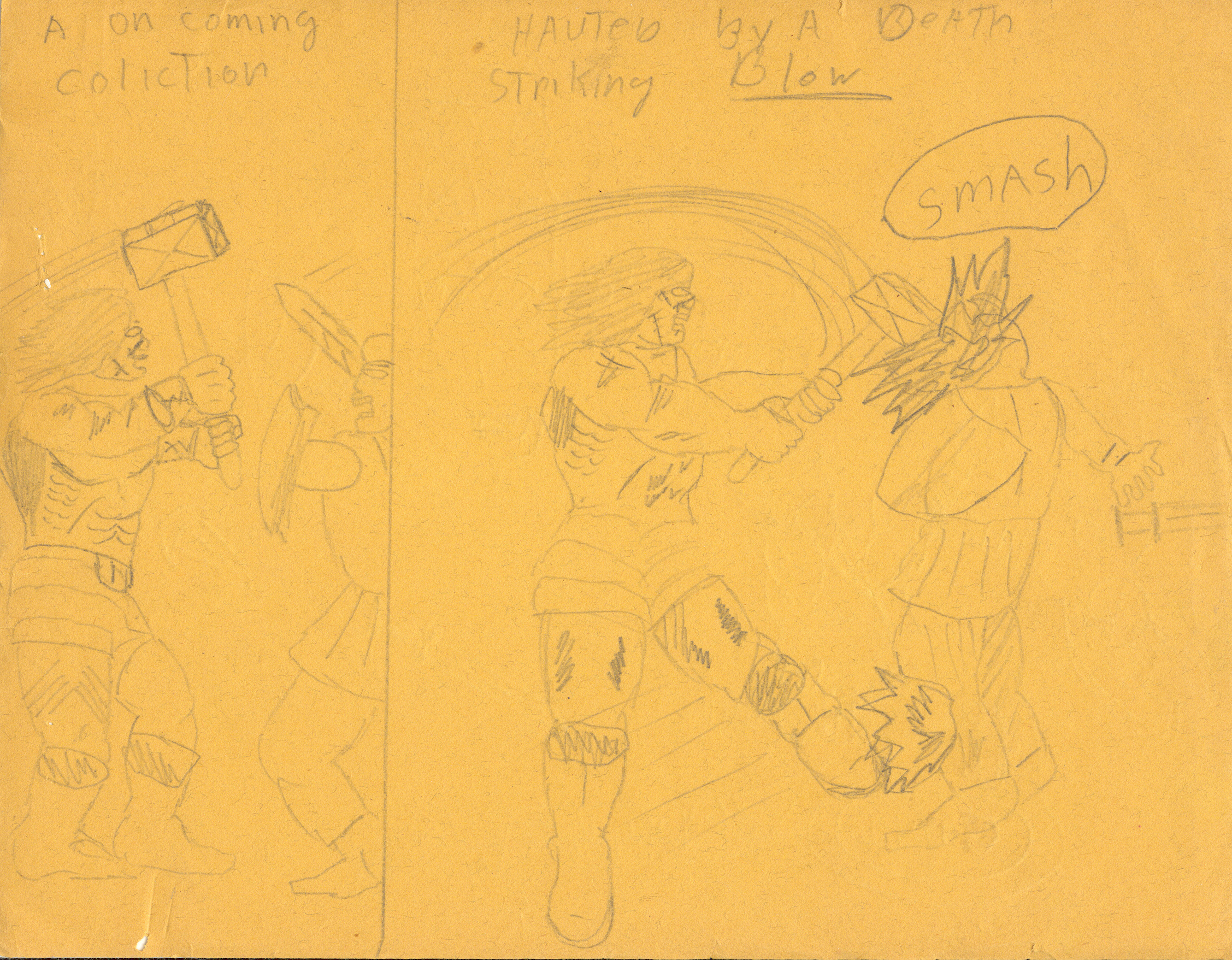 Show me an MMA fighter that can slam you on the face with a sledge hammer AND kick you in the shins at the same time!

The cliff hanger. Stuck in the back with a madu, by the last guy standing. I actually wrote this into the novels at a few places. So much fun. That this made it through many many moves, and survived over 50 years. Amazing.


The Author/Blacksmith in his shop